Pax Era Pro Vaporizer Review
---
---
Pax labs has been rather dormant lately and we've only seen the release of the Pax Era a couple years ago. They've now dropped the Pax Era Pro which offers some promising upgrades and a refresh to an otherwise solid device.
They've now implemented PAXSmart pods, which is the companies' appropriate response to the tainted oil vape cartridges which resulted in deaths across America. Other new features like USB-C charging, PodID, vibration feedback, and others have been included on the device.
Without further ado, let's go on with our Pax Era Pro review and how the Pax Era vs Era Pro compares! Check out our Best Weed Oils Vapes list for more cartridge-based vape devices and reviews!
How to use the Pax Era Pro?
Oil vapes are hilariously easy to use, with the Pax Era Pro taking this to a whole new level. Slide the pod in, and the device will automatically tailor the temperature to the best one. You can also just use the normal temperature control option if you want that too. All you have to do to use the device is drop a pod in and inhale. Super simple!
Cleaning the device is not necessary and the pods are not refillable. Just don't drop it in mud though please.
How long does the Pax Era Pro battery last?
Our favorite new addition, the Pax Era Pro uses USB-C! Yay, everyone rejoice, finally an oil vape which uses USB-C. I for one welcome our new charging standard with excitement. The new Pax Era Pro charges in around 45 minutes to full, which is no time at all really.
You can expect perhaps 100-150 hits from a full charge, which is a bit more than a pod or so. Carry around a power bank for easy charging on the go.
Bowl Size & Heating System (convection conduction induction?)
The Pax Era Pro, much like the Pax Era, uses on-demand draw. It'll detect when you inhale and automatically vaporize the oil for you. No buttons, no steps, easy as can be. You can take tiny hits or massive rips, all up to you.
The Pax Era Pro can only vaporizer Pax Era-compatible pods. No dry herb, no wax, just oil. Check out our Best 3-in-1 vaporizers for devices that can do all three!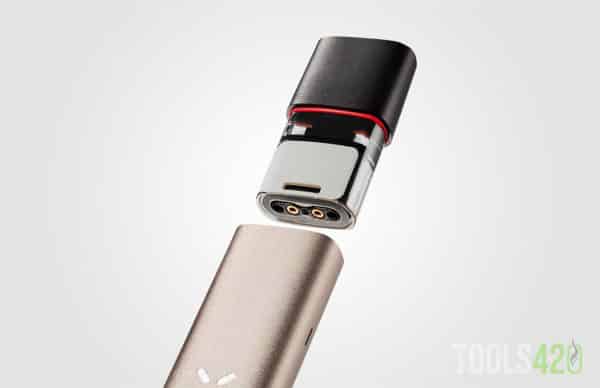 How's the Pax Era Pro Vapor Quality?
what material is the vapor pathway? is the vapor pathway separation from electronics. vapor production flavor and taste. ABV consistency. Active ingredient extraction ability. Airflow restriciton
It comes down a lot to your temperature selection and the quality of the oil itself. With all that in mind, it's perfectly alright! Big clouds, great taste, and ability to change the temperature the oil is vaped at.
The airflow is better than the original Pax Era which is nice. Not a complete game-changer but makes the experience better.
Is the Pax Era Pro portable?
This thing is tiny. Seriously, you'll probably lose it in your pocket. Like the size of a couple of sticks of gum and about as heavy too, it's super small. Hide it in your hand no problem, take a hit, and be done in seconds. The smell isn't like burnt weed either, but rather like a nice fresh hit from a wax pen or dab rig.
The Pax Era Pro is about 3" tall and ¾'' wide. Very small indeed!
Manufacturer reputation and dependability
Pax labs is known for their top notch service, reliability, and reputation overall. The Pax Era Pro is in fact the first UL-Certified cannabis-related battery. Basically, it means it's safe and certified that it's safe to use.
You get a 1 year warranty which is alright, and we honestly expect this thing to last for a lot longer considering how simple it is, and how reliable Pax products in the past have been. There's even haptic (vibration) feedback now too which is really cool considering how small the device is.
It looks and feels great in the hand, and while it is quite expensive, you really get the best of the best here.
Who is this vaporizer for?
The Pax Era Pro is for the person who really loves to vape oil but wants something very simple to use. Swap in a pod and the device will automatically set a temperature. If you're concerned about tainted pods and worried about your personal health, then absolutely its' the best unit to buy.
If you're on a budget and want a device which has pods or cartridges you can fill yourself, then this is definitely not the device for you.
Conclusion
The Pax Era Pro vs Pax Era debate has already started and we think the Era Pro is worth it. Simple because of the PodID system which gives full transparency and pod safety reports, ensuring your health. The safety certifications just add to this.
It is very expensive considering the price of other oil vapes and something to be considered. We still think it's worth it and feel like it'll last a long time. USB-C future proofing is well enjoyed, and the other features like vibration feedback and the improved airflow is nice to see.
If you want a safe device with top notch performance, future-proofing, PodID, and other good features, then it's definitely the device for you. It pairs with the Bluetooth app to show you all this detailed data.
It's by no means a night and day difference when comparing the Pax Era Pro vs Pax Era, but to us it's worth the extra money for all the extra features.
Summary
Article Name
Pax Era Pro Vaporizer Review
Description
The Pax Era Pro with PAXSmart pods, PodID, and USB-C charging - Check out our Pax Era Pro review.
Author
Publisher Name
Publisher Logo