---
---
---
Is the Puffco Proxy worth it?
The Puffco Proxy brings new life to an old, timeless design to the world of dabbing – The Gentleman's pipe.
Instead of a wooden body, it uses modular glass & instead of a lighter, it has a modern 3D-heated ceramic glazed atomizer.
As a glass dab pipe rig, how does the Proxy by Puffco hold up against the market's different Wax Pens and E-Rigs though? In this review, we'll be seeing how it performs, its key features, pros & cons, and vapor quality – So let's get into it.
Puffco Proxy Specs
| | |
| --- | --- |
| Material Compatibility | Concentrate |
| Pass Through Charging | Yes |
| Swappable Battery | No |
| Charge Time | 90 Mins |
| Charging Port | USB-C |
| Battery Life | 6 Sessions |
| Heating System | Ceramic Atomizer |
| Heat-up Time | 30 Seconds |
| Temperature Control | Pre-Sets |
| Temperature Range | 490, 510, 530, 545°F |
| Oven Size | 0.15g |
| Vapor Path Way | Ceramic / Glass |
| Accessories | Modular Glass / Dry Herb Chamber |
| Vibration Alert | Yes |
| Motion Sensor | No |
| Warranty Period | 1 Year |
| Price | $300 |
| Coupon Code | |
What's in the kit?
Vape Carrying Case
Glass Pipe
Ceramic Atomizer w/ Carb Cap
USB-C Charging Cable
Dab Tool
Cleaning Q-Tips
Puffco Proxy Key Features
The ceramic chamber is made to pair with the growing number of glass bodies available for the Proxy.
This will allow users to pick up the base and drop it onto their favorite body that they can purchase separately. The 360° heated atomizer is very high quality and will provide a very even extraction of any concentrate.
As a cross between a vape pen and E-Rig, it combines the functionality of a high-powered atomizer with the portability of a slim design that comes along with a sleek vape case. There are two main parts of the Proxy – The 3D atomizer, and the glass attachment that you're using.
Puffco Proxy 3D atomizer
With your ceramic atomizer and battery base, you'll be able to cycle through four voltage settings as indicated by an LED light strip:
Blue

– 490 °F

Green

– 510°F

Red

– 530°F
White – 545°F

Puffco Proxy Easter Egg Mode

– 630°F (click the power button five times while on the white heat mode)
At face value, there isn't too much of a temperature range, and the heat-up time comes in quite slow at 30 seconds. However, these features are intentional on the Proxy.
Its main goal is to provide a relaxing experience to the Wax Vaporizer market with an emphasis on flavor and never harsh vapor – Similar to the Puffco Plus, but different.
There is also an available accessory for smoking dry herb. Just drop it into the glass, allowing you to light up your cannabis like you would in a normal pipe.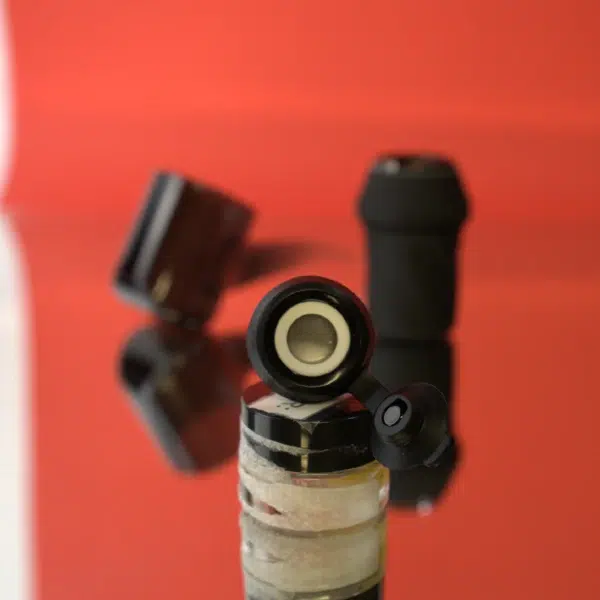 Unlike cheaper ceramic bucket atomizers or exposed coils, a 3D coil has its coil embedded throughout the atomizer which helps to distribute heat and remove problems like hot or cold spots. In other words, your dabs will melt down and vaporizer much more evenly in the Proxy compared to almost any other dab pen.
Portability Review
Despite the portable 5in x 2in design, the Proxy isn't the best for traveling because of its fragile glass. 
The one thing the Proxy does have going for itself is that its traditional pipe shape will only bring you a little attention in public, especially from the older crowd.
The fact that it features pass-through charging will also be helpful for heavy users that own a battery bank and want to keep the party going on the road.
How long does the Puffco Proxy take to charge?
Depending on how you're using the Proxy, you'll get roughly eight sessions in before needing a 60-minute recharge.
As a plus, it does have 

USB-C and pass-through charging

.
Not the worst specs, but certainly not the best compared to the 1500mAh on the Utillian 5, where you'll get 10-15 sessions in.
Remember that there's no auto-off timer, so make sure to turn your Proxy off after your session is done if you don't want to return to a dead vape at your next session.
Battery Tips
The Proxy's LED light will show blue, green, red and then turn off to indicate that it's done charging
The Proxy can be used while charging, so consider bringing a power bank with yourself while traveling with a Stashlogix Silverton
Puffco Proxy Vapor Quality
Overall, the vapor quality is incredibly smooth, and people have been incredibly happy since the release.
Like the Puffco Plus, even the highest temperature on the Proxy will never be scorching, instead focusing on the slow-boiling down of your concentrates. Full melt hash and live resin works best in the chamber as they will melt more quickly, provide a lot of surface area for your Proxy to get to work, and provide big clouds with awesome flavor compared to lower-quality wax, for example.
The three lower temperatures will be good for most users, with only the maximum temperature (white) being somewhat uncomfortable to hit from.
As for the easter egg mode, I'd only recommend hitting it from a bubbler to cool the harsh vapor.
Puffco Proxy Alternative
In terms of E-Rig alternatives, I think The Core 2.1 by Crossing Tech is a good comparison as it also uses a 3D Ceramic Chamber with four pre-set voltages, and a similar no-nonsense design. It puts out consistent vapor quality, and there are some different bubbler upgrades available on the market.
How to use the Puffco Proxy?
The Proxy is super easy to use, as I'm confident that even a monkey could figure it out. Drop a dab into the chamber, choose your temperature, and then run heating cycles until the vapor quality diminishes. Turning the battery off will flash green, yellow, or red to indicate a needed charge. Let's take a look at the step-by-step process:
Press and hold the power button for three seconds to turn it on

Press the power button one time to alternate between the four pre-set temperatures.

Place your dab product into the chamber and then reseal the carb cap.

Double-tap the power button to begin your session.

After a 30-second heat-up time, the pulsing light will turn solid, and your chamber will be heated for 30 seconds.

If you're not done with your session after the first heating cycle, double-tap the power button to run a boost, increasing the heat and adding 30 seconds to your session.
There's also another light mode that you can activate by clicking the power button three times, which is great to turn on while your dab is heating up! The relaxing style might be a good fit if you are okay with the slow extraction compared to a dab pen. You can pair your Proxy with a Puffco Hot Knife for a cleaner chamber loading.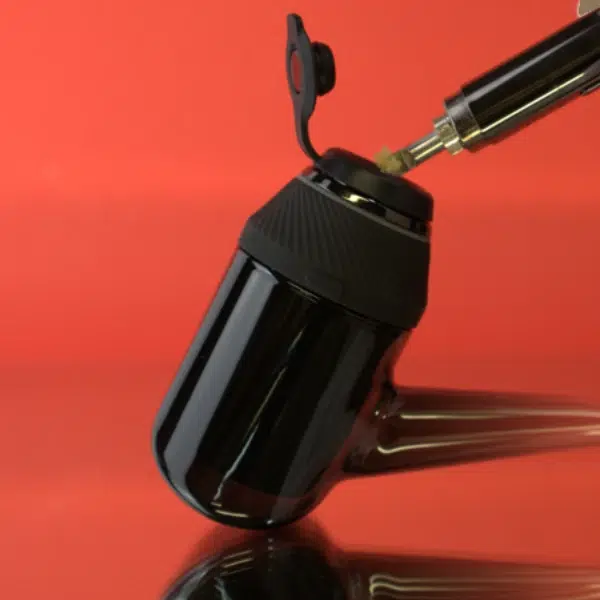 Puffco Proxy Attachment Accessories
Proxy Travel Pack (and Ball Cap)
The Puffco Proxy Travel Pack acts as a sort of backpack for the Proxy which not only helps it to sit flatter, but included an upgraded tethered glass carb cap, and a cutout where you can store your cleaning Q-Tips!
Overall, it adds a lot of value to the kit because you'll be able to better direct your airflow in the chamber, and then clean your session right away to help your Proxy stay working its best. With the silicone body and mouthpiece sleave, your glass will also be more protected from accidental damage. Alternatively, just the Proxy Ball Cap is available for purchase by itself if you just want to change from the stock Puffco Proxy Carb Cap.
Puffco Proxy Travel Pack Price: $45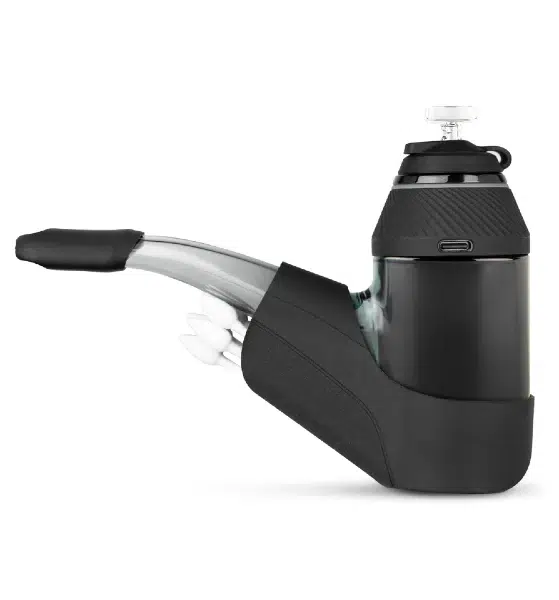 Puffco Proxy Bub
The Puffco Proxy Bub is the official bubbler of the device and features a similar shape and design to the original glass pipe with the addition of an added layer of water cooling. Simply fill it from the top until the water sits above the carburation holes, and then enjoy your cooler vapor from the same ceramic chamber once you've dropped it in!
Puffco Proxy Bub Price: $100
How to clean Puffco Proxy
The Proxy is very easy to clean as all that need is a quick wipe with a vape cleaning stick after every session to remove the leftover residue from your dab.
If you don't do this, over time, you'll begin to have cooked-on buildups that will be hard to eliminate. A Puffco Proxy 3D Chamber is $60, so for the extra 10 seconds of cleaning, it's worth it to wipe out your old dabs!
If you get burnt on resin over time, you can try using a Q-Tip dipped in Orange Chronic and a dab tool to scrape the tar off as it loosens. You can also soak the top part of the atomizer in ethyl included in the Zeus Purify Cleaning Kit for 10 minutes to help with your chazzed ceramic.
Pros 👍
Fully modular design
Consistent vapor quality
Never harsh temperatures
Classic and sleek design
High-quality manufacturing
Pass-through charging
Chamber is compatible with terp pearls to help dab extraction
Compatible with all kinds of concentrates
Cons 👎
Slow session style may be unsuitable for heavy users
Limited battery life
Same cost as a premium E-Rig
Might need to run several heating cycles to clear your bowl
Glass body is thin and prone to shattering
The power button feels super cheap
Atomizer connections need to be cleaned regularly
Glass upgrades are costly
Final thoughts
If being able to customize your concentrate vaporizer is a big deal to you, then you'll love the Puffco Proxy.
While I wouldn't call it a disruptive release from Puffco, it's versatile. It will let you customize the look and feel of your vaporizer as your collection of accessories grows. Over time, more modular glass pieces released to the market will give you more options and hopefully cause their prices to drop.
Where I do disagree with Puffco is their claim that it's supposed to be lowering the barrier of entry when it comes to vaporizing concentrates because of its pipe-shaped design – If that is the case, it wouldn't be north of $300.
While you're sure to get lots of attention from dabbing connoisseurs thanks to the amazing design, there is only so much to improve upon with an atomizer design. It still has the same vapor quality as dab pens a quarter of its price like the Dr. Dabber Stella, which is also focused on less heat and more flavor.
In other words, I personally think they've just made an overpriced pipe that they've claimed as revolutionary with their fancy marketing.
There is currently only one modular glass design for sale on Puffco's website, a bubbler stem, and that's going for 100 USD – Insane. It will be interesting to see if the ecosystem grows as more artists hop on board. But until the price comes down, I'll stay clear for now. However, I think a certain niche of dabbers will really like it, and it does have good performance, so I've placed it in our list of the Best Wax Pens. 
Frequently Asked Questions
How do you turn on Puffco Proxy Easter Egg Mode?
To turn on Puffco Proxy Easter Egg Mode, click the power button five times while on the white heat mode. To get to the white temperature, cycle through the temperatures by clicking the power button once.
Does the Puffco Proxy come with a 3d chamber?
Yes, the Puffco Proxy comes with a stock 3d ceramic atomizer unlike the Puffco Peak Pro where you'll have to upgrade for $100.
Does the Puffco Proxy have an app?
The Puffco Proxy does not have an app unlike the Puffco Peak Pro.
How long does the Puffco Proxy take to charge?
The Proxy takes about an hour and a half to charge from dead.
Do you put water in the Puffco Proxy?
No, if you'd like to use water with your Puffco Proxy, you'll have to use the Puffco Proxy Bub glass accessory.
How to turn off Puffco Proxy?
Holding the power button for three seconds will lock your Puffco Proxy, it will then be three seconds to unlock the Proxy again.
How much is a Puffco Proxy?
The Puffco Proxy is about $350 Canadian / $300 USD.
Can you smoke flower out of the Puffco Proxy?
You can smoke flower with the flower bowl, but you'll need to purchase the aftermarket flower bowl in place of the normal atomizer for $35. At that point, you're better off just buying a cheap pipe.
How long does the Puffco Proxy atomizer last for?
The Puffco Proxy atomizer will last 2-3 months on average or regular usage before needing a replacement.