---
---
---
We love our Dynavap as much as you do and figured we'd let you in on the secrets and best custom Dynavap stems that the industry has to offer! They represent a level of value, style, class, and even performance that you can't get with just the standard Dynavap bodies. 
These are mostly unique and boutique stems made by hand by small makers, so while the price is high, you pay to support some of the best people in the industry. If you're keen on giving your Dynavap M 2021 a nice little bit of love, then read on our best aftermarket Dynavap stems list here!
Simrell Collection
If you're after the most exotic, boutique, and gorgeous stems on the market, then the Simrell Collection Dynavap stems are your score. Coming in at a pretty hefty price tag but well worth it, the level of class, beauty, and style is just simply not matched by any other. The trademark Simrell Vortex stem is both a feat of engineering and style which is arguably the sharpest Dynavap stem you could look for.
Available mostly by custom order, some basic styles are available, but beware the price – they're more expensive than the Dynavap itself. If you want nothing but the best and most elegant piece, look at a Simrell Collection Dynavap stem. If you're int
Futo DynaVap Stems 
DynaVap Futo Stems is the new kid on the block making one a kind custom wooden stems for DynaVap tips. Almost every item in their catalogue is one of a kind meaning you can be sure that you'll have something original to show off to /r/vaporents. You can also check out [email protected]'s Instagram to see his other collection of cool DynaVap related goods!
The RogueWaxWorks Stems 
RogueWaxWorks has built himself up quite a large catalog of available DynaVap Stems and accessories along with affordable pricing. He's well-respected in the community and we definitely suggest checking out his store and RogueWaxWorks Instagram page where you can see a ton of custom vaporizer accessories. 
DoveTail Woodwork Stems 
Dovetail DynaVap Stems are a very cool manufacturer of one-of-a-kind DynaVap stems, so if you check out their website and see one that you like, be sure to pick it up before it's gone forever! Check out this 'Cosmic Burl' design below with the cool mouthpiece it uses as well – Very impressive manufacturing!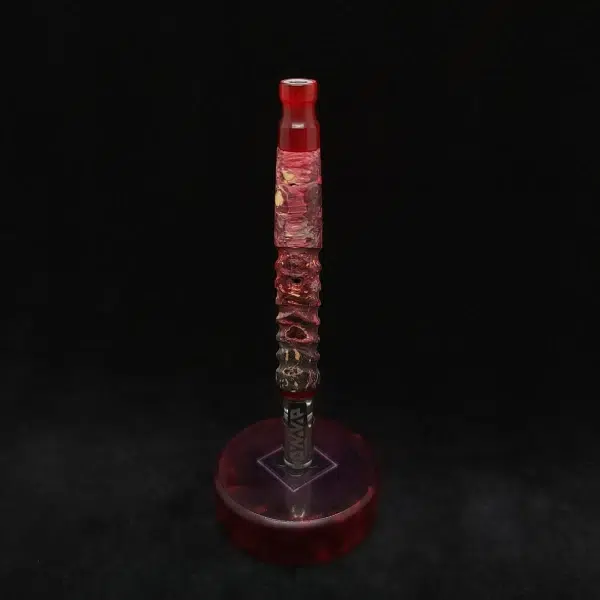 KatManDude Custom Stems 
KatManDude Stems make custom DynaVap Stems with 16 different options to customize to make a wacky invention truly your own, including your choice of DynaCap if you want. He only takes 21 days to make and ship them out, so again, if you want something unique to put on display, for sure check out KatManDude. 
Some beautifully intricate and gorgeous pieces of work, KGWoodcraft specializes in turning beautiful pieces of wood into some downright impressive works of art. Prices are rather fair considering the level of quality and brilliance behind each stem, you can surely find a unique and gorgeous piece that you enjoy for sure.  Custom units can be made on request as well as a good array of pre-made ones are available in the store.
Fun fact, Eds TnT used to make the original Nonavong wood stems for Dynavap, way back in the day when Dynavap was just growing! Eds TnT still makes some beautiful Dynavap stems at a very reasonable price. His work and reputation in the industry are top notch and great amounts of love translate into each made piece. A good selection is available and of course, custom pieces can be made too.
Glass Charlie/Hula Stem
First to the gun with the glass spikey cooling stems, these glass pieces are a great addition for a solid price. The major advantages with these stems are the evident cooling they provide as well as the preservation of flavor. While it's not a complete game changer, an accustomed tongue can certainly notice the difference and will prefer the glass cooling stem over the standard body. Definitely worth it, a spiky glass stem is a solid addition. The Hula V2 and Glass Charlie stems are definitely well priced, and these are also known as '3D flow Dynavap stems'.
For a simple little fusion of both glass and wood, the glass beaded Dynavap stems are a terrific addition and rather unique option. With a custom wood mouthpiece on a glass tube with small glass beads inside, you can enjoy a classy feeling yet well performing device with one of these.
The glass Water Wand for Dynavaps by DDave Mods is a great little piece if you plan to use your Dynavap mostly with a water piece. Designed to fit natively on any 14mm piece, it's a great little piece that works great and is fun to use. It can be used without water too and offers improved flavor over the stock body as well as its pure glass. For the price they're sold it, it almost feels like a no-brainer! It even fits in the standard Dynavap storage tube and Dynastash, what more could you want? For an even more diverse option check out the Dynavap 3-in-1 Bong Adapter.
Various Chillums
If you have one nearby, head on over to a headshop and see if they have any chillums/one-hitters in stock. Some are made of glass, stone, or wood, and others may surprisingly fit the tip of a Dynavap right on it! These are often surprisingly cheap and you might get lucky and net you a gorgeous glass stem for $10 or $20! To add some variety to the mix, you can always attach the Dynavap Tiny Bubbler to go the extra mile!
O'Connell Woodwork Stems 
If you want to build a totally custom stem for your DynaVap, then O'Connell Woodworks has got you covered. You'll have a variety of different customization options, and he will make them within 8 weeks! For the DynaVap connoisseurs, I'd definitely recommend that you check him out.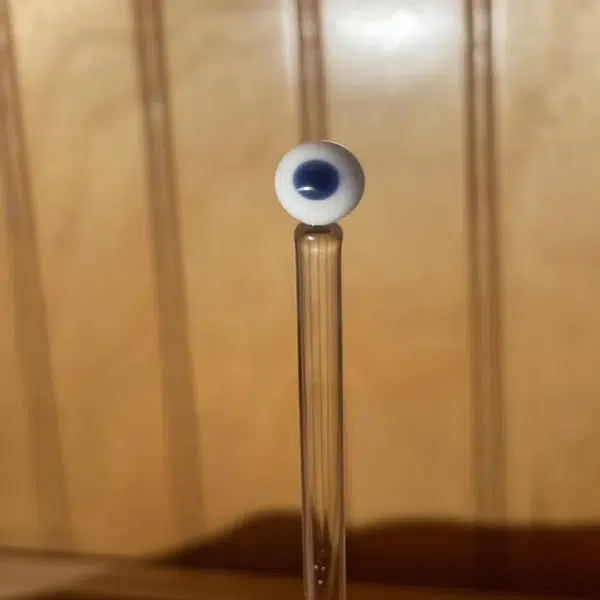 DynaVap BB3/6/9 Series 
The DynaVap BB series comes with either 3, 6, or 9 glass beads in the stem and either a 10mm or 14mm tapered mouthpiece as well. They comes in three possible colors and the glass beads help to disperse your vapor and cool it down as well. You can pick them up the full kit for around $60, or just pick up the glass pieces starting at $30. 
DynaVap B 
Coming in a variety of colors, the DynaVap B is the latest silicone stem system released by Dynavap and features a 10mm tapered bong ports that you'll be able to use with your favorite 10mm vaporizer bubblers and bongs. It comes with it's own stainless steel tip, and features no o-rings, meaning you'll be able to soak the whole thing in iso for cleaning. You'll also be able to put in any tip you want into the silicone for when you feel like mixing things up. 
DynaVap Bonger 
The DynaVap Bonger is a new silicone bong adapter stem for all DynaVap tips, and comes equipped with a 10mm and 14mm bong port. All that you have to do is add your stem and vape away. Unlike most of the other stems on this list, the Bonger doesn't come with an air port, but according to reviewers it comes with the perfect amount of airflow. 
DynaVap J-Hook Sherlock Pipe 
Although technically not a stem system, the J hook accessory is basically a sherlock pipe made for either the tip or for the whole DynaVap. If you want the feel of an old school pipe with any 10mm sized DynaVap, this is definitely some glassware to pick up!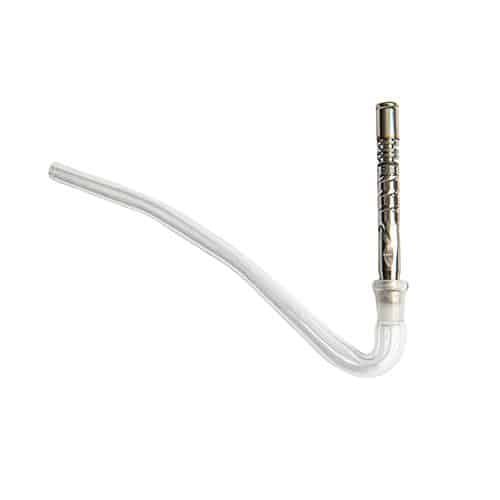 10mm mini bubbler 
The 10mm mini bubbler is another option that you can use to upgrade the vapor quality of your whole dynavap body. It acts as a mini bong and is a super fun glass accessory for anyone willing to put in the time to the learning curve that it requires for a good session. You'll have to hold your DynaVap upside down, so we only recommend this one to veterans. 
DynaVap X2 Adapter 
The DynaVap X2 Adapter is a unique airpath stem that enables the twice the amount of vapor to be pumped out through one mouthpiece. In other words it filters two tips down to one stem. Both VapCaps will be heated at the same time as you rotate the stem, and when they both click, it's time for a massive hit. The stem adapter will work with any normal condenser/body so you can also use this bad boy on bongs for probably the best hits on the market. 
DynaVap Etsy Stems 
If the quote 'Life's like a box of chocolates, you never know what you're gonna get' is one of your favorites, then the wild west of DynaVap Etsy Stems might be right up your alley. Just a heads up, there's some crazy shit over there, and you basically have no idea what kind of quality you're going to get, but hey, if my grandma had wheels, she'd be a bike. 
Summary
So there you have our favorite glass, wood, and custom Dynavap stems around! There are tons of different small makers out there who offer awesome stuff, but these are some of the more readily available pieces around. It's definitely worth it to spend a couple bucks on a glass stem for improved performance in terms of flavor.
Dynavap too offers some brilliant stems like the Nonavong and their own kit which allows you to carve up your very own stem for a good price! If you use your Dynavap very often and feel like upgrading from the standard body, then consider a unit on the above list! Thanks for reading and if you have any questions, feel free to drop us a line on social media or e-mail and we're glad to help!