---
---
---
Video Review 
Is the Focus V Carta 2 worth it?
If you've been looking for a new 2-in-1 E-Rig with the most modern features on the market, the Focus V Carta 2 is here to answer your prayers. As the upgraded model of the Focus V Carta OG, there have been upgrades made throughout the device that have this looking like the best E-Rig release of 2022. In this review, we'll be going over the key features that have it looking like the best dab rig of 2022, as well as how to use it and our best tips and tricks.
Carta 2 Specs and Ratings
| | |
| --- | --- |
| Material Compatibility | Dry Herb + Wax |
| Pass through charging | Yes |
| Swappable Battery | No |
| Charge Time | 90 Mins |
| Charging Port | USB-C + Wireless |
| Battery life | ~25 Sessions |
| Heating system | Atomizer |
| Heat up time | 5 Seconds |
| Temperature control | Precision |
| Temperature Range | 365°F – 635°F |
| Oven Size | 14mm |
| Vapor path way | Ceramic, Rubber, Glass |
| Accessories | 10kmAh Wireless Charger |
| Vibration Alert | Yes |
| Motion sensor | No |
| Warranty period | 1 Year |
| Price | 350$ USD |
| Coupon Code | Carta10 |
| Ease of Use | 9/10 |
| Vapor Quality | 9/10 |
| Manufacturing Quality | 9/10 |
| Ease of Cleaning | 8/10 |
| Portability | 8/10 |
| Durability | 7/10 |
Focus Carta 2 Key Features
In short, the Focus V Carta 2 has taken all of the positive features from the Carta OG, and integrated them into a supercharged unit that will be able to outperform almost all E-Rigs and traditional nails with ease. Plus, they threw in some cool accessories like a wireless dock charger and full application customization.
Two fully customizable RBG lights programmable on the application
HD display screen
Improved ergonomic design
Bluetooth connection
USB-C charging + pass-through charging
Wireless charging available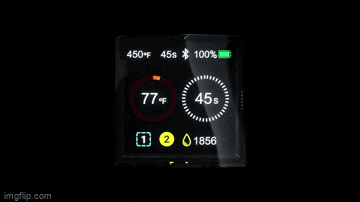 What's in the Focus V Carta 2 kit?
CARTA 2 Smart Rig
Intelli-Core™ for Oil
Intelli-Core™ Cap & Sleeve
Intelli-Core™ Sleeve
Shoulder Carrying Bag
Travel Silicone Stopper (bubbler cap)
High-Quality Dab Tool
USB-C Cable
How does the Focus V Carta 2 atomizer work?
While the atomizer might appear the same, Focus has implemented new technology that they boast as the future of Electrical Dab Rigs. It uses a large glazed ceramic with an improved airflow system that will help you get the best vapor quality possible whether you're a beginner or veteran. While the atomizer is somewhat proprietary like the battery, because it uses 360-degree technology that will heat the atomizer all around, so even if you place your dabs on the outer edge of it, it will drip down and get completely vaporizer. They are calling this the Intelli-Core™ atomizer – Smarter technology will keep your temperature set after rips so that you can take nonstop rips back to back, just like the Arizer Air Max manages to do with its improved ceramic heater. With the adjustable timer of up to 60 seconds, you'll get a full session that you'll be able to clear the bowl with. To many, this will be the hardest-hitting E-rig that they'll have tried.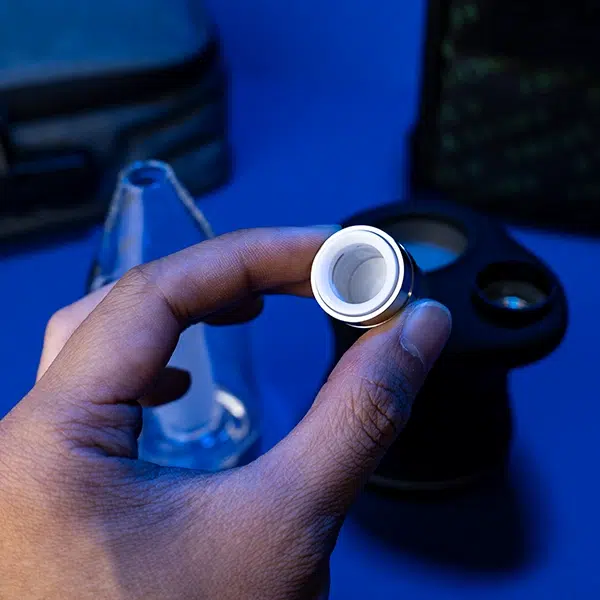 Focus V Carta 2 Vapor Quality Review
Before I get into explaining the vapor quality, let's take a quick look at some of the key feature changes that all affect the Focus V Carta 2's vapor quality:
An improved narrower bubbler mouthpiece design for more comfortable inhales
The Focus V Carta 2 now shares the same air path as a peak pro which will move from the glazed ceramic to the silicone below the atomizer and bubbler
Great air flow through a small notch on the chamber, which you can also adjust by playing with the lid like a carb cap
The glazed ceramic atomizer allows for easier cleaning, as all you'll need is a dry Q-tip to wipe off 100% of the residue after a session
The 14mm chamber holds slightly than a Puffco Peak
Focus V Carta 2's bubbler holds a bit more water than the original model or The Core, which was needed given the amount of vapor it pumps out
If you haven't gotten the point by now, this thing pumps out abnormal amounts of vapor, nonstop. As the atomizer is heated 360 degrees and will maintain its temperature very well, you'll get a more even heating of your dabs that will extract your THC much better than normal dab pens or cheaper E-Rigs. One of the only downsides that people might be worried about is the atomizer not being rebuildable, but it's specifically built for the Carta 2 so this is something I definitely wouldn't be worried about. For you heavier users, you'll be inclined to use a larger dab and the full 60-second timer. If you're able to keep up with the atomizer, you'll be able to have a ridiculous cloud flowing through the chamber as a damn near unstoppable force. I mean seriously, this thing is so powerful that it will have you sweating and your ears ringing. As I'll explain later in the review, you'll want to run the temperature a little lower than what you'll be used to because of how powerful it is. You can expect a pure flavor from your concentrates, and I would be inclined to suggest you try running live rosin if you get the chance because – WOW!
Battery Life
With a decent 2000mAh out of its proprietary battery, you're going to be able to dab for quite a while. Most people will be able to get around 10-25 sessions before needing a recharge. 
Some other nice features regarding this device's battery are that it uses modern USB-C charging, which is capable of fast charging capabilities on a sold separately charging dock that will cost you around $100. You'll be able to use your rig while it charges (pass-through charging), which is a huge plus for heavy users, as you'll be able to buy a battery bank with you to charge your device while you're out camping for example. While we haven't tested it yet, it should also be able to charge on any wireless charger like the one in your car. Out of the box though, you'll have access to a USB to USB-C charging cord.
The only real complaint I've seen from the community is people worrying about the 2000mAh battery being proprietary if something were to happen.
Carta 2 vs. Carta OG
The Focus V Carta 2 is about the same size as the original Carta OG, but there are some nice added features like a bubbler cap, ergonomic grips, and an overall sleeker design. As you'll be able to get tons of sessions out of the 2000 mAh battery, we recommend picking up a Tools420 Lockable vape case so that you'll be able to take all of your needed dabs and cleaning accessories with you while you go skating or camping on the go.
At face value, the new edition looks much better than the OG. The blue and white design has been changed to a rubberized matte black design with an LED light strip within the bubbler and at the base of the dab rig. While some people might confuse the bubbler to be a healing crystal, it's just simply been changed to opaque so that it shines better. While the new glass features a frosted centerpiece to better illuminate with the LED lights, the original glass will fit onto it in case you break it as the silicone base is still the same size. So, if you're uncoordinated like me it's a bit of a relief knowing that you can just swap over the original glass if you break the new bubbler. The new chamber is threaded on by a metal band and has a slightly more rugged seal than the original which is a bit harder to adjust during the session.
How to use the Focus V Carta 2 Dab Rig?
The first thing to do is load in have your bubbler filled to the fill line, and then remove the atomizer lid and load in your desired amount of dab.
On the phone application, you'll have tons of pre-set temperatures to set and save for your different kinds of concentrates.
As a rule of thumb, you'll want to have your temperature set a bit lower than what you'll be used to because of the efficiency of the battery and atomizer combo that will be cranking out continuous heat and clouds.
On the device, you'll also have access to three simple buttons up, and down, and the power to adjust simple things like the LED or session settings. 
Here are some other commands that you can use to operate the E-Rig.
Turn the Carta 2 on by pressing the power button 3 times
By default, it will be in oil (concentrate mode) when the atomizer is secured, but you can simply loosen the atomizer thread to change this to flower mode
Simply hit up or down to adjust the temperature, or press the power and then the up or down button to select between 5 pre-sets
Heating only takes a few seconds, and veterans will be able to lift the carb cap tether lid as somewhat of a carb cap to adjust the airflow during hits. While you might think that the 60-second session timer is small, have no fear because you can just add more time to it and your bowl will most likely be done anyways. On the app, you'll also be able to alternate between Fahrenheit and Celsius temperature displays. 
As a rule of thumb like all other vaporizers, a higher heat setting will give you more vapor production and less flavor, and a lower heat setting will give you fewer clouds and more flavor
How to clean the Focus V Carta 2?
After every dab you do, just take a Q-Tip dipped in isopropyl alcohol and give it a good swirl around the atomizer. Like most dab rig vaporizers these days, the Carta 2's atomizers are pretty durable, so don't have to worry about feeling like you need to be too gentle with the cleaning aspect of it. Get in there as well as you can and swirl the Q-Tip around to make sure you get the resin off from your most recent session. Check out our handy Vape Cleaning Sticks that come preloaded with isopropyl alcohol. Another thing some YouTubers do to get rid of buildups in the atomizer is taking the flat end of a dab fork to chisel off anything that is no longer coming off with alcohol.
Carta 2 Pros 
Pumps vapor out like a chimney
Awesome app and menu system 
Larger ceramic atomizer 
Aesthetic and ergonomic design
Carta 2 Cons 
High temperature sessions drain the battery quickly
HD screen not visible outside 
Airpath slightly prone to clogging 
Focus V Carta 2 Review Conclusion
In my opinion, the Focus V Carta 2 is coming in hot for the position of The Core E-Rig, as well as the Dr. Dabber Switch. With the Core 2.0 recently being released and distributed, it will be very interesting how these two devices compare to one another as they fight two see which will be the top dab rig of 2022. As the Core 2.0 comes with 3150mAh, no app integration, and only single button use, I don't see it coming anywhere close to the Carta 2 in terms of overall performance.
If you're new to electrical dab rigs, you'll be able to get awesome vapor quality without having to worry about a butane torch or temperature guesswork. As the atomizer is so efficient given its super-precise control and 360-degree heating, you'll be able to get a lot more vapor output compared to both torch nails or older dab rigs alike.
If you liked this review, you can count on us to provide many more just like it. Follow us on Facebook, Twitter, and Instagram, and sign up for our Newsletter for news, updates, and promotions. You could even win a prize! Until next time, happy vaping!