---
---
---
Is the Utillian 421 worth it?
The Utillian brand of Portable Dry Herb Vaporizers has released some highly popular devices, and recently the upgraded version of the 420 model was released, the Utillian 421.
The 421 vaporizer comes with some similar features that users loved, such as a glass mouthpiece for smooth, tasty rips, a digital display, and a ceramic heating chamber for easy maintenance.
There are some interesting differences on the 421 that we didn't see on the 420. Do the upgrades on the 421 perform better than its sibling? Read on and judge for yourself in our Utillian 421 Review.
Utillian 421 Specs
| | |
| --- | --- |
| Material Compatibility | Dry Herb |
| Pass through charging | No |
| Swappable Battery | No |
| Charge Time | 90 mins. |
| Charging Port | Micro-USB |
| Battery life | 60 minutes~ |
| Heating system | Conduction |
| Heat up time | 60 seconds~ |
| Temperature control | Presets |
| Temperature Range | 180°C – 230°C / 356°F – 446°F |
| Oven Size | 0.3g |
| Vapor path way | Isolated |
| Accessories | Utillian Bubbler |
| Vibration Alert | No |
| Motion sensor | No |
| Warranty period | 1 Year |
| Price | $100 |
| Coupon Code | 10off |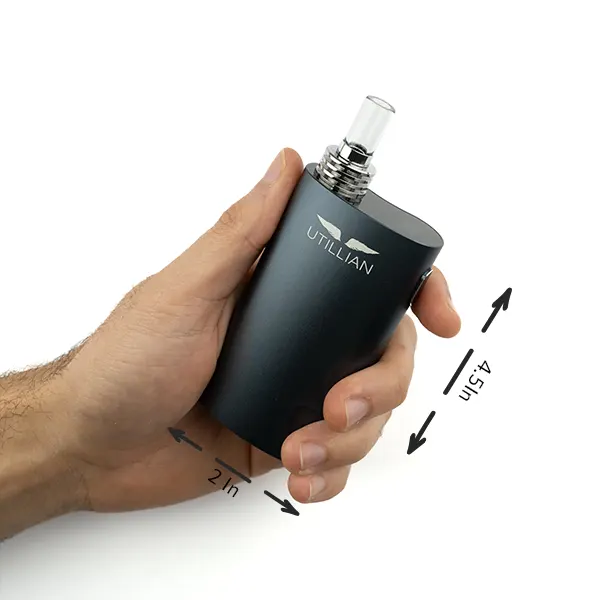 Utillian 421 Key Features
Sleek design
Easy to use
Discreet
Excellent build quality
Adjustable airflow dial
What's in the Utillian 421 box?
Straight out of the box, the Utillian 421 obviously includes the device itself. In addition, you also get a USB charging cable, extra screens, and a tool for packing your dry herbs.
The tool is handy for making sure that you don't spill any precious material and allows you to pack everything in the chamber well enough to ensure proper airflow. Your 421 will also include a useful shield that protects the glass mouthpiece from overheating. The 421 will also be protected by a direct warranty of 1 year.
1x owner's manual 

1x Utillian 421 vaporizer

1x metal pick

4x replacement screens


1x micro-USB cable

1x rubber mouthpiece cover
Easy-to-use Conduction Vaporizer
Using the 421 is about as easy as they come. There is only one button on the device, and to turn it on or off, you simply press the button 5 times and wait a minute for it to heat up and be ready. The unit has 6 preset settings ranging from 180°C/356°F to 230°C/446°F, which cover a pretty wide range of temperatures.
For what it's worth, the 420 from Utillian offers a good amount of choices in the temperature flexibility department. To switch temperatures, just hold down the button and let it do its thing. The digital display on the unit is bright and easily visible and simple to understand.
You'd be hard pressed to find a Weed Vaporizer that is simpler to use than the 421 – no frills, no fancy bells, and whistles, just a straightforward unit with solid performance. The high-quality 0.3g ceramic oven is long and narrow which means there won't be any cold spots, and a very even roasting of your cannabis.
Utillian 421 Vapor Quality
The combination of a glass mouthpiece, a ceramic chamber, and a new airflow valve means that the 421 produces similarly decent vapor quality that the 420 did. The airflow valve on the 421 does make a noticeable difference in the amount of vapor you will produce with the device, but the taste, flavor, and smoothness of the 421 are basically the same as its predecessor.
ABV / THC Extraction
As a budget conduction vaporizer, the Utillian 421 does a relatively good job at evenly roasting your cannabis thanks to its long and narrow ceramic oven. Your AVB (Already Vaped Bud) will always have a nice dark brown to it meaning a good extraction. Its style is a bit on the slower side, as it will need a buffer time in between hits though.
If you prefer faster vaping sessions, you might enjoy the budget and convection vaporizer, the XMAX V3 Pro.
Utillian 421 Portability and Discreetness
The Utillian 421 uses conduction heating and heats up in about a minute. Of course, there are devices out there that heat up faster than that, but for what it is; the 421 will be ready for use relatively quickly. The 421 is very discreet and is compact enough that you to get a tasty vape rip in a manner that won't draw too much attention.
The unit fits nicely in your palm and any pocket. Its look and feel are similar to a small flask. The design and the glass mouthpiece resemble a lot of e-cig mods, which adds another layer of discreetness. The 421 looks sleek as well, which an attractive black anodized aluminum finish.
Utillian 421 Battery Life
The Utillian 421 has a proprietary 2300mah battery that will last you about an hour of continuous use. While it uses an outdated Micro-USB port, it's not held back too much as it still has a fast charge time of just over an hour.
With a battery level indicator on the OLED screen, it's a nice feature compared to other budget vaporizers that rely on a flashing color to let you know it's time to charge (looking at you, Crafty+).
Utillian 421 Build Quality
One of the nicest things about the 421 is knowing that every part is high-quality. Even though the vapor quality isn't the best, there are no plastic parts, unlike most other budget vaporizers.
The body is made from high-grade aluminum, and the glass mouthpiece is just the cherry-on-top to prevent any kind of weird aftertaste during inhales that rubber or plastic mouthpieces can sometimes have.
How to clean the Utillian 421?
One of the better parts about the Utillian 421 is the fact that cleaning is very easy compared to similar vapes. If you clean out the chamber after each use, you won't have to worry about much besides resin buildup over time. About once a month you'll want to give the 421 a thorough cleaning.
The Utillian 421 Mouthpiece can be washed with hot water and wipes, and if the resin isn't coming off, you can use some isopropyl alcohol vape cleaning sticks.
When the time does come for a deep clean, everything will be easy to access, remove, and clean. For this reason, the 421 is super low maintenance, and Utillian 421 replacement screens can be picked up in a set of 5.
Utillian 420 vs Utillian 421 Comparison
And now, the part you've all been waiting for – What are the differences between the Utillian 420 and the Utillian 421?
For starters, the 421 has a new airflow valve at the bottom instead of the storage compartment, like we previously mentioned, and also has 6 preset temperatures instead of 4 like on the 420.
The 420 comes with a boost feature that increases each of the 4 temp settings by 5 degrees, so technically the 420 does have more temperatures overall. But the 6 presets on the 421 offer a wide array of temperatures that don't disappoint. As we've said, both the 420 and the 421 have a glass mouthpiece and a ceramic chamber that deliver fairly high-quality vapor.
Pros
The Utillian 421 has a ceramic chamber for easy cleaning and maintenance, which also means fairly even heating and solid vapor production
Glass mouthpiece means vapor rips that are pretty tasty and flavor-rich
New airflow valve at the bottom of the Utillian 421 delivers smooth draws and some decent-sized clouds
6 temp settings with a wide array give you some flexibility
Bright, vibrant digital display that is easy to read and understand
The value that you get at this price point is impressive and you can't beat it
Protected by a direct 1-year warranty
Cons
The Utillian 421 is only compatible with dry herbs, no waxes or oils
The device has 6 preset temperatures, which should be plenty for newbies, but might be viewed as a bit limiting for experienced vape users. Would've been nice to see a precise digital temperature control.
Who should buy the Utillian 421?
At around the $100 mark, you will be hard-pressed to find a dry herb vaporizer that competes with the manufacturing quality of the Utillian 421.
While it doesn't quite earn a spot on our list of the Best Vaporizers.
There is little plastic and the glass stem mouthpiece and chamber are bigger than most for the price range. If you're looking for an entry-level vaporizer that has bonus features over competitors like removable screens, ease of cleaning, a large chamber, and good heating, then the 421 is a great choice.
Conclusion
In conclusion, we'd recommend the 421 to any newcomer to the world of vaporizers as well as any experienced vape connoisseurs looking for a portable backup unit. If you're looking to leave combustion behind in favor of vaporization, but don't want to break the bank in the process, the Utillian 421 might also be perfect for you.
If you're still not sold, consider checking out our G Pen Dash vs Utillian 421 to see how it compares to similarly priced competition.
Like What You Have Read? There's More
If you're new to the vaporizer world and you need some advice on the best device for you, check out our buyer's guide. Follow our Facebook, Twitter, and Instagram pages and signup for our Newsletter to receive more news, updates, and promotions. You could even win a prize! Check back right here to Tools420 often because we update our pages frequently. Until next time, it's 4:20 somewhere! Happy vaping!
If you're looking to purchase the Utillian 421 head over to our shop!