Yocan Dive Vaporizer Review
---
---
We've had the opportunity to review some of the devices from the Yocan brand before, namely the Yocan Evolve Plus. We weren't blown away, but we weren't disappointed either. The Dive is a nectar collector style wax pen that has an affordable price tag. Keep reading our Yocan Dive review to find out more.
The Dive dab pen could be a perfect choice for newbies who are looking to enter the wonderful world of budget wax pens. If this is you, be sure to take a look at our Wax Pen Buyer's Guide for all of the details you need to pick the device that is right for you.
Product Features:
Really Easy to Use and Maintain
Highly Portable and Lightweight
Decent Vapor Quality on Low
Good Battery
How it Works and Ease of Use
Electronic nectar collectors work a bit differently than your typical wax pen, but still, aren't difficult to operate. To turn the unit on, just hit the button five times – which is pretty standard when it comes to wax pens. Three button presses scroll through the temperature settings. When the device is heated up, put the heated end to your concentrates and take a rip. Be sure to not touch the heated end, because it does get hot. Using the Dive is easy and straightforward, with little to no learning curve.
Yocan Dive Temperature Settings
There are only three preset temperatures on the Yocan Dive electronic nectar collector, which was a bit of a disappointment. The low, medium and high temperatures are indicated by red, green and white lights. Unfortunately, there is no way to know what the temperature settings on this nectar collector wax pen. The low and medium settings are fine with the Dive, but the temperature flexibility leaves a bit to be desired. We recommend the low and medium setting for most consumers.
A wax pen like the Linx Blaze has better temperature options that are calibrated better.
Vapor Quality
On the lowest setting, the flavor and smoothness are decent with the Dive wax pen from Yocan vapes. Nothing spectacular, but not terrible, either. The vapor production is on the low end with the low settings. The cloud production gets better as you boost the temperature, but the flavor and smoothness suffer noticeably.
When you get to the highest temperature, the flavor is well below average and it will get hot on your throat. However, you will blow pretty thick clouds with the highest temperature, so it's a judgment call depending on how you like to vape concentrates. If you are looking for a dab pen that offers much better vapor flavor and smoothness, check out one of our all-time favorite wax pens, the Utillian 5.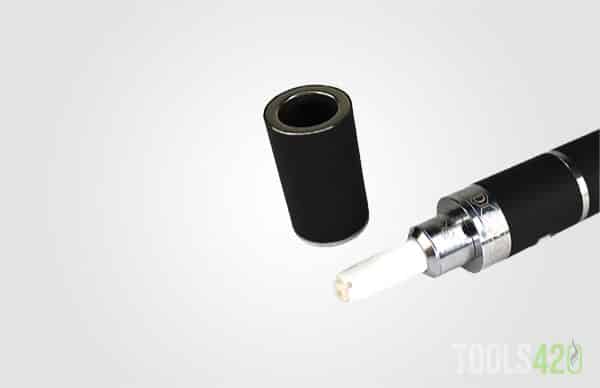 Dive Wax Pen Battery Life
The Dive wax pen from Yocan vapes features a 650mah battery, which is pretty good. Most consumers get about 45 minutes of continuous vaping from the Dive dab pen from Yocan vapes. The bad part is the fact that the battery is not replaceable. Batteries on wax pens inevitably deteriorate. This means that once this happens to your Dive dab pen from Yocan vapes, you're left with a wax pen that is practically useless.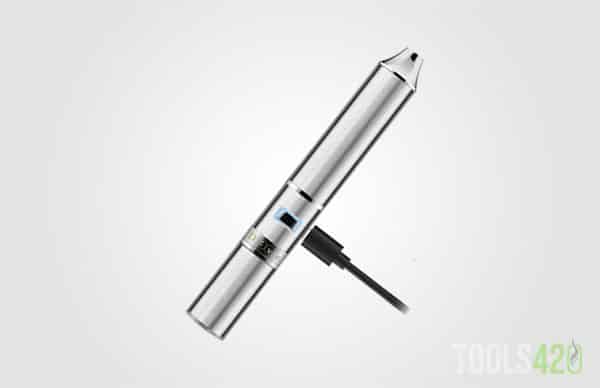 Aesthetics and Manufacturing Quality
The mouthpiece on the Dive wax pen from Yocan vapes is a bit shorter than we like. We prefer mouthpieces that are longer and thinner, which tend to offer better vapor quality. The stainless steel build of the Dive wax pen from Yocan vapes isn't the best, but it's not the worst, either. You would probably be able to drop this device a few times without needing to worry about it breaking.
It's also a bit thicker and heavier than most wax pens. We think that the Puffco Plus looks and feels better than the Dive, but the former costs more than the latter.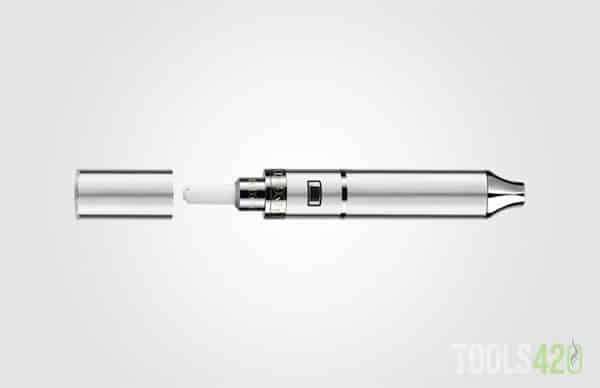 Portability and Discreetness
The Yocan Dive wax pen from Yocan vapes is less portable and discreet than your typical wax pen. If you're wearing tight jeans or shorts, you will probably have a noticeable bulge, so consider carrying it in a backpack. Alternatively, you could consider adding a water and wear-proof carrying case to your order like this vape case here from Tools420.
Most consumers probably can't conceal the entirety of the Dive in the palms of their hands, but it doesn't stick out. It looks mostly like your typical e-juice vape. Hits are discreet on the low temperature, but can get stinky and noticeable on the highest temperature – so be aware of that.
Dive Dab Pen Accessories
The Dive wax pen from Yocan vapes doesn't come with many accessories at all. In addition to the dab pen itself, you get two extra nectar collector coils, a micro USB charger, and an owner's guide.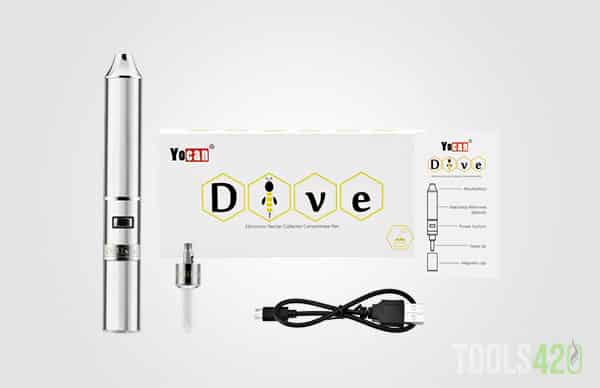 How to Clean the Yocan Dive
Keeping the Yocan dive dab pen from Yocan vapes is easy. You will mainly have to just focus on the vapor path and mouthpiece, hitting them with some cotton swabs dipped in isopropyl alcohol. Check out these pre-packaged, high-quality vaporizer cleaning sticks from Tools420 if you're tired of dipping your cotton swabs in alcohol.
Bottom Line
The Yocan Dive wax pen nectar-collector from Yocan vapes is easy to use, has a solid battery and is affordable. However, it will eventually deteriorate once the battery dies, and there are units that offer much better vapor quality for a little bit more money. One of such devices is the Utillian 5.
What do you think about our Yocan Dive review? What is the best wax pen? Let us know!
If you liked this review, check back right here to our Tools420 blog for tons more just like it. Follow us on Facebook, Twitter, and Instagram Newsletter. You could even win a prize! Until next time, thanks for reading and happy vaping!