---
---
---
Consuming concentrates has arguably become even more popular than dry herb vaporizers over the last couple of years, and with good reason. Consuming cannabis concentrates can be more efficient and discreet than vaping weed flowers. Additionally, you can save money with wax pens because you don't need as many rips as you would with dry herb vaporizers.
Consuming cannabis concentrates instead of dry herb means that some might have to buy new devices, while others might be able to use their existing vaporizers if they have dual functionality.
The reason why new devices are necessary to vape cannabis concentrates is due to the fact that material like wax, THC oil and shatter needs to be heated up to a higher temperature in order to vaporize than dry herb devices do. 
If you are looking to make a smooth transition to vaping concentrates from that of vaping weed out of your dry herb vaporizer, we've got all the answers to your questions. We will point you in the right direction as to frequently asked questions about concentrate devices as well as some recommendations to the best dab pens out there right now.
Guide to Dab Pens
When discussing wax pens, the question of 'what is dabbing?' comes up a lot. Dabbing (not the dance move) just means consuming cannabis, traditionally waxy concentrates known as shatter, at a concentrated level, which is higher than that of dry herbs. For many years, dabbing meant using a dab rig made of glass and utilizing a blowtorch. This method is potentially very dangerous, especially for people who don't know what they're doing. 
Not only that,
Using a big torch can be off-putting for convincing people of the medical properties of cannabis and getting them on board with consuming concentrates.
Thankfully, wax / dab pens are putting an end to all of that. Some heavy users are still vaping dabs with torches and glass rigs, but that method is quickly becoming a thing of the past. Enter the wax pen, which is much more accessible to people who are new to vaping and would like to try concentrates, especially live resin, which is made up of the whole plant. The wax pen is also much more portable than a traditional dab rig or electric dab rig. 
Different types of dab pens 
Regardless of the price range or the manufacturer, every wax pen consists of 3 main parts: An atomizer, battery, and a mouthpiece.
The atomizer is the component of the vape pen where you load up your favorite concentrates. As it heats up to your desired temperature, vaporization occurs. An individual wax pen will come with several different kinds of atomizers, and some have multiple atomizers. Atomizers are made from different materials and vary in sizes and shapes, but the job of each atomizer is the same – vaping concentrates. These integral components of wax pens aren't built to last forever, so you will want to change the atomizer in your wax pen every two months or so.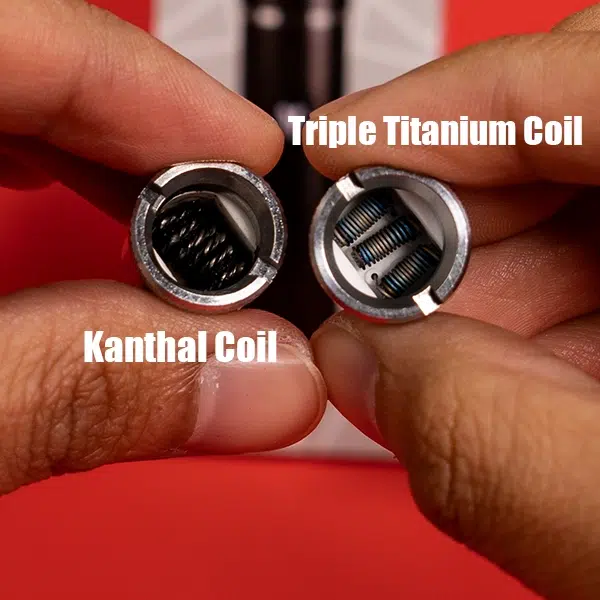 Ceramic Rods
Most atomizers are made from ceramic nowadays, but that is starting to change as vaporizers evolve. These atomizers are made of titanium coils that are wrapped around a ceramic rod.
One of the main reasons why so many atomizers use ceramic rods is because of the high resistance to heat that ceramic has and the fact that the material is very durable.
A negative part about these types of rods is that keeping your unit clean that uses ceramic rods can be difficult, especially if you neglect to clean them.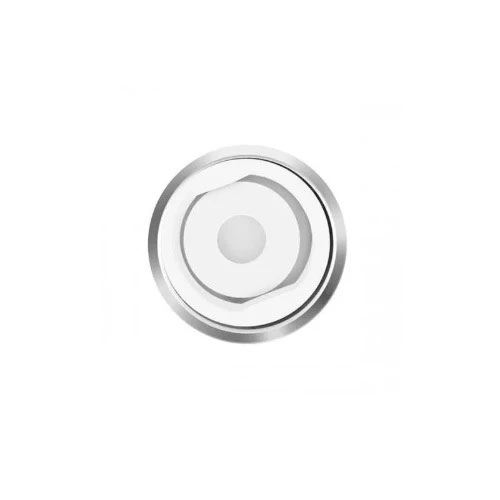 Quartz Rods
Another highly popular atomizer in today's wax pens is quartz crystal rods. Quartz rods are a bit like ceramic rods but they use quartz rods in place of the ceramic ones. Two wax pens that have the option to vape with quartz rod atomizers are the Pulsar APX Wax and the Yocan Evolve Plus.
Because the quartz crystal rods are made of glass, they tend to provide better vapor flavor and are also easier to clean than ceramic.
The negative side of quartz is that they can be more fragile and break more easily than their ceramic counterparts. 
Silica Wicks
Atomizers that use silica wicks are a bit outdated, but you will still find them in some vaporizers. Wax pens that have such as these use coils made from titanium that wrap around the silica wicks. When you heat up the vaporizer, your waxy concentrate will melt and slowly absorb into the wick. From there, it is pulled towards the coils and vaporized. Atomizers made from silica wicks are tough to keep clean and don't offer great flavor at all, which is why we are seeing most brands move away from them.
Ceramic Buckets
Coil-less ceramic pad atomizers have been gaining a lot of notoriety in the vaporizer market lately. Ceramic pad atomizers get rid of the exposed coil that is wrapped around a rod. The idea behind ceramic pads is that they are intended to heat up the wax more evenly and efficiently than their older rod counterparts. The result also tends to be less of a need to generate heat with ceramic pads to properly vaporize concentrates, thus delivering a smoother, more flavorful draw. The best example of this can be found in the Dr. Dabber Stella.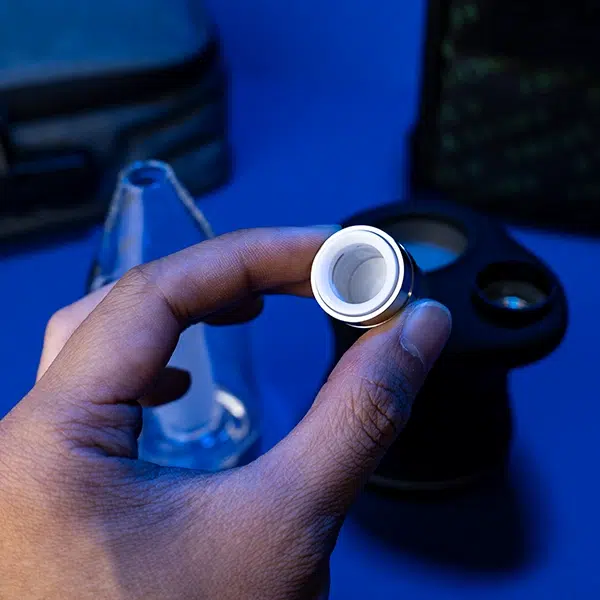 Wax Pen Batteries
Obviously, a wax pen battery is what powers up the device. Each wax pen or concentrate vape will come with its own battery, and each one will have different charge up times and battery life. Some devices offer precision temperature control, while others have preset temperatures. Temperature flexibility is important because it determines a part of your vaping experience. Lower temperatures will give you the best flavor and thin vape clouds, while higher temperatures will produce thick clouds, but less flavor. 
The amount of time it takes your vaporizer to charge up and how long the battery lasts is important to do is so make sure to read different dab pen reviews. A cheap dab pen vape that has one of the biggest batteries on the market today is the Utillian 5, which has a 1500mAh battery.
Dab Pen Mouthpiece Styles
The final essential component of a wax pen is the mouthpiece. Wax Pen mouthpieces are often made from metal, glass, ceramic or plastic.
Plastic mouthpieces can sometimes feel cheap, but more often than not, plastic mouthpieces will be durable and heat resistant.
Metal / plastic mouthpieces tend to deliver less flavorful hits than glass or ceramic, so some companies are giving consumers the option to choose between various mouthpieces.
The Dr. Dabber Stella is a perfect example of a wax pen that offers consumers different choices on the type of mouthpieces they use, and the ability to swap them in and out as you can upgrade to glass from the standard metal mouthpiece.
Electronic Dab Rigs
Electronic Dab Rigs, aka E-Rigs, are super popular.
These device can potentially deliver the same larger hits that dab rigs do, which many consumers prefer.
Wax pens sometimes aren't satisfying for some consumers. E-Rigs deliver those large hits without the need for bulky and dangerous blowtorches. E-Rigs operate with a battery or a power cord, or both, and are self-contained. Some of our favorite E-Rigs include the products from Focus V, which include the Carta OG and the Carta 2.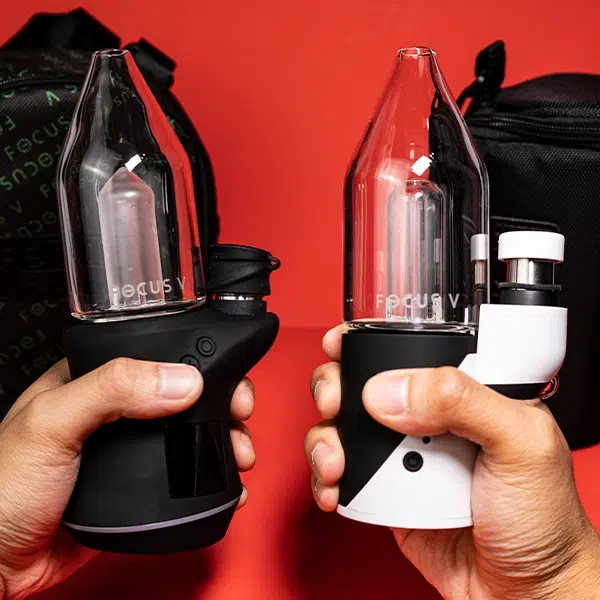 Which dab pen to buy?
Wax Pen Buyers Guide Conclusion
If you are new to the wonderful world of vaping, check out our dry herb vaporizer buyers guide for more information about vaping weed.
Stay tuned to the Tools420 blog for a lot more buyers guide and product review content just like this. We carry the best prices on vape pipes, wax pens and dry herb vaporizers USA and offer fast shipping!
Follow us on Facebook, Twitter, and a Instagram. Sign up for our Newsletter for updates and promotions. You could even win a prize! Thanks for reading, and vape on!