---
---
Best budget weed vapes
The cannabis vaporizer scene has changed drastically in the last few years. Finding a reasonable budget dry herb vaporizer can be challenging, considering all the options out there right now. For this informative list, we've included some budget herb vapes, and a couple of devices we feel are worth some extra coin. These are our top picks for budget based on the bang for the buck you'll get on key features like vapor quality, chamber size, portability, and ease of use. 
Arizer Solo 2
If you're really set on a device with a strong battery, the Solo 2 is the way to go as it has up to three hours of battery life out of the box. With full incremental temperature control and good vapor quality, the Solo 2 can be considered the perfect budget herb vape for beginners!
While the conduction heating with minuscule convection jets in the small chamber only produces average quality vapor production and flavor, the manufacturing quality brings up its worth. With such features as the classic 110mm glass mouthpiece and full temperature with OLED screen control, this is a great all-around vaporizer.
Strong battery
Built to last
Full temperature control
110mm mouthpiece isn't very portable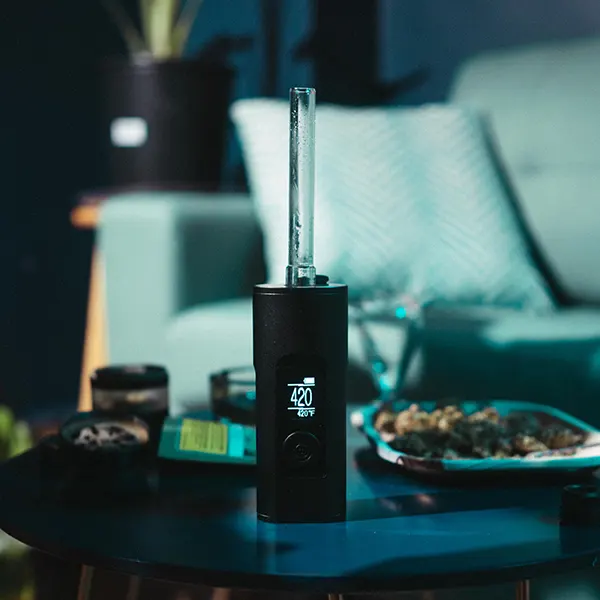 With a cult-like following, the Dynavap M 2021 took the vaporizer world by storm and is often called the best budget dry herb vape ever! With serious performance from tiny hardware, it hits with hard and powerful clouds and only needs a small amount of cannabis. As it uses a torch on induction heater, it is not the most portable or easy to use in public but for quick sessions at home, it is one of the best options. 
Dynavaps don't use batteries to vaporizer but instead a butane torch lighter to heat up. A regular lighter, candle, or even stove-top can be used too, but the best results definitely come from using a torch lighter or specially built induction heater. One of the cool features is that the lid will click when the chamber has been heated to proper temperatures and If you want a hard-hitting and joint-sized herb vape for under $100, then this is one of the best choices for vapor production. For use with a bubbler for smoother hits, consider the Dynavap Bong Adapter or the Dynavap Tiny Bubbler, it's definitely worth the extra coins!
Powerful hits from a small amount of material
Fun to use!
Pairs with a bubbler
Best performance for the price 
Has a learning curve
Utillian 421
The Utillian 421 is an upgrade to the ever-popular Utillian 420. Bringing a few upgrades to the table, the Utillian 421 has a large 0.3 gram chamber, multiple temperature settings, and adjustable airflow. It hits hard and heavy, especially through a bong.
You'll get solid THC extraction and the glass stems adds smoothness to your hits. The build quality feels very durable in your hand and with a solid battery life, the 421 is one of the fan favorite budget dry herb vapes on the market.
Attractive, small design
Glass mouthpiece
Large chamber leads to big hits
Average vapor quality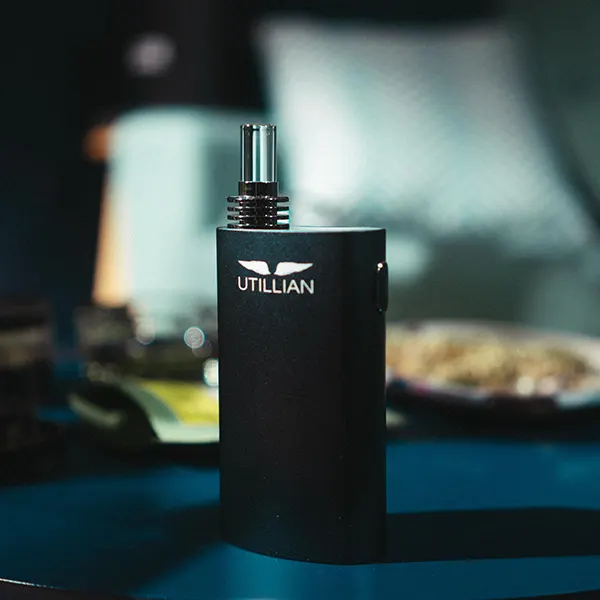 XMAX V3 Pro
XMAX vapes have a solid track record of solid cannabis vaporizers that are still affordable. The XMAX V3 Pro is a very simplistic and small dry herb vaporizer that is highly consistent. While it uses basic tech like a classic ceramic convection oven and plastic mouthpiece, the full temperature control and efficient chamber give it some solid performance in terms of cloud production.
For an entry-level dry herb vape it's a great choice for budget vapor quality. 
Very compact size
Sleek design
Simple to use
Bubbler compatible
Excellent vapor quality
G Pen Dash 
Housing a powerful conduction heater for its size, the G Pen Dash is one of the only budget dry herb vapes to use a convenient magnetic mouthpiece. The result is big powerful hits with solid taste from a small amount of material. While they're not perfect and the hits can be a bit hot, you'll get a big bang for your buck once you figure out the perfect settings for your preferences. The Dash ultimately stretches your herb longer, produces tastier hits, and heats the chamber well despite its small size.
Powerful conduction heating element for good vapor quality
Very Portable
Small Chamber
Weak Battery Life
Flowermate Slick
Flowermate has become a familiar name with its reliable and budget-oriented devices. The Flowermate Slick is an attractive offering from them that is easy to use, houses a removable 18650 battery, and sports a glass vapor-path. While the Slick isn't the heaviest hitter, it's easy to use, convenient, and consistent. With good portability and discreet design, this is a great choice for beginners that would like to take their sessions on the go. The removable battery is also a great feature to keep sessions going if you run out of battery. 
Removable 18650 battery
Slick and attractive design
Good vapor quality
Not the heaviest hitter
Utillian 620
While we'd say it's a little beyond the budget vape bracket and into the mid-range category, the Utililan 620 is our favorite performing vape at the lowest price. It has key features and aesthetics that beginners and veterans will appreciate:
An integrated stir stick, removable vapor path, OLED display, full temperature control, and a lengthy cooling glass vapor path. These features all culminate into a device which hits above its weight class and is a great value. If you're willing to spend a little more – we'd recommend this unit!
Great vapor quality
Compact size
Integrated stir stick
Small-medium sized chamber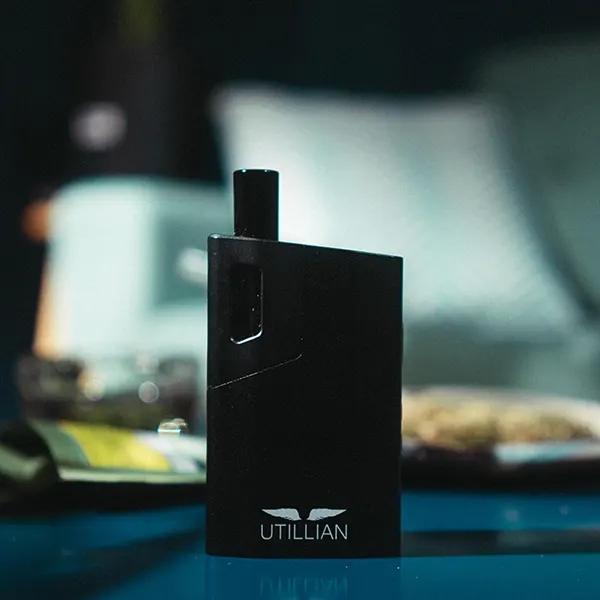 Pulsar APX V3
Small, compact, simple, and affordable – the Pulsar APX 3 dry herb vape works fine and does what it needs to do. While it's a fine device, we personally prefer other units on this list as they are able to fit onto a water piece, have better vapor quality, or are a different size. It's a good unit nonetheless and still worth considering due to its affordability.
Haptic feedback
Very small size
Very low cost
Poor temperature control
Arizer Extreme Q
Despite being over $100 and a desktop vaporizer, we can't help but include the Arizer Extreme Q. The Extreme Q is the most affordable desktop vaporizer and has great vapor quality, a very large chamber, a powerful convection heater and more at an affordable cost. Not only that, it's extremely versatile with its ability to use bags, a whip, or a direct draw. Additional features like a wireless remote, multiple fan settings, and complete temperature control make it hard to beat, especially for the price. With frequent sales on the device and the thousands of great reviews, the EQ is always a great budget vape choice. 
Terrific vapor quality
Versatile – used with bags, a whip, or a direct draw.
Very reasonable price
Plugs into wall only
Arizer ArGo
An alternative to the portable vape king, the Solo 2, the Arizer ArGo has a sunken chamber that will produce a lot of vapor due to its strong heating elements and hybrid heating. Despite its super portable design, you'll really get your money's worth in terms of power and vapor.
With a similar glass stem design to other Arizer vapes, but with terrific battery life, full temperature control, and an oLED screen are really nice features for the cost and size. It heats up quickly, has noise feedback, and is quite simple to operate. The downsides? It does lose a bit of vapor quality compared to the bigger portables.
Hidden glass stem chamber design
Great battery life
Fast heat-up time 
Very discreet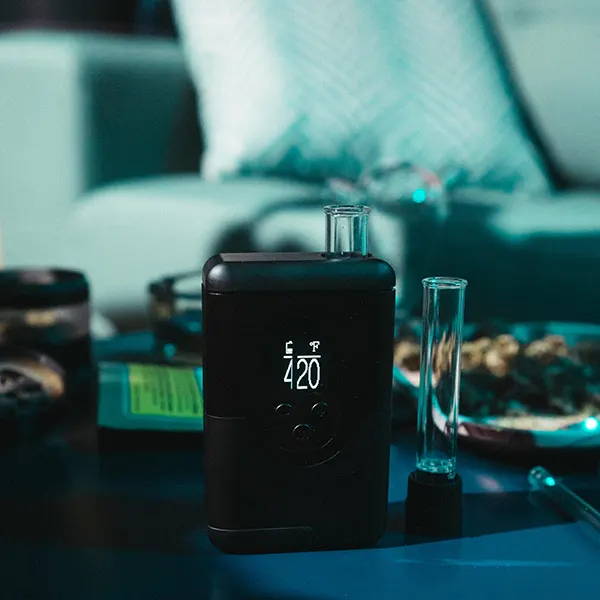 We hope you found our guide to the best budget herb vapes useful and informative, to read more related articles be sure to check out our vaporizer reviews page. Follow us on Facebook, Twitter, and Instagram to get notified with the latest vaporizer reviews and news!