---
---
---
Is the XMAX Starry 4 worth it?
The XMAX Starry 4 is finally here to be the perfect budget dry herb vaporizer you've been looking for. If you weren't fully sold on the XMAX V3 Pro, the brand new Starry V4 is here to knock that door down, Kool-Aid Man style!
Instead of a stock plastic mouthpiece, it uses a high-quality ceramic mouthpiece along with an adjustable air vent, and a very simple user interface to help you get the job done for just over $100
In this review, we'll be going over how these features help the Starry 4 to swing above its weight class, as well as who we think it's best for – Let's get into it!
XMAX Starry 4.0 Specs and Ratings
| | |
| --- | --- |
| Material Compatibility | Flower |
| Pass through charging | No |
| Swappable Batteries | Yes |
| Charge Time | 90 Minutes~ |
| Charging Port | USB-C |
| Battery life | 60 Minutes~ |
| Heating system | Conduction |
| Heat up time | 25 Seconds |
| Temperature control | 160°C – 240°C / 320°F – 464°F |
| Oven Size | 0.4g |
| Vapor path way | Ceramic |
| Accessories | WPA, Liquid Pad |
| Vibration Alert | Yes |
| Motion sensor | No |
| Warranty period | 1 Year |
| Price | $100 |
| Coupon Code | |
| Ease of Use | 8/10 |
| Vapor Quality | 8/10 |
| Manufacturing Quality | 8/10 |
| Ease of Cleaning | 7/10 |
| Portability | 7/10 |
| Durability | 8/10 |
XMAX Starry V4 Key Features
Sleek and Portable Design
30 Second Heat-Up Time
Swappable 18650 Battery
Ceramic Conduction Oven
Haptic Feedback
Included Stainless Steel Dosing Capsule
Adjustable Airflow Dial
What's in the XMAX Starry 4.0 Box?
XMAX Starry V4 Vaporizer
Cleaning spoon, brush, and pick
x1 Dosing Capsule
x2 Mouthpiece O-Rings
x2 Mouthpiece Silicone Vap
x3 Q-Tips
x4 Alcohol Cotton Wipes
x1 Owner's Manual
XMAX Starry 4 Ceramic Conduction Oven
The Starry V4 uses a large ceramic conduction oven with a very high max temperature of 464°F / 240°C, which is actually above the combustion temperature of most ground cannabis.
With an adjustable airflow dial, experienced users will have control over how hard they want their vapor draws to be, and with the Starry's funneled chamber design, it's easy for beginners or first-time vaporizer users to not spill their herbs when loading.
With the included stainless steel dosing capsule, you'll also be able to prepack your bowl to help reduce device maintenance and help overall portability!
Consistent Vapor Quality
Based on our testing, we think the Starry 4 has overall good vapor quality for its $100 price tag. While its ceramic conduction oven is certainly strong and pumps out consistent vapor quality, it was a bit lacking in the terpene flavor department, especially when compared to premium vapes like the AirVape Legacy Pro.
Still, if flavor isn't very important to you, for close to $100, you'll be hard-pressed to find a best portable budget vaporizers that can pump out bigger clouds. On the other hand, if flavor is important to you, make sure to check out out list of the best dry herb vaporizers for flavor.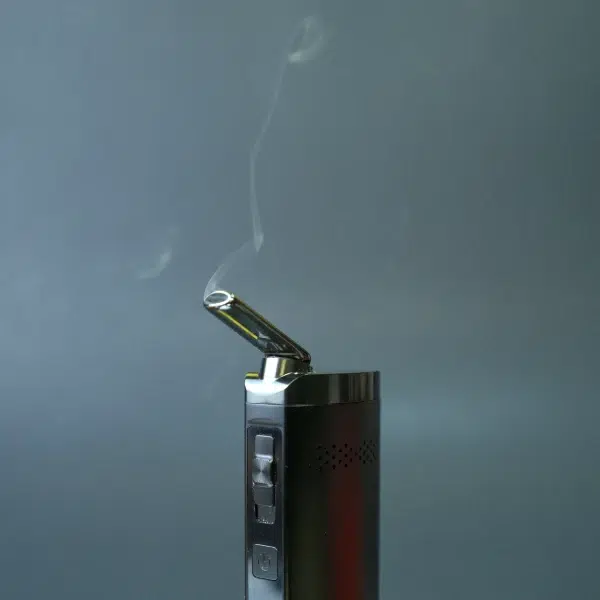 With the adjustable airflow dial, you'll also be able to restrict the air intake if you want more concentrated and harsher hits while the dial is fully closed.
What are the best temps for XMAX Starry 4?
Here's what to expect from different temperatures on the Starry 4:
170°C / 338°F gives you good flavor and smooth hits, but not a lot of vapor production

185°C / 365°F will give you consistent vapor clouds with decent flavor

210°C / 410°F is a bit harsh on the throat but produces a good amount of vapor

235°C / 455°F will produce a massive amount of vapor, but it is on the harsher side – Smokers will most likely like this temperature range + will be good for concentrate vaping with the mesh pad
The Starry has good THC extraction
The Starry V4 can extract THC phenomenally well thanks to its strong conduction oven and the higher temperatures that it can operate at.
Because the dosing capsule is also made of thin stainless steel, it had good heat transfer and won't limit your airflow or the amount of vapor that the Starry produces. 
ABV at the end of the longer session timer of six or ten minutes will especially be well-extracted and give you a dark brown ABV to prove that your herb has been well-roasted.
Can you use concentrates in the Starry V4?
Out of the box, you'll be able to use the included dosing capsule with a bit of cotton in the bottom for vaping your favorite concentrates like live resin or shatter and wax.
Overall though, the performance won't be very good as a dedicated E-Rig or Dab Pen for dabbing. Instead, I suggest that you pick up the wax vaporizer by XMAX, the XMAX Qomo.
Very Portable Design
Because of the smooth zirconia mouthpiece and aluminum body, the Starry V4 can easily slide in and out of pockets.
It's just a bit bigger than the PAX 3, and the swivel mouthpiece helps it to be more portable, along with spare dosing capsules if you buy extras, which will help with chamber reloading and cleanliness.
If you do plan on bringing multiple sessions with yourself on the go, we do suggest picking up a Vape Case which will let you take everything you need in one secure space.
One small knock is that it's a bit smellier as a conduction vaporizer, so its discreetness in terms of smell won't be the best. If you need some tips to help you stay discreet, make you read our How to Remove Weed Smell Guide.
Strong Battery Life for its Price
The XMAX Starry 4 uses a 2550mAh 18650 battery that is easily swappable via a battery door on the bottom of the vape.
XMAX didn't play around with the battery life though, as we got 13 sessions on the four-minute timer at a temperature of 200 Celsius.
With USB-C charging, you'll also be able to get your vape back to full in as little as 90 minutes – You'll know that you're done charging when the flashing battery icon turns solid.
Unlike the majority of the best dry herb vaporizers under $100, the swappable battery is an awesome feature to have. For example, while the XMAX V3 Pro does have a swappable battery, the convection heating system it uses will only grant you about 40 minutes of up-time.
Make sure to stock up on spare 18650 batteries if you consider yourself a heavy user!
The only real feature that the Starry is lacking is pass-through charging but given its other abundance of features, it's something that I wouldn't stress over personally.
High-Quality Manufacturing
Similar to some premium conduction vaporizers like the DaVinci IQC, the Starry 4 only uses high-quality materials to help boost its vapor quality. These include features like a magnetic and jewelry-grade zirconia mouthpiece, a ceramic filter insert, and a ceramic chamber.
Your vapor will never come into contact with any plastic or electronics, and this is what sets it apart in the budget category.
This is a great feature to look out for when buying a conduction vaporizer, as an isolated vapor path with premium materials will help performance. For example, the Zeus ARC GTS, which uses a gold-laden conduction oven that helps for an even roast of your herb!
XMAX Starry 4 vs. XMAX V3 Pro
The Starry is conduction, the V3 Pro is convection
Starry has a larger bowl
V3 Pro has an on-demand heating mode instead of just automatic heating on the Starry
Starry has a zirconia mouthpiece, V3 Pro has a plastic stock mouthpiece (upgrades are available)
Starry has an included dry herb dosing capsule, V3 Pro has an included wax cup for concentrates
They both have an easily swappable 18650 battery
XMAX Starry V3 vs. XMAX Starry V4
The Starry 4 now features haptic feedback when it is turned on or reaches the temperature
Slightly larger frame
More session timer options
New included stainless steel dosing capsule
The Starry 3.0 glass adapter (with silicone tubing), bubbler, and dosing caps will fit the Starry 4!
Improved vapor pathway
Improved battery lid
Upgrade to USB-C charging
More even chamber heating
How to use the Starry 4.0?
The easy user interface of the Starry V 4.0 is another feature that sells itself.
There are only three basic commands to know and get it working out of the box:
Three clicks of the power button turn it on or off
Holding the power and up buttons will

cycle between the session timers

of four, six, and ten minutes
Holding the power and down buttons will

cycle between Celsius and Fahrenheit
In the owner's manual, XMAX recommends only packing half of the 0.4g bowl for optimal performance, which brings the chamber capacity down to about 0.2g sized bowl. I had a much better performance following this advice, as overpacking clogged the ceramic filter and restricted my airflow.
XMAX Starry 4.0 Tips and Tricks
For best performance, it's advised to only load the chamber half full
The dosing capsule will help you keep the chamber clean if you aren't a fan of maintenance
Slowly climb the temperature throughout your session to never see a drop in vapor production (temperature stepping)
Holding the up and down arrows at the same time will inverse the screen for either right-handed or left-handed users.
XMAX advises you charge your Starry 4.0 for 6 hours when you first receive it
Use the DynaVap Fat Mouthpiece as a cheap 14mm water pipe adapter for use with your favorite vape bongs and bubblers 
How to Clean the Starry 4.0 Vaporizer?
With the included pick tool in the kit, it's a good idea to knock out the chamber after every session.
If there are crumbs under your oven chamber screen, giving the bottom a good slap while holding the vape upside down will help get rid of them.
Once you've knocked out the herb from the chamber, you'll then be able to use a Vape Cleaning Stick to gently clean any resin buildups on the ceramic or the mesh screen.
Cleaning the Mouthpiece
For the magnetic mouthpiece, it breaks into three different parts that can all be cleaned in hot and soapy water individually. These parts include:
The zirconia mouthpiece and tip
The rubber gasket
The ceramic filter
To disassemble these parts for cleaning, you can first remove the magnetic mouthpiece and then pull out the mouthpiece cap.
Use your nail to wedge out the rubber gasket, and then the ceramic filter as well.
You'll be able to soak the mouthpiece tip, the ceramic filter, and the steel dosing capsule all at once in 99% isopropyl for thirty minutes to get rid of resin buildups.
After that give them a cleaning with an old toothbrush and a hot water rinse off and they'll be as good as new again.
XMAX Starry Warranty & Reputation
You'll have a one-year warranty on the electronic parts of the Starry 4.
Topgreen / XMAX in general has a fantastic relationship with the weed vaporizer community, as they have a reputation of going above and beyond when it comes to warranty claims and we here at Tools420 as one of the largest authorized distributors in North America have nothing but good things to say about as them.
XMAX Starry 4.0 Pros
Excellent build quality for the price
Included high-quality stainless steel dosing capsule
Good airflow and clouds
High maximum temperature
Lots of features for a budget vape
XMAX Starry 4.0 Cons
Bottom of chamber prone to crumbs under the screen
Taste isn't the best at higher temperatures
Overpacking leads to clogging of the mouthpiece filter and restricted airflow
The Starry's body will get hot after back-to-back sessions
Who's the XMAX Starry 4 best for?
I believe that the XMAX Starry is a great buy for anyone getting their first vaporizer. Tons of features help it swing above its weight class and along with the XMAX V3 Pro, you have two great options about how you want your vaporizer to perform. Whether that be the free-flowing air of the V3 Pro or the bigger clouds of the Starry 4, these are great dry herb vapes for beginners.
Who's the XMAX Starry not for?
As well manufactured as the Starry 4 is, it's simply outperformed by the best portable vaporizers in terms of performance. If you like the shape and function of the Starry 4 but want much better vapor quality, then you might be interested in the Utillian 722.
Alternatively, if you like the premium manufacturing materials used on the Starry 4 but want better flavor and overall improvements across the board, the AirVape Legacy Pro might be right for you. The Legacy Pro also features on-demand heating so you'll be able to only heat the chamber when you want it to, which can be much more efficient.
With the powerful hybrid heating it uses as well, sessions will be much quicker for either your flower or dabbing sessions it's able to do.
XMAX Starry 4 Review Final Thoughts
Overall, the XMAX Starry 4 is going to be one of my top recommendations for people buying their first vaporizers in the future.
Its automatic heating, included dosing capsule and precision temperature control really are foolproof, and I simply can't see anyone struggling with the easy user interface.
Because it's able to pump out big clouds as well, I can see it being a good backup vaporizer for desktop vaporizer owners looking for a spare portable vaporizer while they're out of the house.
If you're still undecided, be sure to check out our XMAX V3 Pro vs XMAX Starry 4 Review.
FAQ
Q: Will the XMAX Starry 3.0 mouthpiece fit on the XMAX Starry 4.0?
A: No, the XMAX 4.0 chamber is a bit bigger than the 3.0, so the 3.0 mouthpiece will not fit on it.
Q: Does the G Pen Dash or XMAX Starry 4 have bigger clouds?
A: The Starry 4 is able to produce much bigger clouds than the G Pen Dash.
Q: Can the Starry 4 vape concentrates?
A: Yes, but you'll need to use the wax mesh pad to keep the chamber clean & use a temperature of above 420°F / 215°C
Q: Does the XMAX Starry 4 have any convection heating?
A: No, the Starry 4.0 is purely heated by conduction heating.
Q: How much does the Starry 4 hold?
A: The Starry 4 has a chamber capacity of 0.4g, but it is recommended to only fill it only half way full to 0.2g of ground cannabis.
Q: Who manufactures the XMAX Starry 4.0?
A: XMAX / TopGreen is the manufacturer and is based out of Shenzhen, China. They have a great team and always resolve warranty issues quickly.
I was a huge fan of the XMAX V3 Pro when we first got it here at Tools420 in April 2022. Since then, we've sold thousands of XMAX devices and have had nothing but positive feedback from customers. For making budget vaporizers, they swing above their weight class and seem to always be improving on their old designs to stay competitive.