---
---
---
Should you buy the XMAX V3 Pro or XMAX Starry V4?
XMAX has gained quite a reputation in recent years with the release of high-quality budget vaporizers in their Starry and Pro lineup.
In this comparison review, we'll be going over their similarities and differences to help you decide which one is right for you – Let's get into it.
XMAX Starry vs. V3 Pro Specs
| | | |
| --- | --- | --- |
| | XMAX V3 Pro Specs | XMAX Starry 4.0 Specs |
| Material Compatibility | Dry Herb + Wax |   Dry Herb (Wax Pad sold sep.) |
| Pass through charging | No | No |
| Swappable Battery | Yes | Yes |
| Charge Time | 2 Hours | 80 Minutes |
| Charging Port | USB-C | USB-C |
| Battery life | 45 Minutes | 80 Minutes |
| Heating system | Convection | Conduction |
| Heat up time | ~20 Seconds | 25 Seconds |
| Temperature control | Precision | Precision |
| Temperature Range | 212°F – 428°F / 100°C – 220°C | 320°F – 464°F / 160°C – 240°C |
| Oven Size | 0.25 | 0.3g |
| Vapor path way |  Steel | Ceramic |
| Accessories | Mouthpieces / Capsules | WPA, Liquid Pad |
| Vibration Alert | Yes | Yes |
| Motion sensor | No | No |
| Warranty period | 1 Year | 1 Year |
| Price | $80 | $99 |
| Coupon Code | | |
| Ease of Use | 8/10 | 8/10 |
| Vapor Quality | 8/10 | 8/10 |
| Manufacturing Quality | 8/10 | 8/10 |
| Ease of Cleaning | 8/10 | 7/10 |
| Portability | 8/10 | 7/10 |
| Durability | 8/10 | 8/10 |
Key Feature Differences
The Starry uses a straw-style mouthpiece
The Starry is Conduction, V3 Pro is convection
The Starry has an included flower dosing capsule, and the V3 Pro includes a wax cup for concentrates
The V3 Pro has an on-demand mode
Kit Comparison
Each kit is packed with nice additions to help the bang for your buck.
| | |
| --- | --- |
| XMAX V3 Pro Kit | XMAX Starry V4 |
| 1 x MAX V3 PRO Vaporizer | Cleaning spoon, brush, and pick |
| 1x 18650 Battery | x1 USB-C Cable |
| 1 x Wax Cup for Concentrates | x2 Chamber Screens |
| 1 x Cleaning Brush | x1 Mouthpiece Screen |
| 1 x USB-C Charger | x1 Dosing Capsule |
| 1 x User Manual | x2 Silicone Mouthpiece Cap |
| 1 x Cotton Swabs | XMAX Starry 4.0 Owner's Manual |
| 1 x Alcohol Prep Pads | |
Vapor Quality Comparison
First-time buyers will appreciate the vapor output of the Starry V4, and beginners will appreciate the learning curve and upgradeable parts of the XMAX V3 Pro
Because of the strong conduction oven in the Starry, it's able to pump out big clouds without any kind of learning curve.
There's a bit more draw restriction compared to the V3 Pro, but the stronger oven allows for more effortless clouds and the zirconia mouthpiece feels smoother to inhale from.
In my experience, even on lower temperatures, the conduction-based heating system of the Starry 4 had less terpene flavors and more vapor production, which makes it better for people quitting joints.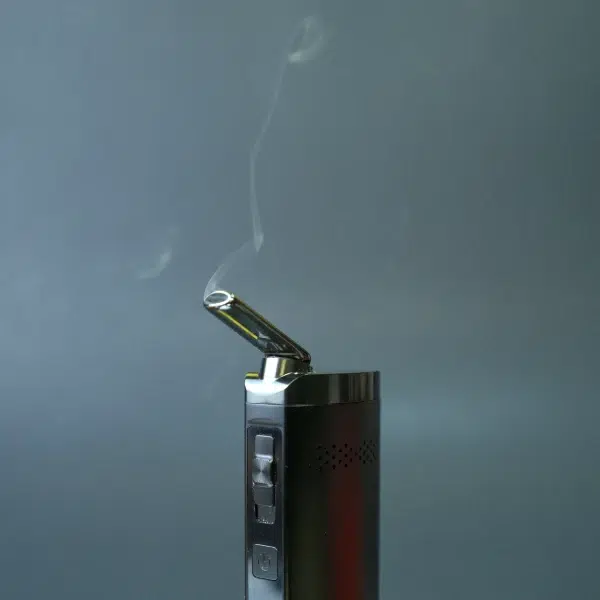 With the V3 Pro's hot air extraction system, your terpene flavors will last longer, but vapor production will drop off faster compared to the Starry v4.
For optimal vapor production on the V3 Pro – You'll need to be taking inhales longer than five seconds which some people might not like.
Starry 4 Conduction vs. V3 Pro Convection
The Starry 4 uses a conduction oven that directly heats the ceramic around your cannabis.
The bowl is also bigger than the V3 Pro's, and the straw-style mouthpiece is easier to inhale than the wide stock plastic one on the V3 Pro. Right off the bat while comparing the two devices, it's obvious that the Starry can produce the denser clouds between compared to the V3 Pro.
The convection on the V3 Pro heating warms the air that passes through the chamber for its THC extraction.
Because of this, the extraction is slower as it only really extracts while you're inhaling. However, for big clouds and good extraction, you'll need to be taking long and slow inhales.
AVB (Already Vaped Bud) is going to be darker on the Starry 4 in less time, and you might feel as though the V3 Pro vapor production drops off after a few minutes even if you raise the temperature.
XMAX Starry 4 AVB
XMAX V3 Pro AVB
Can they vape wax?
The starry 4.0 uses a higher temperature than the XMAX V3 Pro at 464℉ compared to 428°F. This will allow for much better vaping of hash and waxy concentrates.
However, the V3 Pro has an included wax cup in its kit, while you'll need to separately purchase a mesh pad for the Starry.
Some people also complain that the wax cup on the V3 Pro is inefficient, though. Once we receive our mesh pad for the Starry 4, I'll be updating this section with more information after testing it.
Which is more portable?
While the Starry 4.0 has a slightly smaller design at 4.5in x 1.5in x 1in and 120g
The V3 Pro comes in at 6x1x1in and 105g
Overall, the Starry 4 is the more portable option due to the XMAX V3 Pro being a full inch and a half longer, which might not fit into shallower pockets.
On the plus side, the XMAX V3 Pro's dosing capsules are a bit more manageable though as they are smaller and the lids are more secured. They also come in a 5-pack with a steel tube with a cap, so you'll be able to fit them into your pocket on the go.
If you plan on traveling with the Starry 4, I'd suggest getting a quality vape case like the which has multiple storage compartments for all of your vape accessory needs.
Battery Life Review
The Starry 4.0 has a much stronger battery life of around 1 hour compared to the 30 minutes or so you can expect from the V3 Pro.
They both use USB-C charging, but the Starry 4 will also charge faster than the XMAX V3 Pro. However, it's not a total deal breaker as you'll be able to use spare 18650 batteries to swap in when you run out of juice on either device.
One thing to note is that if you do plan on using the V3 Pro in on-demand mode, you'll be getting less battery life as it puts more of a strain on the oven to constantly be heating up.
Build Quality Review
In terms of build quality, they both feature impressive specs for their under $100 price tag.
The Starry uses a large ceramic conduction oven, zirconia mouthpiece, and USB-C charging
The V3 Pro uses a stainless steel oven, convection heating, a stock plastic mouthpiece, and USB-C charging
Some other differences between them are the on-demand heating of the V3 Pro, the adjustable airflow dial on the Starry 4.0 and its included high-quality stainless steel dosing capsule.
Ease of Use Comparison
To be honest, each device's OLED screen and user interface are quite similar to one another.
They each use a power button, and then an up and down arrow for their precision temperature control.
On each device, you'll be able to adjust the session timer and control your temperature as well.
Out of the box, each vape will be set to session mode, meaning automatic heating, but the XMAX V3 Pro can cycle between on-demand and automatic heating mode by holding the up and down arrows for several seconds.
In the V3 Pro's on-demand mode, you'll be able to control the heating to only turn on when you are pressing the power button. This works very well for sharing a session with a friend or microdosing throughout the day, especially when combined with the XMAX V3 Pro Dry Herb Dosing Capsules which will let you swap them in and out of the chamber quickly.
Accessories Comparison
They both have dosing capsules available which will help chamber cleanliness and ease of reloading
The V3 Pro has five mouthpieces to choose from
The Starry requires a sold-separately wax mesh pad for concentrate use, otherwise your risk the chance of damaging the oven
The V3 Pro is better for bong use with 14m globe whip bubblers
Which is easier to clean?
Each vape is quite similar in terms of maintenance because they both use a ceramic insert and rubber gasket in their mouthpiece
For the most part, this makes their cleaning process quite similar as well. For thorough cleanings, you'll be breaking down the internal parts of the mouthpiece apart for soaking their ceramic inserts in isopropyl alcohol, plus the zirconia mouthpiece as well on the Starry 4.0.
The V3 Pro is a bit easier for day-to-day maintenance though because of its hook on the mouthpiece which will let you knock out the bowl.
Community Consensus
It's generally agreed upon in online forums that the Starry 4 is a great device for beginners to quit smoking joints with because of the big cloud production and minimal flavor.
The V3 Pro is great with simple upgrades like the XMAX V3 Pro 14mm Bong Adapter and a 14mm Mega Globe Whip Bubbler. It does require a bit of getting used to though, namely the longer inhale style.
The Starry 4 hasn't been out for much customer use yet, but with the older model, the XMAX Starry v3, people preferred the V3 Pro over it.
XMAX Vaporizer Warranty
In terms of warranty, each vaporizer has a one-year manufacturer's warranty. What does separate XMAX from a lot of manufacturers is that they stand behind their warranties, and the few warranty cases we've had with the XMAX V3 Pro have quickly been resolved.
Who is the XMAX V3 Pro best for?
The XMAX V3 Pro is by far best for people looking for a budget portable vaporizer that they'll be able to upgrade in the future. All of the accessories are of super high quality and the upgrades are near-endless and can bring the performance up to that of the more expensive Arizer Air MAX.
Who is the XMAX Starry 4.0 best for?
The Starry 4 is an amazing vaporizer for first-time buyers that don't need anything fancy for accessories or settings like on-demand mode. The Starry 4, it's a grip and rip-it-type vape for those looking for a plain vaporizer that's big on performance.
XMAX V3 Pro vs Starry V4 Conclusion
Overall, while they both might be budget vaporizers, they're made for different types of users.
The V3 Pro has better performance upgrades available for the vaping connoisseurs in the crowd, and the Starry 4 is a vapor-pumping machine right out of the box.
If you're on the fence still, I can assure you that you're not making a bad choice no matter which one you choose. They both have awesome vapor performance for their price tag, with just a few subtle differences to differentiate them from one another.
If you still want to learn more about each device, feel free to check out their reviews: