---
---
---
Should you buy the Dr. Dabber Boost Evo?
As our catalog of electric dab rigs continues to grow with all kinds of new technologies, a staple has always been the super-consistent Dr. Dabber Boost Evo.
Since its release in 2020, it's become a staple thanks to its quartz-to-glass vapor pathway, which is renowned for its amazing flavor and performance similarities to a torch lighter dab rig. 
With an ultra-futuristic design and some very impressive features, we'll go over everything here in our Dr. Dabber Boost Evo review and why we love it so much! 
Dr. Dabber Boost Evo Specs + Ratings 
| | |
| --- | --- |
| Material Compatibility | Concentrates |
| Pass through charging | Yes |
| Swappable Batteries | No |
| Charge Time | 2 Hours |
| Charging Port | USB-C |
| Battery life | 10 Sessions |
| Heating system | Quartz Atomizer |
| Heat up time | 15 seconds~ |
| Temperature control | 6 Pre-Sets |
| Temperature Range | 550-750°F / 288-399°C |
| Oven Size | .15g |
| Vapor path way | Glass / Ceramic |
| Accessories | Side Bubbler |
| Vibration Alert | Yes |
| Motion sensor | Yes (15 minute auto-off) |
| Warranty period | 1 Year |
| Price | $218 |
| Coupon Code |   |
| Ease of Use | 9/10 |
| Vapor Quality | 9/10 |
| Manufacturing Quality | 10/10 |
| Ease of Cleaning | 8/10 |
| Portability | 8/10 |
| Durability | 9/10 |
Here at Tools420 we do our best to give you an honest review along with honest photos and product comparisons so that you can leave each review knowing a lot more than you did before. 
Key Features 
6 Pre-Set Temperatures
Quartz to Glass airpath
'Hidden' Quartz Atomizer design
Magnetic Bubbler Clip-On Design
Ergonomic Shape and Bubbler Mouthpiece
Tools420 Boost Evo Experts 
Here at Tools420, we've carried almost every vaporizer that Dr. Dabber has ever released for two main reasons: They meet our standards, and they have an amazing customer service team. As Dr. Dabber authorized sellers, it's our responsibility to give you the most up-to-date and accurate information about the Boost Evo so you can be sure that you are buying something that you'll enjoy. 
What's in the box? 
Boost Evo Quartz Atomizer
Replacement Glass Attachment
Quick Connect Adapter
USB-C Charger
Boost Evo E-Rig Battery Base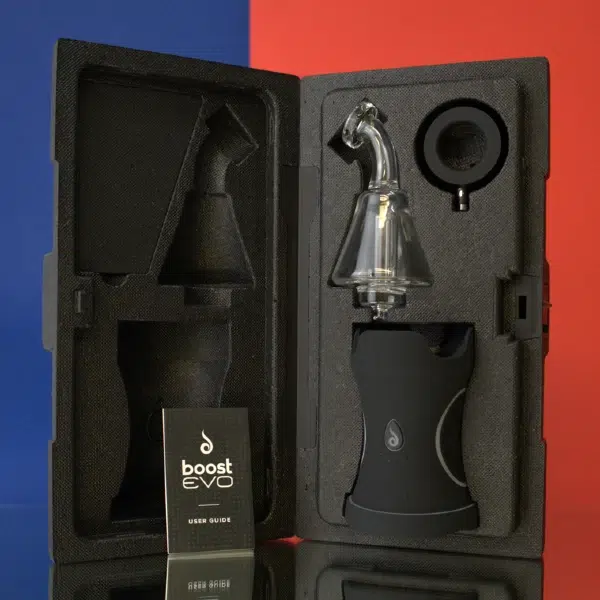 Dr. Dabber Boost Evo Bowl Size & Heating System
The Evo uses a bucket-style coil-less quartz atomizer with a unique magnetic connection without any 510-threading!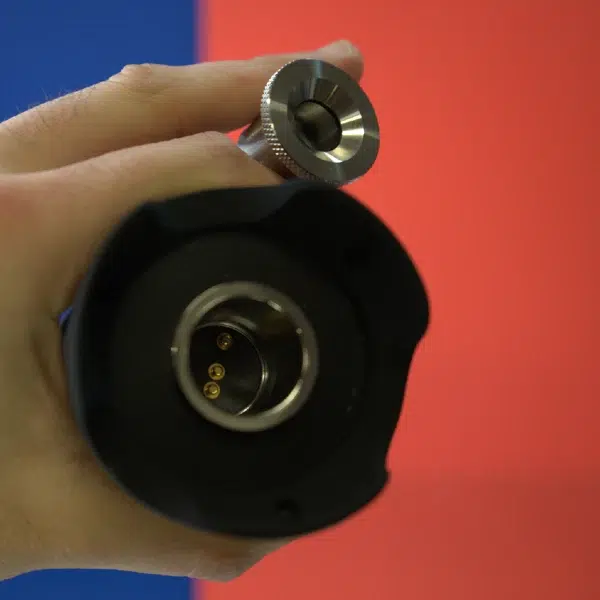 Ode to the Dr Dabber Boost Evo Atomizer! They got it right with the material choice here as quartz offers the best flavor retention and thermal properties for electric dab rigs. 
To ease the struggles of loading wax into the narrow but deep chamber, we'd recommend pulsing the power button a couple of times to slightly warm up the atomizer – that way your wax will melt into the chamber with ease as opposed to sticking to your tool and the sides with irritating persistence. If that sounds like a hassle you can also pick up an electric dab tool from us to have your concentrate slide right into the chamber. 
One thing is that the atomizer is a little on the smaller side, so you'll want to stick to dabs the size of rice grains to avoid pooling and bubbling. For the higher temperature pre-sets you also won't want to use very small amounts of concentrate, as small amounts can burn and make cleaning it off a burden. 
Beginners might find the temperatures to be a little on the hotter side, so I recommend starting low until you get the hang of it, as there isn't much room for cooling in the design of the Evo. 
Dr. Dabber Boost Evo Vapor Quality
Just like a traditional dab rig, the airpath of your vapor is straight from quartz to glass, just as Dr. Dabber advertises. What can we say though – we're glad they did this!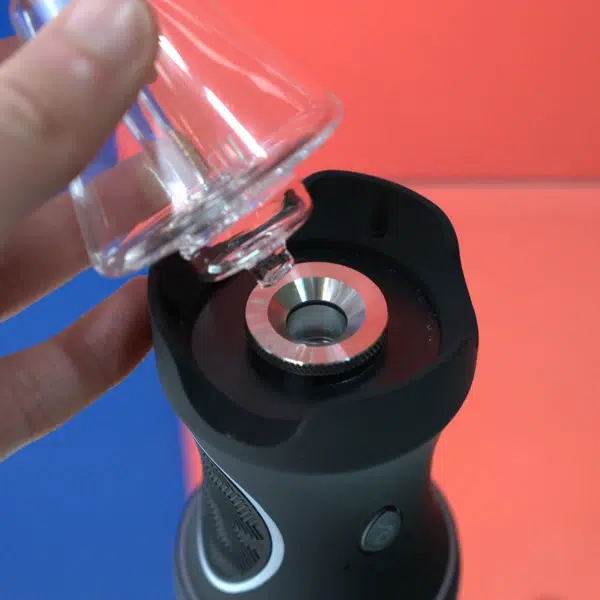 This will give the utmost pure and clean flavor as you don't deal with silicone, rubber, metal, or other additives in the vapor path. AKA, the flavor of your dabs will always be pure and clean on the lower temperatures.
Depending on the quality of your concentrates and the temperature chosen, you'll get a different experience altogether.
The low temperatures do a fine job of offering you a fresh and bright terpene profile while the higher settings chuck out heavy clouds at the expense of taste. The percolation of the bubbler cools a good amount without killing terpene flavor either, but don't expect any miracles on the higher pre-sets, as you'll most likely be coughing if you're taking big hits. 
Either way, we reckon you'll be well satisfied with the vapor quality here and we've got nothing to complain about, especially from the nifty carb cap button. I am a huge fan of these since you won't have to rely on a loose-fitting piece of glass to adjust your airflow.
There are three main ways to use the carb-cap to adjust your airflow: 
Not pressing it, which allows a normal amount of air in
Covering it with your finger, which will heavily restrict the airflow 
Pressing it in, which will allow for the most amount of air and will be good for finishing the last bit of vapor stuck in the bubbler 
How is the dab extraction? 
Because Dr. Dabber didn't play around with any features that weren't 100% necessary, I honestly think that this is one of the highest-quality atomizers released on the market to date, behind maybe the 
For a normal-sized dab, you'll be able to fully clear the chamber after one 20-second heating cycle on the third pre-set temperature, which will only be around 30 seconds if you factor in the heat-up time. You can compare this to the Puffco Peak where the heat-up time alone is 30 seconds.
Especially at higher temperatures, the Evo has the potential to absolutely floor you from its super-efficient oven.
Is the Dr. Dabber Boost Evo portable?
One of the pros for the Evo's portability is the included foam carry case that the Evo ships in.
There is a cutout for everything once you open it up, and when you want to travel, you can simply load everything back into their slots. Although I find the foam to be a little cheap, it does a good job at keeping everything secure and protected from fall damage. 
As an alternative, we'd suggest picking up a StashLogix Silverton Medium where you'll have access to much better portability and room for accessories. 
Overall, because of the magnetic attachments, I'd suggest it's better off left at home. If being 100% portable is more your thing, we can suggest the XMAX Qomo as a smaller and less pricy alternative, or just stick to wax pens. 
How long does the Dr. Dabber Boost Evo battery last?
The battery life is super solid considering how efficient the heating system is, so you'll be able to get about 10 solid sessions in before needing a recharge. 
Using USB-C charging it'll top up the battery in 1-2 hours, depending on the power supply. The Boost Evo also has pass-through charging which allows you to have sessions while it's charging. That'll be a big savior when you're doing long group sessions and the battery runs flat.
In the picture below, you can see the flap that the USB-C port is hidden beneath. This is a nice little touch that will prevent dirt and debris from getting into the port. 
Boost Evo Manufacturing Quality 
Dr. Dabber has been around for a while now and overall their units have held up fairly well. The Boost Evo clearly has some clever engineering going on and you get what you pay for in terms of quality. We found the  Boost Evo to be our favorite out of all the e-rigs out there, only comparable to the Core 2.1 Side Bubbler, which isn't even The Core 2.1's stock bubbler.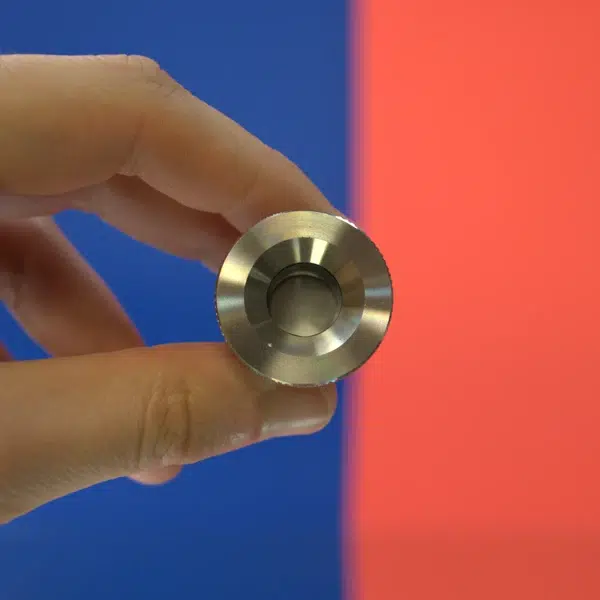 Boost Evo vs Dr. Dabber Switch 
Dr. Dabber Boost Evo vs. the Dr Dabber Switch – Both perform somewhat similarly, but the Switch was made for connoisseurs that really like to customize their sessions with settings and accessories.
The Switch has a bigger battery life, a bigger bubbler, and more power output. Not to mention a larger size and bigger capacity induction cups – The Boost Evo is better for portability and simplicity, while the Switch is certainly better for at-home use.
In terms of price tag, the Switch sits at just a bit more than the Evo right now. 
Boost Evo vs. XMAX Qomo 
The Boost Evo vs XMAX Qomo is another comparison worth mentioning. If you're interested in both of these units, then we'd like to say that they're quite different. The Qomo is unbeatable for portability and stealth, but won't match the standalone performance of the Boost Evo, especially for long group sessions.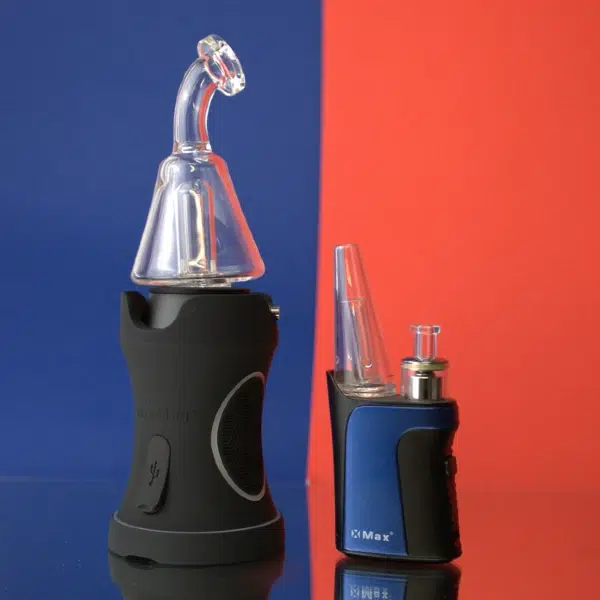 How to use the Dr. Dabber Boost Evo?
E-rigs have become easier to use over the years, and the Boost Evo in particular is fairly straightforward after a few sessions, the commands will become routine. There are six temperature pre-sets to choose from, along with a few different LED light options. You'll want to load a ~ rice grain-sized amount of wax onto the atomizer before starting up the heat cycle. From there it'll take around a dozen seconds to get up to speed and then it's ready to go. For more information, you can also check out the Dr. Dabber Boost Evo Owner's Manual.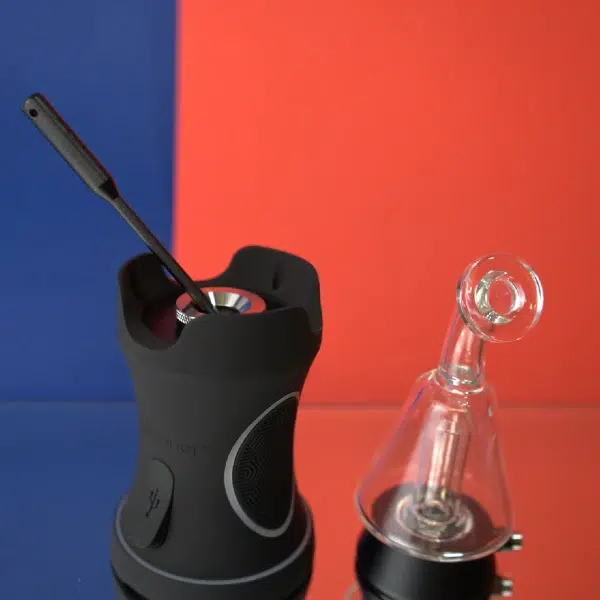 Let's take a look at what a sample session would look like: 
Fill the bubbler 1/3rd of the way full 
Press the power button

five times

to turn it on
Cycle through the six pre-sets by tapping the power button

three times

Pressing and holding

the power button will then begin a 20 or 40-second heating cycle, and your Evo will vibrate when it has reached its temperature 
You can cycle between the 20 and 40-second heating modes by pressing and holding the power button while your unit is off (the lights will flash 2 or 4 times)
The six pre-set temperatures are as follows: 
Best Dr. Dabber Boost Tips and Tricks
Pre-heat the atomizer for easier chamber loading
Use low temperatures for flavorful clouds, and high temps for heavy hits.
Clean the atomizer after every session with a dry Q-Tip
Fill the water slightly above the recommended fill line for more cooling
Use stealth mode for more discreet sessions in public
How to Clean the Dr. Dabber Boost Evo
The Evo is super easy to maintain thanks to its no-nonsense design. 
For the

bubbler

, you can simply use some Orange Chronic Glass Cleaner and shake it around for a few minutes before a hot water rinse 
For the 

atomizer

, using vape cleaning sticks after every session will help you from getting any burnt resin buildups that can decrease vapor quality
If you do neglect your chamber and you get some buildups, you'll be able to unclip it from its magnetic socket for better cleaning. While Dr. Dabber suggests not soaking the atomizer, I've found that leaving a fully soaked 99% isopropyl alcohol in the chamber for ten minutes does a similarly good job. If there are any burn marks, I would just leave them, as using a dab tool on the quartz can leave small chips in the glass.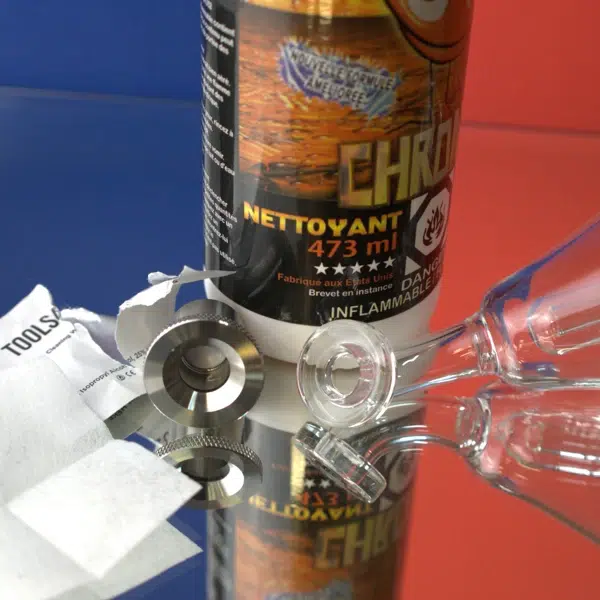 Community Consensus 
The Evo is fairly well received by the Reddit community as it has good features for less money than the Puffco Peak.
"After owning the boost Evo for one year now I can say it's definitely my favorite way to smoke." – u/SouthIslandSkunk
Boost Evo Pros 
Airpath similar to a traditional dab rig 
Very fast heat-up time for a bucket atomizer 
Very fast dab extraction 
6 pre-set temperatures are all well-tuned 
USB-C pass through charging 
15-minute auto-off timer 
I love the shape of the bubbler for easy inhaling 
Strong battery life 
Boost Evo Cons 
Quartz atomizer prone to wear and tear 
Bubbler doesn't provide too much cooling 
Plastic exterior feels cheap 
Carb cap button could be bigger
The bubbler can be easy to spill water out of because of how small the capacity is
Who's it for?
The dab enthusiast who enjoys tech and a high-end experience.
Whether you're a beginner or a seasoned veteran of the canna scene, the Boost Evo will do all that you need it to!
For a healthy mixture of solid portability, battery features, and performance, the Evo is a great option for anyone that doesn't mind dishing out a few more dollars for super high manufacturing quality.
Overall, love how easy the combination of the snapping bubbler and quartz chamber access is, as well as not having to worry about fumbling with a shitty carb cap design (looking at you, Dr. Dabber Switch!)
Final Thoughts 
We're fond of the Dr. Dabber Boost Evo, to say the least. The bubbler design and modular nature of the unit are big wins for us, as well as the temperature control stability and general function of the unit.
The battery life isn't quite anything special but that's offset by USB-C pass-through charging. The preset temperature settings are more than satisfactory and we can't find much to complain about on this device. The modular and easily disassembled nature of the unit is a big win in our books too!
If you've got any questions at all regarding the Dr. Dabber Boost Evo review or any other units, please let us know down below or on our social media channels! Until next time, to health and high times! 
Also be sure to check out out list of the best E-Rigs of 2023!
I really enjoyed testing and reviewing the Boost Evo, but I had to do it in short bursts getting one hit at a time as I prefer low temperature dabbing and smaller clouds. The Boost Evo effortlessly pumps out clouds, which is I'll only recommend it to heavy users, or for people who are transitioning from torch dab rigs. My favorite feature was definitely the magnetic bubbler attachment which is strong enough to lift the E-Rig up by itself!