---
---
---
G Pen Elite 2 Review
Should you buy the G Pen Elite 2 Vaporizer?
Grenco Science is back with a new portable dry herb vaporizer, the G Pen Elite II. As an upgrade to the G Pen Elite, it's clear that they've been listening to the community and have implemented feedback properly into a brand new hybrid heating system amongst a variety of other upgrades. In this review, we'll be going over the vaporizer's new key features and upgrades compared to the original, as well as discuss who's it best-suited for – Let's get into it and see if the six-year gap between units have made a difference or not.
G Pen Elite 2 Specs + Ratings
| | |
| --- | --- |
| Material Compatibility | Dry Herb |
| Pass through charging | Yes |
| Swappable Battery | No |
| Charge Time | 90 Minutes |
| Charging Port | USB to USB-C |
| Battery life | 1 Hour |
| Heating system | Hybrid |
| Heat up time | 30 Seconds |
| Temperature control | Precision |
| Temperature Range | 93°C – 220°C / 200°F – 430°F |
| Oven Size | 0.5g |
| Vapor path way | Isolated ceramic |
| Accessories | No |
| Vibration Alert | Yes |
| Motion sensor | Yes (Inactivity Shutoff) |
| Warranty period | 2 Years |
| Price | 195$ USD |
| Coupon Code | |
| Ease of Use | 9/10 |
| Vapor Quality | 8/10 |
| Manufacturing Quality | 10/10 |
| Ease of Cleaning | 8/10 |
| Portability | 9/10 |
| Durability | 8/10 |
What's in the G Pen Elite II box?
x1 G Pen Elite 2 Portable Vaporizer
x1 Silicone Sleeve
x1 USB to USB-C charging cable
x1 Hemp Vape Carrying Case
x1 Integrated Pick Tool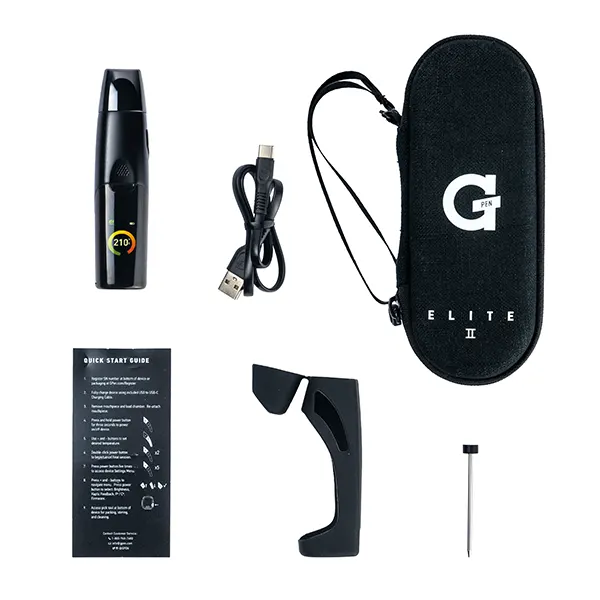 G Pen Elite 2 Key Features
Integrated dab tool for packing, stirring & cleaning
Cooling spiral ceramic mouthpiece insert
Durable zinc alloy exterior and included silicone sleeve
Precision temperature control on an HD screen
Customizable settings including screen brightness and convection boost
Isolated air path separate from the electronics
Comfortable zirconia mouthpiece
G Pen Elite 2 Hybrid Heating
Making use of a massive 0.5g ceramic bowl, you can expect to get a lot better vapor quality from the Elite 2 vape compared to the original Elite thanks to the new hybrid (convection and conduction) heating system. The ceramic mouthpiece insert does a great job at heating your herb, and then the draw-activated convection system will noticeably amplify your THC extraction. With precise temperature control between 93°C – 220°C ( 200°F – 430°F ) on the LED screen, you'll be able to get big clouds with very little hassle in as little as 30 seconds of heating time.
Can you use dabs in the G Pen Elite 2?
The only real drawback of the G Pen Elite 2 is that it's strictly made for use with dry herbs only. However, as of recently, we've discovered that you'll be able to use the XMAX V3 Pro Wax Cup in the chamber to safely vaporize concentrates! It works with a mesh cup design so that your dab won't melt down into the chamber and cause damage, so be sure to check it out!
Dry Herb Dosing Capsule Compatible
By using the XMAX V3 Pro Dosing Capsules, you'll be able to make chamber reloading and maintenance much easier. These dosing capsules come in packs of five, and although they're from a different brand will fit the chamber perfectly, just like their wax cups!
G Pen Elite 2 Improved Vapor Quality
There have been massive improvements in terms of the G Pen Elite 2's vapor quality compared to the original. Beginning with the isolated air path (meaning separate from the electronics), the vapor taste will already be much better off the bat. However, there are several other upgrades including a spiral ceramic air pathway before the mouthpiece that will help to cool the vapor. Combining this with an adjustable convection heating system to crank up the temperature during draws and the zirconia, users will find that there will be no aftertaste that the original was prone to. Since the original mouthpiece was made from cheap rubber, the new zirconia mouthpiece is much more comfortable on the lips and also won't add any unnecessary flavor to your inhales.
G Pen Elite 2 improved airflow
You'll also be able to control the airflow by covering the air intake ports for a carb cap type of use. The convection setting can also be played around with if you're into a more conduction type of heating better for more laid-back sessions. As the metal screen's filter holes are bigger than the original's, there will be much less clogging and also a better overall airflow. As well, with the spiral insert, the increase in surface area will better dissipate the hot vapor during high-temp inhales. You'll get your terpenes cleanly from the Elite 2's sipping style that seems to work best.
G Pen Elite 2 Battery Life
With a 2100mAh lithium-ion battery, the G Pen Elite II will last you about an hour of use, which will come out to about six sessions on average depending on your vaping style. With the upgrade to USB-C charging though, the charging time has been brought down to 1.5 hours from three hours on the original. When you have the vaporizer turned on, you'll be able to see the battery icon in the top right corner of the display, and when that level gets low it'll be time for a charge. During charging, this battery display will be visible to help let you know when it's ready for use, as it will turn from red to green .
G Pen Elite vs G Pen Elite II
The main differences between the original G Pen Elite and the G Pen Elite II are the upgraded LED screen and menu, hybrid heating, zirconia mouthpiece and spiral, isolated airpath, firmware updates, USB-C charging, and integrated stir tool. You can read about more of these changes in our G Pen Elite vs G Pen Elite 2 Review. Overall, the manufacturing quality on the Elite 2 is ten times better than the original and feels great in the hand with the added weight and better manufacturing materials.
G Pen Elite 2 Portability and Discreetness
Slightly slimmer than the original model, the G Pen Elite 2 vaporizer comes in at 4.6 x 1.2 x 1.1" and just over 100g. This means that it will fit into just about any pocket or bag. As you'll be able to adjust the screen's brightness, the vape can be very discreet to use in public. As you can grab most of the body in your palm, most people will just assume that you're using a nicotine vape thanks to the hidden mouthpiece design. This is also helped by the fact that hybrid vaporizers will tend to only have a 'toasty' smell to them, unlike the dankness of traditional combustion.
Hemp Case and Silicone Sleeve
As boosts to portability, you'll also have access to the included hemp vape case and a silicone sleeve that will add some durability in case you're a medicinal user or are worried about damage from dropping. If you're someone that prefers multiple back-to-back sessions, the silicone sleeve can also help keep the device from getting too hot in your hand. One thing to know is that the carrying case is only big enough to fit the vape and charger, so heavy users might prefer upgrading to a Stashlogix Silverton Vape Case which will have a ton of chambers to store 420 grinders and containers.
How to use the G Pen Elite 2?
The Elite 2 vaporizer can be turned on by holding the power button down for four seconds (shaped like an o), and can be turned off the same way as well.
Once you have the vape on, you can set the temperature with the up and down arrows before pressing the power button twice quickly to begin the heating process.
Once the temperature has been reached after thirty seconds, you'll feel two vibrations to let you know that you can begin inhaling.
Each session will have an auto shut-off timer of five minutes, or a minute and a half shut-off timer it hasn't moved.
G Pen Elite 2 Menu Settings
While your Elite II is on, you can access the settings menu by clicking the power button five times within two seconds. From this menu, you'll be able to adjust Fahrenheit and Celsius, convection boosting, session timers, haptic feedback, and screen brightness. You can cycle through these options with the up and down arrows and then 'click' into your selected setting by pressing the power button twice. To exit the menu, just go all the way to the bottom before double-clicking on the exit option. Overall, once you get used to the menu and controls, the G Pen Elite II is a super easy vaporizer to use thanks to the upgraded full color, high-resolution user interface, and buttons. Another cool feature is that the firmware is updatable via WIFI connect for future additions to the UI or settings.
How to clean the G Pen Elite 2?
To clean your G Pen Elite 2 vaporizer, first make sure that it's powered down.
Remove the mouthpiece and spiral insert by first pulling off the mouthpiece from the vape.
Then remove the insert's rubber gasket to also pull out the ceramic spiral. On the rubber gasket, make sure to remove the metal filter.
For best results, you can soak the ceramic spiral, metal filter screen, and zirconia mouthpiece in isopropyl alcohol for ten minutes before a gentle scrub and hot water rinse. If the resin buildup isn't bad, you'll be able to get away with a quick wipe down with vape cleaning wipes.
For the oven, use vape cleaning sticks to remove any debris
Make sure everything is fully dry before putting the vape back together
As a rule of thumb, you'll want to do this kind of thorough cleaning about once a month, as well as knocking out used debris out of the chamber after every use to prevent resin buildups with the included pick tool.
Best G Pen Elite 2 Tips and Tricks
If you want your G Pen Elite 2 to be compatible with a bong, we've found a way! When you remove the mouthpiece, pull out the insert, and then the ceramic spiral inside of it, making sure to leave the screen in. From there, pick yourself up a 14mm whip bubbler and use the small glass mouthpiece to insert where the ceramic spiral used to be. The silicone whip from the bubbler kit can then be placed over this to use on the bubbler or on any 14mm Vaporizer Bubblers & Bong Adapters for a way more enjoyable experience.
Best G Pen Elite 2 Temperature
In our experience, anything above 400F / 204C made the mouthpiece quite hot to the touch. For this reason, we'd suggest placing the silicone mouthpiece sleave on if you like taking hits at very high temperatures – Or using the bubbler trick we mentioned above. We found that 380 Fahrenheit was a great temperature to work with for a good combination of flavor and cloud production.
A tightly packed bowl works best
For the best cloud production, we've found that a very tightly packed bowl offered the best results. Stamping down with the flat end of the pick tool can help with this. Convection boost will also give you the best cloud production, but you'll lose some of the flavors that pure conduction gives. With conduction only, you definitely won't be getting the biggest clouds, but the flavor will be better and it could be considered more discreet when combined with a darkened screen. If you're not getting air flow with this method, try poking a hole in the middle of your herb with the pick tool.
G Pen Elite 2 Accelerometer
Lastly, although each session timer is five minutes, if there is no draw activation within a minute and a half, the vape will auto-shutoff.
G Pen Elite 2 THC extraction / ABV
Even if you're taking inhales infrequently, you're going to be able to clear your bowl in around five minutes. With the convection boost turned on, your AVB (Already Vaped Bud) is going to be a dark brown which means that your cannabis was fully extracted. For people looking to get the maximum efficiency out of their dry herb, this is always something good to see!
G Pen Elite 2 Pros
Super sleek and easy to use design
Isolated air path
Awesome vapor quality and terpene taste
HD color display
Unique optional convection heating boost
G Pen Elite 2 Cons
The spiral insert is bit hard to clean
The included hemp case is too small to carry anything else
Very hot vapor above 400 Fahrenheit
No accessories
Short battery life
Grenco Science – G Pen Elite 2 Vape Warranty
G Pen will cover the Elite 2 for any defects for up to two years from the date of purchase, which can be extended up to three years upon device registration. If any physical problems come up in this time period, G Pen will honor the warranty with a replacement part or device. This excludes normal battery wear and tear, as well as damage caused by lack of cleaning or maintenance. To register your device's warranty, you can head to the G Pen website and use the serial number found at the bottom of the box.
Conclusion: G Pen Elite 2 Vape Review
If you've been a fan of G Pen vaporizers and are looking for an upgrade to your G Pen Dash, or simply an alternative to your old Arizer Solo 2, then the G Pen Elite 2 will be a great portable vaporizer to pick up. With huge upgrades made to vapor quality and ease of use in the form of an isolated hybrid air path and HD color screen, users will have a lot to love and tweak.
If you liked this review, check back right here to our Tools420 blog for tons more just like it. Follow us on Facebook, Twitter, and Instagram and sign up for our Newsletter for news, updates, and promotions. If you are looking to buy a G Pen Elite 2, you can find them on our online store or in person in Burlington, Ontario!
As always, keep on that cannabis train – To health and high times!