---
---
---
Should you buy the G Pen Micro+?
The brand new G Pen Micro+ is here with a new take for wax pens vaporizers. It's a dab pen with a sleek ceramic atomizer that features and compatibility with 510-thread cartridges! With three pre-set temperatures, haptic feedback, and easy chamber loading, there's a whole lot to love about this unique concentrate pen & in this review, we'll be going over these key features and more to help determine whether it's the right purchase for you or not.
G Pen Micro Plus Specs + Ratings 
| | |
| --- | --- |
| Material Compatibility | Wax |
| Pass through charging | Yes |
| Swappable Battery | No |
| Charge Time | 75~ Minutes |
| Charging Port | USB-C |
| Battery life | 2~ Heavy Days |
| Heating system | Ceramic Atomizer |
| Heat up time | 5 Seconds |
| Temperature control | 3 Voltages |
| Temperature Range | 2.5v, 2.75v, 3v |
| Oven Size | >10mm |
| Vapor path way | Ceramic Atomizer |
| Accessories | No |
| Vibration Alert | Yes |
| Motion sensor | Yes |
| Warranty period | 1 Year |
| Price | 72$ USD |
| Coupon Code |   |
| Ease of Use | 10/10 |
| Vapor Quality | 8/10 |
| Manufacturing Quality | 7/10 |
| Ease of Cleaning | 8/10 |
| Portability | 9/10 |
| Durability | 8/10 |
What's in the G Pen Micro+ box?
x1 Micro+ Battery (Variable Voltage + 510 Threading)
x1 Micro+ Tank
x1 Mouthpiece Assembly (Silicone Mouthpiece + Tank Cover)
x1 Keychain Tool
x1 USB To USB-C Charging Cable
x1 Hemp Travel Case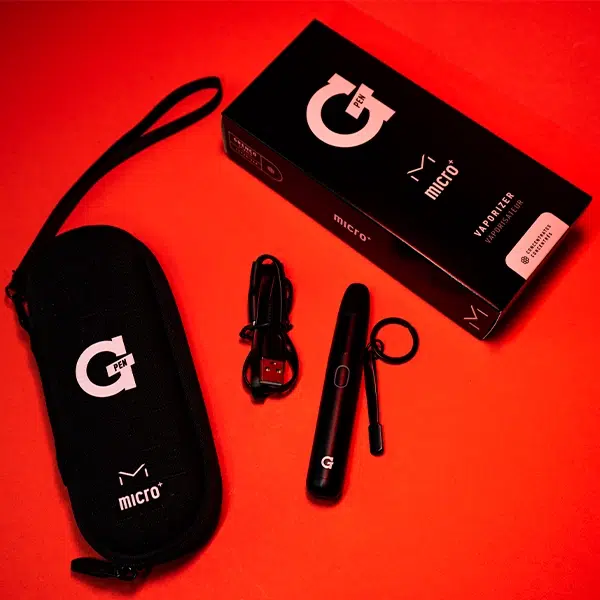 G Pen Micro+ Key Features
510 Thread Atomizer for concentrate coils or oil cartridges
850mAh lithium-ion battery
Haptic feedback
Manual heating or three pre-heat modes
USB-C charging + pass-through usage capable
Quartz and ceramic heating element coils
Sleek and portable design
Eco-friendly hemp carrying case
Included G Pen keychain
G Pen Micro+ Voltage Settings
For the tank atomizer, you'll have ceramic-lined quartz coils that will provide good heat distribution to your concentrate. When you want to swap over to cartridges, the chip will detect what you have installed and will adjust the heating modes accordingly. While using the atomizer, there will be three temperatures to choose from: blue 2.5V, green 2.7V, and red 3.0V. While using coils, blue, green, and red will also align with low, medium, and high temperatures. Overall, I couldn't really tell a difference between all three heat settings while I was using the atomizer. They all did a good job at vaporizing my hash with great flavor and cloud production, but heavy users might have wanted a higher heat setting for harsher sessions and bigger chamber loads. 
Using 510 carts in the Micro Plus 
As a dual-use pen, the Micro+ is powerful enough to vaporize your favorite wax in the quartz coils, but also smart enough to recognize oil cartridges to lower the voltage and get good clouds. While most atomizers are 510-thread, they'll be too powerful for 510-cartridges, making the Micro+ have some unique versatility.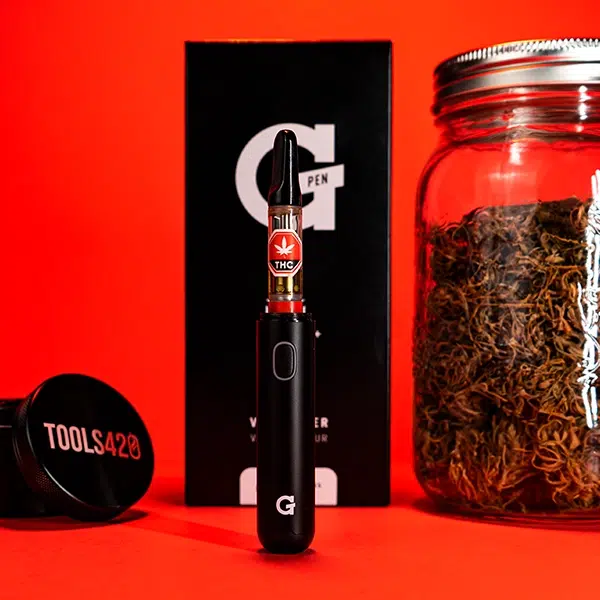 G Pen Micro Plus Vapor Quality
With a food-grade silicone mouthpiece and ceramic airpath, there isn't much to impede the flavor of your selected product. When using the Micro+ for concentrates its use of quartz coils and ceramic glaze act as one of the best flavor enhancers of your terpenes. With either the wax or oil options, you're sure to get tasty and respectable clouds.
How to use the G Pen Micro+?
To use the G Pen Micro+, you'll first start by pressing the power button five times.
To cycle through the three temperature settings, click the power button three times.
You can also go for a manual heat by pressing and holding the power button down for as long as you'd like. This will set heat to maximum for the duration you hold it down.
If you click the power button twice, a session mode will begin which will heat to maximum for 10 seconds – This is a good option for big hits with an oil cartridge, or for general wax usage with the coils.
The Micro+ pen will also vibrate to let you know when it has reached your set temperature and is ready to be hit!
G Pen Micro+ Battery Life 
The 850mAh lithium-ion battery will last you about 90 minutes of use and will recharge in about the same amount of time. As an added bonus, you'll have access to pass-through charging meaning you'll be able to use the vape while it charges. As a rule of thumb, a 500mAh battery will be good for about 200 inhales, so you'll be able to get about 350 inhales when using 510 cartridges. In general, it will be good for about 2-3 days of heavy use.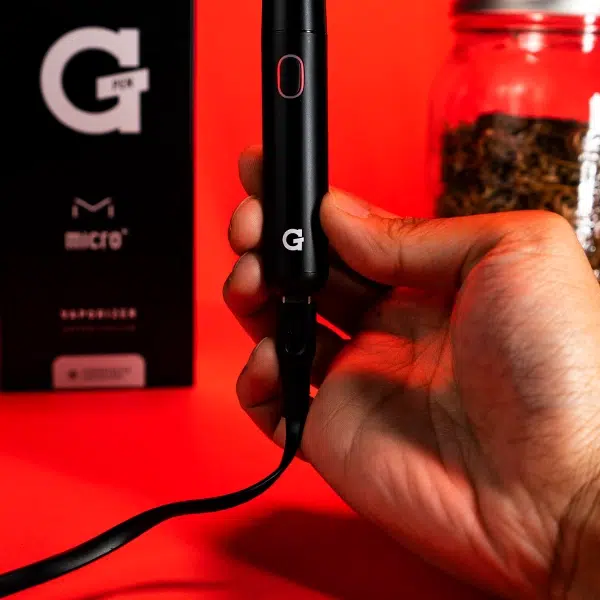 How does the G Pen Micro+ compare to other wax pens?
As the creators of the G Pen Roam and G Pen Connect, this would be considered more of an entry-level device from Grenco. The G Pen Roam features precise temperature control with an LED screen and integrated bubbler and a quartz coil tank, while the G Pen Connect is more of a portable dab rig with a wax tank, battery, and 14mm body that allows for a lot of session customization. Immediate competition for this vaporizer would hands down have to be the Utillian 5 and Utillian 2 wax pens due to the similar threading and temperature controls. Both have a similar mouthpiece cap to the Micro+, but the Utillian 5 blows the Micro+ out of the water with better better voltage control and a 1500mAh battery compared to the 880 on the Micro+.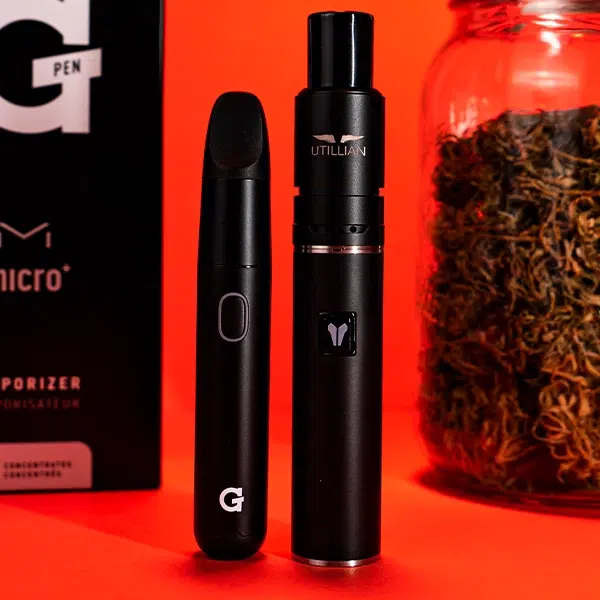 How to clean the G Pen Micro Plus?
The only real thing that you'll have to worry about keeping clean on this vaporizer is the 510-thread. For this purpose, you can use a gentle brush like the one in the Mighty+ kit to keep the connection free from debris. For the body, you can pick up some vape alcohol cleaning wipes to keep the aluminum body looking clean and button working well. I found that the atomizer was basically self cleaning, but you can still choose to Q-Tip out your leftover dab after every session if you want. 
Warranty
You'll have access to a one-year warranty on your pen that will honor any manufacturer's defects with a new part or device.
G Pen Micro+ Pros
Portable and sleek design 
High-quality atomizer 
USB-C Charging
Good airflow 
Never harsh vapor
G Pen Micro+ Drawbacks 
One of the biggest knocks against this device is the fact that most dab users tend to stick to only dabs, and will find that these wax pens don't really compare to top wax pens and E-Rigs like the Utillian 5 v3 or The Core E-Rig. For the same price, you'd be able to get a decent wax pen like a Utillian 2 as well as a 510 battery like a Tronian Pitron. In other words, while you can use both oil cartridges or coils, you're better picking up a specialized vape for a specific purpose.
Final Thoughts
In conclusion, Grenco has created a nifty dual-use vaporizer that will allow you to vape your favorite shatter and oil cartridges on the go. With USB-C and pass-through charging, you'll be able to easily keep your party going with a Tools420 vape case to store everything you need. I'd recommend this as a good starter wax pen, or for people who enjoy 510-carts and dabbing equally. 
If you liked this review, check back right here to our Tools420 blog for tons more just like it. Follow us on Facebook, Twitter, and Instagram and sign up for our Newsletter for news, updates, and promotions. If you are looking to buy a wax pen, you can find them on our online store or in person in Burlington, Ontario! As always, keep on that cannabis train – To health and high times!