---
---
---
The Core 1.0 E-Rig Video Review
Is the Core E-Rig worth it?
A new e-rig put out by SZ crossing, the same people who brought us the Saionara atomizer, DC Gen 2, the Micro e-nail, and more, we've greatly anticipated this release and are excited to give you a full review of The Core E-Rig!
Bringing a ton of battery life, removable atomizers, and a reliable build to the table, it seems like a top competitor in the Electric Dab Rig category.
So, let's see how it stacks to a few competitors brands like Puffco, Focus V, and Dr. Dabber. Let's get into it. 
Core E-Rig Specs + Ratings
| | |
| --- | --- |
| Material Compatibility | Concentrates |
| Battery life | N/A |
| Heating system | Conduction |
| Heat up time | 10 secs. |
| Temperature control | 4 presets |
| Temperature Range | 2.6V – 4.2V |
| Oven Size | 0.3g |
| Vapor path way | Isolated |
| Accessories | N/A |
| Warranty period | 1 Year |
| Price | $130 USD |
| Coupon Code |   |
| Ease of Use | 9/10 |
| Vapor Quality | 9/10 |
| Manufacturing Quality | 6/10 |
| Ease of Cleaning | 8/10 |
| Portability | 8/10 |
| Durability | 8/10 |
The Core key features
Sleek design 
Atomizer compatibility with the Utillian 5
One-button functionality
USB-C charging
What's in the Core E-Rig kit?
The Core e-rig
USB-C charger
Triple titanium coil atomizer
Quartz bucket atomizer
Titanium bucket atomizer
Borosilicate glass bubbler
Borosilicate glass carb cap and tether
Dab tool
Carrying case
Cleaning swaps
Silicone Dab Container
Replacement O-rings
How does the Core E-Rig work?
You get a few different atomizers to play with right off the bat; the quartz bucket, the titanium bucket, and the triple titanium coil setup. Each one has a significantly different performance when it comes to vaporizing your dabs. 
The Core Quartz Bucket Coil

is great for those flavor hits. Quartz is commonly known as the best material for flavor preservation and used by concentrates enthusiasts primarily.

The Core Titanium bucket

is a mix of flavor and hit size. You'll get a bigger hit but at the expense of flavor compared to the quartz atomizer.

The T

riple Coil Titanium Atomizer is great for those big dabs and heavy hits. While the flavor is definitely not on par with the quartz bucket, you can really get huge this and power through a chunk of wax with ease.
* The Core is only compatible with concentrates like wax, live resin, rosin, sauce, BHO, shatter, etc, and not dry herb. 
How to use the Core Vaporizer?
You can either cold load or hot load the device. What this means is you can heat up the atomizer pre-emptively and then drop your wax on it like a typical dab rig, or simply load up your wax and then turn the power on to enjoy it. Let's take a look at some of the different button operations: 
Double click it and watch the light pulse as it warms up.
A triple-click of the single button changes the power setting from one to another, in a simple and convenient way. 
You can adjust the temperature only with 4 different settings, 2 of which are best for coil atomizers and 2 which are best for bucket-style atomizers. We would've liked to see a display or more temperature settings, however.
Core E-Rig Vapor Quality 
Depending on the quality of your concentrates and the atomizer you use, you'll get different vapor quality. What can we say though? It's excellent.
The atomizers are the star of the show and you can get tiny, massively flavorful hits or huge heavy hits with ease. 
Great airflow, nice cooling from the bubbler, the performance is definitely top-notch.
Best Core Vaporizer Tips and Tricks
Clean your bucket atomizer after each session.
Less is more! Use less wax in your e-rig, it may perform better.
Always have spare atomizers on hand, just in case!
Bottom 2 power settings for coils, top 2 for buckets.
Use an electric dab tool to load the atomizer easier
How Long Does the Core Vaporizer Battery Last?
 A 3000mAh cell, enough said. This leads to much better battery life than most other E-Rigs on the market. 
The downside? Unfortunately, these batteries aren't replaceable like the cells on the Focus Carta OG. Not the end of the world but of course, removable batteries are a big benefit.
Thankfully, The Core 1.0 does have USB-C charging and you can charge from zero to full in less than two hours.
We can't outright give you a number on how many sessions it lasts since there are many ways to use it and take your dabs, but you'll definitely have enough juice for a whole day of heavy use with friends.
Is the Core E-Rig portable?
The Core is substantially heavier and feels nicer in the hand compared to other units in its bracket. We reckon this comes down to the battery inside which is a worthy trade-off.
As far as portable e-rigs go, it's a little larger than some, however not crazy big like the Dr. Dabber Switch. 
The included carrying case is nice for taking the device from one house to another and while we wouldn't really recommend using this on a park bench, you definitely could.
If you want to be stealthy, just use a wax pen vaporizer or a vape pen. They're much smaller and can still give you that dab-like performance.
Shenzhen Crossing Manufacturing Quality
SZ Crossing Tech has a terrific reputation and each piece coming out of the factory is well made without safety concerns. Replacement atomizers are abundant and affordable, and are the same ones you'd find on the Utillian 5, and some compatible with the 2.1 as you can read in our The Core 2.1 Review. 
Want to swap out for custom coils or one of the many you'd find available for the Sai? Easy! We're really fond of the included carb cap tether which keeps the carb cap safely attached to your unit. It's included in the box and nice to have for sure, especially considering some manufacturers require you to buy it separately.
The Core 1.0 Pros 
USB-C Charging 
Three choices of atomizers 
Very solid build quality 
Premier vapor quality 
Big battery life 
The Core 1.0 Cons 
Bubble carp cap and tether is flimsy 
Who's the Core E-Rig for?
This is a really well-priced E-Rig and has really great versatility with the atomizer options. The battery life makes it terrific for group sessions and if you want a simple, no-frills, and dependable e-rig, then it'll be perfect for you.
Rather, if you're looking for a very portable and small unit, we wouldn't quite say it's the right thing for you, a good portable dab rig option would be the new XMAX Qomo.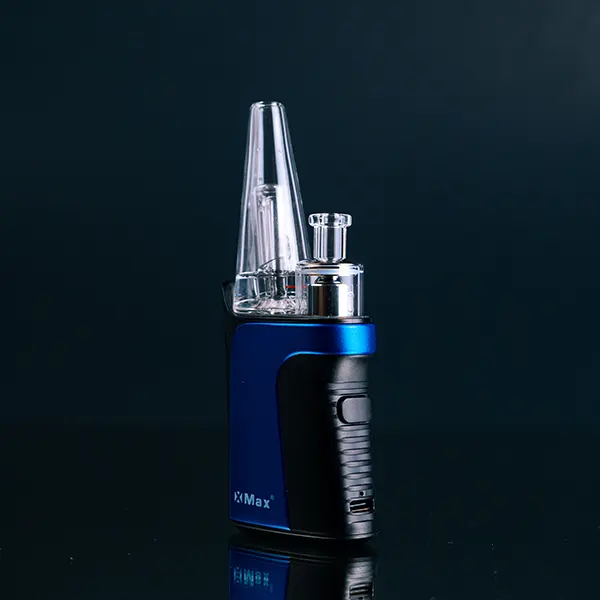 If however, you want the ability to get those really heavy hits, it's a great unit for that. That triple coil titanium atomizer hits like none other and really surprised us!
Final thoughts
We're pleasantly surprised and feel fulfilled with it. We feel it's a great competitor and comes at a really attractive price. The battery life is terrific, USB-C is really nice, the included Core 1.0 tethered carb cap is great to see, and the atomizer options are really where the device shines.
It is larger and heavier compared to some e-rigs out there and we would've liked to see more temperature options out there. With better temperature control and removable batteries, it'd easily be the best e-rig out there; however, as it stands it's still a great unit.
 Also, check out the newest version, The Core 2.1 E-Rig, or learn more about it in our The Core 2.1 Review!