---
---
---
Should you buy the Tronian Pitron?
With a super easy to use and understand design with draw activation, the Tronian Pitron is one of the best 510-thread batteries on the market today. In this review, we'll be going over the pros and cons of the vape as well as device comparisons and key features to help you decide whether this is the right 510 thread oil vape for you.
Tronian Pitron Specs + Ratings
| | |
| --- | --- |
| Material Compatibility | Cartridges |
| Battery life | 1 Day (Heavy User) |
| Heating system | Draw Activation |
| Heat up time | 2-5 secs. |
| Temperature control | N/A |
| Temperature Range | 4.2V |
| Oven Size | Any Cartridge |
| Accessories | Micro-USB Charger |
| Warranty period | 1 Year |
| Price | $15 USD |
| Coupon Code | |
| Ease of Use | 10/10 |
| Vapor Quality | 9/10 |
| Manufacturing Quality | 8/10 |
| Ease of Cleaning | 8/10 |
| Portability | 10/10 |
| Durability | 9/10 |
Tronian Pitron Pros
Affordable
Sleek and slim design
Discreet use in public
Decent battery life
Micro USB Port
Draw activated
Tronian Pitron Cons
Not as powerful as other 510 battery
Cartridge is exposed
One voltage setting
Initial 4.2v heating fades with battery life
How does the Tronian Pitron work?
With draw activation, a full battery charge will pump out a massive 4.2 volts of power supply to your oil. The only downside is that it won't be the best at your melting your super viscous oils right away, and that you'll have to take a few warmup sips. If this is going to be a buzzkill for you, make sure to check out the manually heat sister device, the Tronian Nutron.
What cartridges does the Tronian Pitron use?
One of the good things about the Pitron compared to other 510-batteries on the market is the versatile compatibility you'll have. As long as your 510 oil vape cartridge can work with draw activation, you'll be able to place any 0.5mL, 1mL. 2mL 10.5mm or higher cartridge into the vape and begin ripping. Whether you want to use a CBD, THC, or anything in between in your cartridge, it will work with the Pitron.
If you're unsure if your cartridge is compatible, all you'll have to do is check whether there is a small opening at the bottom of your thread which will act as the sensor for airflow to heat up the atomizer. For new cartridges, you can also just look at the box.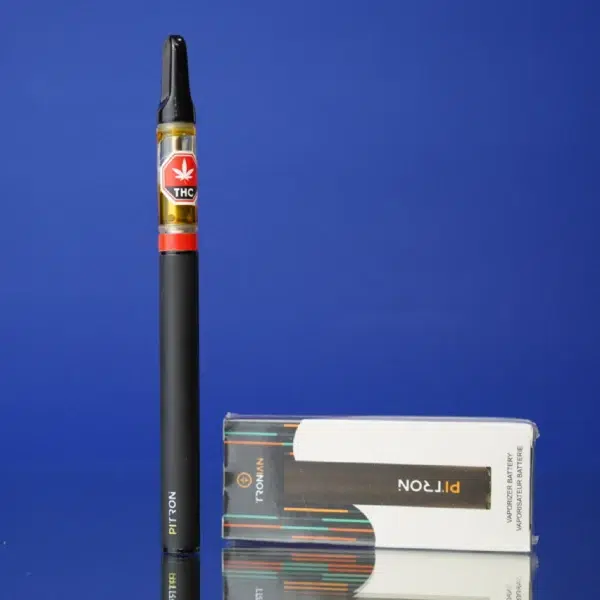 Pitron Vapor Quality
From any non-viscous 510 cartridge, you'll be able to get massive clouds and THC extraction. As distillates are also a much more pure form of extract, the vapor will tend to have a very minor aerosol scent to it, unlike the skunkiness you might get from smoking a joint.
Battery Life
As a rule of thumb, a 500mAh battery on a 510 thread cartridge battery will last you about 200 puffs / inhales. As mentioned, the 4.2v power supply to your cartridges will begin to fade below 50% battery life, and as the battery diminishes. With that being said, you'll be able to get a full days worth of use or more if you're a light user with the included 350mAh batter. The Micro-USB charging port can be found on the bottom of the vape and will give you a full charge after about an hour.
This will be compatible with a power bank if you're not a fan of running out of juice, so for this reason we can also recommend picking up a Tools420 Vape Case to help keep all of your 420 needs in one convenient place.
CCell Palm vs Tronian Pitron
Compared to the differently designed CCell Palm, the Pitron has opted for more ergonomics and ease of use over the 550mAh battery crammed into the bulkier Palm. With that being said, they are both very pocketable still, as the Palm utilizes an embedded cartridge design. The only downside of the Palm is that the design is slightly awkward to hold. As the Pitron uses a traditional oil vape pen design, it will be much more comfortable to use in the hand, but also have less overall battery life of just over half a day's use for heavy users, while the Palm will get heavy users through the day no problem.
How to use the Tronian Pitron?
As mentioned, all you'll need to do when operating the Tronian Pitron is have the battery fully charged, and then have an inserted cartridge. Draw activated 510-thread batteries are a great choice for beginners or light users as you won't have to spend any time adjusting to a learning curve. Simply drop a draw-activated cartridge in, have a good battery charge, and then begin hitting from your vape!
How to clean the Tronian Pitron?
With 510 thread batteries there are only two things that you'll have to worry about keeping clean will be your ceramic mouthpiece on the cartridge, and the 510 thread port. With a vape alcohol wipes, you'll be able to get rid of grime from the threads, and then break the seal and wipe the vape down with the released isopropyl alcohol.
Warranty
You'll have access to a one year warranty on the battery of the vape, which can be claimed in case of a defect.
Tronian Pitron Review Conclusion
Overall, we can recommend this 510 thread battery to anyone looking for an ergonomic design that won't mind the middle-ranged battery. There is not a whole lot of cons about it, and for this one it just comes down to personal preference of a sleek design over not having the best in class battery life.
For the ease of use, battery quality, and portability, it has earned a spot amongst the best vape pens list.
If you've been looking for a vape with multi-purpose use, consider checking out the convection dual-use Boundless Tera v3 with its included concentrate mode and pad!
If you liked this review, check back right here to our Tools420 blog for tons more just like it. Follow us on Facebook, Twitter, and Instagram and sign up for our Newsletter for news, updates, and promotions. If you are looking to buy a Tautron 510 Battery, you can find them on our online store or in person in Burlington, Ontario!
As always, keep on that cannabis train – To health and high times!