---
---
---
Is the Utillian 2 worth it?
Vape manufacturer Utillian has been putting out a lot of vapes lately with improvements in quality with each coming release. The new Utillian 2 is a smaller, ultra-portable alternative to the solid and larger brother, the Utillian 5. With 4 voltage settings, a small form factor, and easy operation, is the new Utillian 2 worth it? Check out our Utillian 2 vape review here for more info as we go over all of its key features, pros & cons, and much more. Let's get into it!
Utillian 2 Specs + Ratings 
| | |
| --- | --- |
| Material Compatibility | Concentrate |
| Pass through charging | No |
| Swappable Battery | No |
| Charge Time | 1-2 Hours |
| Charging Port | Micro-USB |
| Battery life | 75 hits~ |
| Heating system | Dual Quartz Coil |
| Heat up time | 10 Seconds~ |
| Temperature control | Pre-Sets |
| Temperature Range | 3.0V / 3.4V / 3.8V / 4.2V |
| Oven Size | >10mm |
| Vapor path way | Glass Mouthpiece |
| Accessories | N/A |
| Vibration Alert | Yes |
| Motion sensor | No |
| Warranty period | 1 Year |
| Price | 50$ USD |
| Coupon Code |   |
| Ease of Use | 9/10 |
| Vapor Quality | 8/10 |
| Manufacturing Quality | 9/10 |
| Ease of Cleaning | 8/10 |
| Portability | 8/10 |
| Durability | 7/10 |
Utillian 2 Wax Pen Key Features 
Colorful LED lights heat display 
Magnetically attached parts 
Glass mouthpiece to ensure flavor
Choose between grey or black 
What's in the Utillian 2 Kit?
1 x Utillian 2 vaporizer
1 x Carrying Case
1 x Dual Quartz Heating Coil
1 x Packing/Dab Tool
1 x USB Charging adapter
1 x Instruction Manual
Utillian 2 Coils
Seeing as the Utillian 2 dual quartz coils are a bit on the smaller side of things, it tends to work best with small to mid sized dabs, about the size of a grain of rice. You definitely can't be loading up big globs as it'll get messy and taste bad quickly, and honestly become a bit of a waste of wax – Less is more in terms of dabs! 
You'll have two coils to choose from; The included dual quartz, and the sold separately Utillian 2 Ceramic Donut Coil which I think a lot of people will be attracted to cause it is easier to clean and lasts longer. They will perform about the same and will work great with most wax concentrates like shatter, live resin, rosin, BHO, budder, and other types of dab concentrates. Just make sure to not use them for oil and dry herb!
Utillian 2 Ceramic Donut Coil 
Personally, my favorite coil has been the Donut Coil, and I definitely suggest giving it a try as it will give the best vapor quality as your wax soaks right into them. You won't get the biggest clouds as they won't get as hot as the quartz coils, but for the flavor chasers, they will appreciate the better flavor without any sort of aftertaste!
Utillian 2 Wax Pen Vapor Quality
The vapor path is essentially all metal and glass which means at low temperatures especially, you'll get amazing flavor from your high-quality concentrates. High temps really smack you with some pretty hard hits and will definitely be enough for the vast majority of wax pen beginners. With that in mind, the Utillian 2 has a lot of versatility in temperature control and can give you some pretty great results! It's nice to draw from, hits well, and gives good flavor! We wouldn't really see how it can be improved very much and overall we're satisfied! Be sure to add a Utillian Universal Glass Bubbler if you want to add vapor cooling!
How to use the Utillian 2?
Most wax pens are dead easy to use, and this is pretty true for the Utillian 2. Getting monster hits is pretty easy, even for a beginner. You'll have 4 voltage settings to fiddle around with, which varies up the experience pretty significantly. Let's take a look at what a sample session looks like: 
To use it, you'll want to use a little dab tool to scrap up around a half rice-grain sized amount of wax.
Pulse the fire button a few times to heat up the atomizer before gently melting the wax onto it.
Once that's ready, just re-attach the magnetic pieces and wait until you're ready!
When you're ready to take a hit, just hold down the power button at the same time as inhaling. Keep inhaling a second or two after you're done hitting the power to allow the atomizer to cool down and not waste your precious dabs!
Utillian 2 Coil Maintenance Review
Once you're no longer getting vapor, or the flavor begins to diminish, it means that your dab has been fully cleared. We recommend cleaning your wax vape every couple of sessions or so as wax vapes get gunked up quickly! Just remove the atomizer and mouthpiece from the device and plop them down into a small glass of isopropyl alcohol. Let them sit for around 15 minutes before taking them out and rinsing them with distilled water. Let the parts dry out properly before re-assembling for use!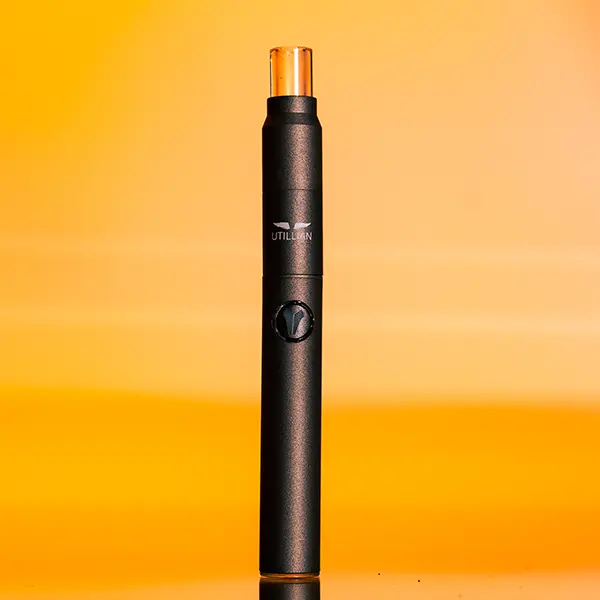 Tips and Tricks
Pulse the fire button a couple of times to warm up the coils to let the wax melt onto it easier
Before taking a hit, also do a couple of pulses of the button to pre-heat your wax before a rip.
Less is more! Use small amounts to reduce the cleaning, waste, and messiness caused.
Try out the Utillian Glass Bubbler!
Utillian 2 battery life
The Utillian 2 comes with a Micro-USB port for charging and a decent 650mAh battery. It'll take around an hour to top up fully which is pretty standard for portable wax pen vapes. You can get around 75 hits from a fully charged battery, which is pretty fine. Nothing special, all par for the course, especially for the affordable price tag. 
Is the Utillian 2 portable?
It's a really small device and only a bit bigger than a typical sharpie marker. It fits comfortably in the pocket, has a nice weight to it, and looks quite nice! It fits in your pocket just fine and you really won't have a problem taking it anywhere, especially since it looks so much like a normal nicotine vape. The small case that it comes with is small enough on its own to fit into your pocket, too!
Manufacturer reputation and dependability
Utillian has made some pretty big steps in terms of quality lately, and we're really happy to see that! It comes with a 1-year warranty and we're fond of the all-magnetic assembly. No sticky threads and most importantly, no potential to cross-thread it!
Who is this Utillian 2 for?
This vape is really solid for beginners and those who want wax hits on the go. We think it'll suit the vast majority of users, aside from those who want those giant hits and real dab experience. For heavy users, we'd recommend the Utillian 5 or a different wax vape that can handle bigger loads with better battery life, like the Focus Carta 2.
Utillian 2 Pros 
Small design 
Never harsh vapor 
Fully magnetic attachments 
Good battery life for the price 
Excellent flavor
Very affordable
Utillian 2 Cons 
Glass mouthpiece can become looser over time
Micro-USB charging port
Can't handle bigger dabs
Not compatible with any 510-thread atomizers
Not suitable for heavy users
Utillian 2 Review Conclusion
We can't really find anything wrong with the Utillian 2 – We would love to see USB-C charging on future editions, but aside from that, it's pretty solid overall! It's affordable, has an attractive build,  is fully magnetic, and has 4 temperature settings. While it's not the best wax vape we've ever tested, it's by no means bad and we're pretty fond of it overall! The magnetic assembly and voltage settings are the highlights of this unit and what separates it from other budget vapes in the category that will only have one heat.
If you're in the market for a good budget and small wax pen vaporizer, this is definitely one to look out for!