---
---
With the rise of medical cannabis over the last few years, more and more users have discovered the therapeutic potential of the plant. While smoking is still common, many people are finding out the advantages of vaporizers instead.
Our best medical cannabis vaporizers list here will show you the easiest-to-use, medically certified, and best-functioning vaporizers out there. Let's get right into it.
Certified medical cannabis vaporizers
In this section we've included all the medically certified dry herb vapes – that means they've passed stringent quality control and materials safety guidelines to guarantee safety.
Storz & Bickel Mighty 
At the top of almost the best herb vaporizer list is the Mighty Plus. Not without good reason, the Mighty vaporizer is about as good as one could hope for with the size in mind. While it's a bit bigger than most portable herb vapes out there, the performance and reliability surely show.
With the dosing capsule system and consistent results, the Mighty is great to use if frequent dosing and simple operation are preferred.
The Mighty Medic only differs from the Mighty in the medical certification it has, though, in essence, they're the same vaporizer.
We'd recommend this unit if you want a fairly portable, high-performance machine that has medical certification and an outstanding reputation.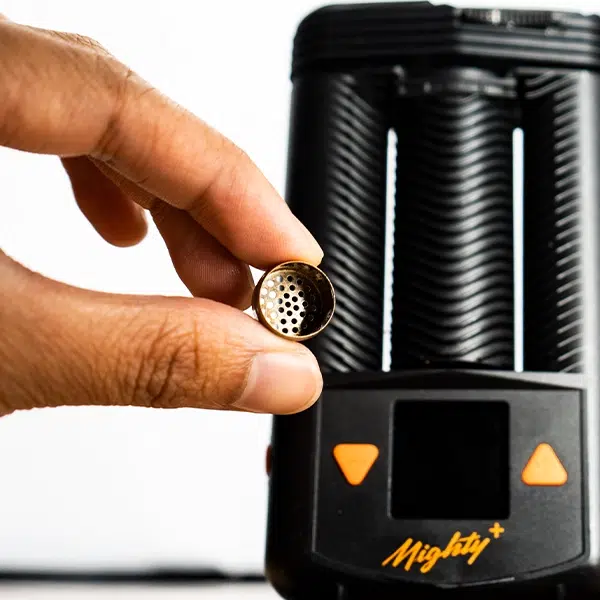 Storz & Bickel Volcano medic
If you're doing your vaporizing at home the majority of the time, the Volcano Medic may be what you're after. One of the very first vaporizers out there, the Volcano changed the industry as a whole and Storz and Bickel have the reputation to boot.
The Volcano Medic and Volcano Medic 2 are equivalent to the Volcano Classic and Volcano Hybrid, respectively.
Beyond the additional certification and testing required to medically certify a vaporizer for use, there are no differences to the non-medic versions of the vaporizer.
With a very large bowl, balloon functionality, and the ability to use a hose on the Volcano Medic 2, these vaporizers are excellent if you require a device that can deliver a high dose in a short amount of time.
Non-certified medical cannabis vaporizers
Below are the best cannabis vaporizers for medical users and patients who don't have any formal medical certification, but are easy to use, have great track records, or have other advantageous aspects for those looking to use cannabis therapeutically.
AirVape Legacy Pro 
A seemingly outlandish design that is proving itself with its performance, the Legacy Pro by AirVape is a hefty portable unit made to always be ready alongside your cup of water. Ready to hit at a moment's notice, the ALP impresses with its extraordinarily fast heat-up time and exceptional vapor quality.
Far removed from the smoking experience and even other vaporizers, the Legacy Pro aims to disrupt all convectional design ethos and bring cannabis vaporizing to people who never once considered it due to the powerful on-demand heating and little draw resistance. 
While we wouldn't say it's as portable as 'traditional' herb vaporizers per se, it's easy to bring around the house.
We'd recommend the ALP if you want excellent vapor quality, instantaneous heating, and top-notch build quality.
Air MAX / Solo 2
While none of their units are officially medically certified, Arizer vaporizers are without a doubt some of the easiest and most reliable vaporizers out there and feature a clean airpath thanks to their glass stem mouthpiece designs.  We lumped both of the portable units, the Air MAX and Solo 2 into the same section.
They both use the same style of mouthpiece and perform similarly, with the Air MAX having a stronger battery life and heating capabilities. 
When it comes time for a session, all you'll have to do is load the stem, let the device warm up, and take your hits.
Cleaning is about as easy as possible, and while the Air MAX has a swappable 26650 battery, they both have rock-solid reliability and consistency. 
We'd recommend both the Air MAX and Solo 2 if you want a portable and consistent dry herb vaporizer. You can also read our review where we compare them: Arizer Air MAX vs Solo 2. 
Utillian 620
The Utillian 620 vaporizer model is great for medicinal users because there is little to no draw restriction, has very cool vapor, and has a strong enough oven to produce big clouds.
While you won't get the best flavor from your herbs, it's a very relaxing device to use and is perfect for medicinal use at home. 
Arizer XQ2
The Arizer XQ2 is the absolute best alternative to the Volcano vaporizers thanks to its unbeatable value.
With a variety of ways to use either with bags, a whip, or direct draw, the XQ2 is one of the best budget herb vaporizers ever made.
It uses remote control functionality and has excellent vapor quality thanks to the high-quality ceramic heating element, we can't recommend this unit enough if you do most of your consumption at home and don't mind it being plugged in.
Read more about how it operates with balloons or hookah whip in our Arizer XQ2 review. 
Crafty+
The Crafty+ is a slightly smaller version of the Mighty. A top-notch vaporizer with performance and reliability in line with all their other units, we'd pick it as our #1 portable vaporizer for medical cannabis users.
We'd recommend the Crafty Plus if you want a durable all-rounder which has top-notch vapor quality and can be used with dosing capsules.
If you don't mind a learning curve or a smaller battery compared to the Mighty Plus, the Crafty+ is a great alternative. 
Dr. Dabber Switch 
More power than the Mighty? How about a Dr. Dabber Switch. This funky mosquito-fogger-styled device looks like it can pump your bikes and lungs all in one go.

A gigantic unit with vapor quality on the part with the Volcano mentioned earlier, the Switch is a smaller yet stranger alternative.
It looks like a power tool and to be frank, it hits like one too!
We'd recommend the Switch if you want a monster-hitting vaporizer with high-quality bowls and a stellar reputation. 
DaVinci IQC
The real benefit of the DaVinci IQC is the ability to monitor and control the dosage you get from your cannabis via the smartphone application built around the vaporizer. This system can accurately estimate the dose by calculating draw time if you input the potency of your cannabis.
Not to mention the portability, attractive design, removable 18650 battery, and fairly large chamber, the IQC builds a compelling case for itself if you're fond of tech and all the bells & whistles.
We'd recommend the DaVinci IQC if you want accurate dosage control/monitoring, a very portable device, and enjoy tinkering with settings.
Although its conduction oven isn't the best by any imagination, it's a super high-quality unit that's great for medicinal users that aren't heavy users. 
Final Thoughts
There you have the list of our favorite medical dry herb vaporizers. We've included both certified medical cannabis vaporizers and ones that don't have the seal but still carry all the pedigree.
It's hard to say which is the absolute best of them all since they all have their pros and cons. If you ask us, we'd say it's a good idea to invest in the best unit possible so you won't be likely to upgrade in the future.
Please don't hesitate to leave a comment and we'll get back to you ASAP!
Also feel free to use our live chat feature to have one of our vape experts answer any questions you might have.