---
---
Volcano Classic Video Review
Is the Classic Volcano worth it in 2022?
The Volcano Classic is one of the best of its kind to this day in 2022, nearly 20 years after its initial release.
When people think of a memorable vaping experience at a party or a cannabis industry live event, they're probably thinking of the Volcano – Its infamous orange and silver design & the thick, cloudy bags!
The user-friendly functionality and design of this desktop vaporizer were something future vaporizers would try to emulate and truly set the bar for modern-day desktop vaporizers!
Couple this design with awesome vapor quality and thickness; this is truly the perfect vaporizer for parties. When it comes to a workhorse that delivers the best-tasting, thickest clouds possible, the Volcano is still up there with the best of the best. In this review, we'll be going over its key features and pros & cons to help you decide if it's worth upgrading! Let's get into it.
Classic Volcano Specs + Ratings
| | |
| --- | --- |
| Material Compatibility | Dry Herb + Concentrates |
| Battery life | N/A |
| Heating system | Convection |
| Heat up time | 3 mins. |
| Temperature control | Heat Dial |
| Temperature Range | 130° – 230° C / 266° – 446° F |
| Oven Size | 1g |
| Vapor path way | Isolated |
| Accessories | Balloons, Whips, Capsules |
| Warranty period | 3 Years |
| Price | $420 USD |
| Coupon Code | |
| Ease of Use | 9/10 |
| Vapor Quality | 10/10 |
| Manufacturing Quality | 10/10 |
| Ease of Cleaning | 9/10 |
| Portability | 5/10 |
| Durability | 8/10 |
What's in the Volcano Classic kit?
1 x Volcano Classic Vaporizer
1 x Dry Herb Filling Chamber
1 x Easy Valve Balloons & Adapter
4 x Easy Valve Balloons & Mouthpieces
1 x Normal Screen Set
1 x Volcano Air Filter Set
1 x Liquid Pad
1 x Cleaning Brush
1 x Herbal Grinder
1 x User Manual
Volcano Classic Build Quality
Some vaporizer enthusiasts still have the Volcanoes they purchased in the early 2000s, which are still working perfectly. That is the ultimate test of the quality and longevity of this desktop vaporizer. The first official model was released in 1999, and the design has changed very little, with only the Volcano Hybrid as an upgrade since then. Volcanos were made with German ingenuity and longevity in mind, so if you take care of them, it will take care of you for years to come. If you're interested in this subject, check out our history of cannabis vaporizers blog post.
Like most, if not all, products from Storz and Bickel's brilliant minds, the Classic Volcano desktop vaporizer features a rock-solid foundation and materials built to last. Everything that goes into these desktop vaporizers is virtually free from odors, and the components that come in contact with you are food safe. As we previously mentioned, we know of vaporizer enthusiasts still using their Volcanos that they bought in the early 2000's. That is some serious staying power, especially since it has an excellent 3-year warranty.
Convection Heating System
Using a heat dial to control the temperature, you can adjust it anywhere you'd like in the range of 130° – 230° C / 266° – 446° F. Most people prefer to use the number's 5-8, which will be around the mid 300's to low 400's range (180C-200C). After a three-minute heat-up time, you'll be able to blast your hot convection air up through your dry herb to fill balloons with milky vapor! This will give a good mixture of flavor and cloud production for your balloons that will never be harsh on the throat. While it's a little outdated compared to the Volcano Hybrid, which uses a precision temperature control touch screen or phone application, it's more than enough to get the job done and is easy to figure out.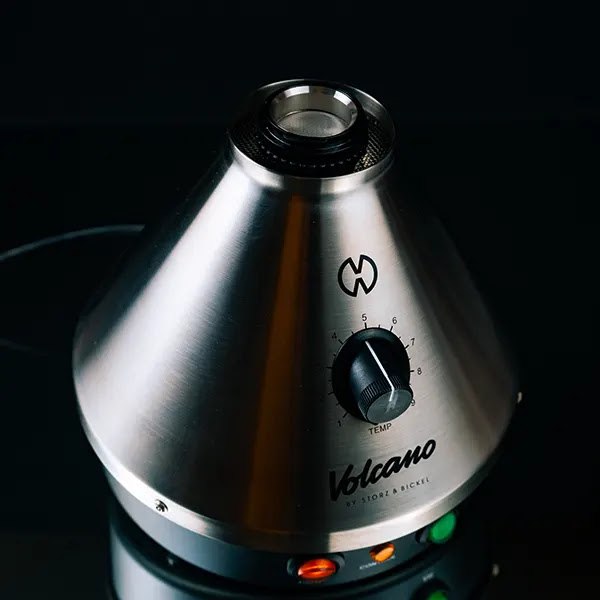 Volcano Classic Portability
Coming in at almost seven pounds, the Volcano Classic is something you want to carry only a little room to room. Your best bet is to keep the box so you can use the handle for easier portability with all your accessories. You can also pick up a Volcano Vape Carrying Case, a great addition to lug around your vaporizer. The balloon mouthpiece is draw-activated, so you can quickly bring your balloon around a party and only inhale when you want to without wasting any vapor.
Suitable Substances
With your one included Volcano Drip Pad, you'll be able to melt any concentrate into the mesh for an even extraction. It will be less effective than using an Electric Dab Rig, but it's a great little addition to the Classic's kit for anyone that likes to 'dabble' in concentrates.
Vapor Quality
You will get flavorful, robust, smooth hits and blow the thickest vapor clouds when vaping with dry herbs. The clouds from toking concentrates will be smaller but still flavorful and delicious. The concentrate tokes you get with the balloons are much less harsh than a dab rig. The terpene profiles in your botanical products will come through ideally in every toke, whether you use dry herbs or concentrates. The taste, smoothness, and quality of the vapor from the Volcano can satisfy even the snobbiest of vape snobs. This is especially impressive, considering how much vapor you can fit into a single balloon. Overall in 2022, the vapor quality still gets two thumbs up from us.
How to use your Volcano Classic Balloons
With the included easy valve kit, you'll be using a mouthpiece and balloon bag sets that you can replace when they become worn out. The easy valve kit gets its name because it comes with fewer parts than the older version, the solid valve. Let's take a look at how it's used:
Fill the bottom part of the chamber with up to 1 gram of your favorite finely ground cannabis

Twist the top chamber cap on and then place the balloon firmly onto the cap

While the Classic is plugged in, adjust the heat dial and click the heat button on

Once the orange button in the middle turns off after 3 minutes or so, you'll be able to press the fan button

After thirty seconds, your balloon will be filled with juicy vapor!

Place the mouthpiece onto the balloon ending which will release vapor when you push down with your lips
Suppose you enjoy microdosing or generally vaping less cannabis. In that case, we suggest picking up a Volcano Easy Valve Chamber Reducer, which comes with an included dosing capsule to make maintenance even more accessible than it already is. Once you've done the process once or twice, it gets to be very easy and self-explanatory.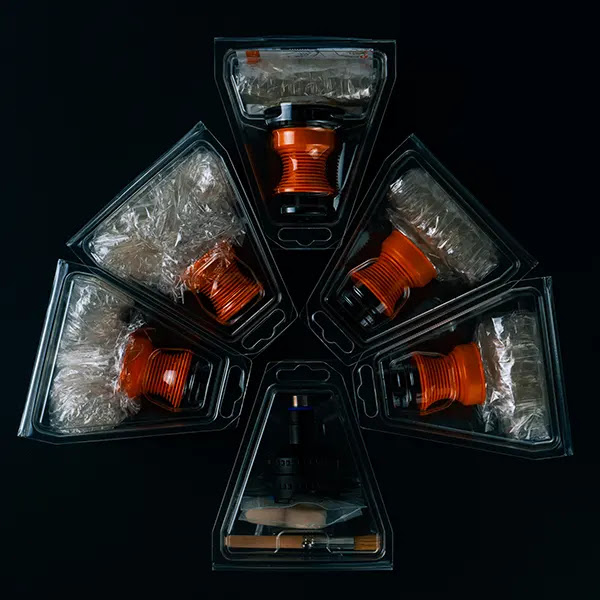 How to Clean the Volcano Classic?
When cleaning your Volcano Classic, the maintenance is straightforward as all you'll have to do is use the included brush to knock out any cooked cannabis from the chamber. For the balloon mouthpiece and the rest of the vaporizer, you can use a vape alcohol wipe to sanitize the balloon mouthpiece and remove any grime from day-to-day usage. For you heavy users out there, you might be interested in scraping out resin from your balloons for use with a dab pen! Volcano Balloons will last you months at a time, and you'll know that it's time to replace them when they're no longer holding their air as well or begin to become discolored.
Volcano Classic Pros
Delicious flavor
Thick, high quality vapor clouds
User friendly
Built solid to last
Volcano Classic Cons
Pretty steep price tag
Takes about three minutes to heat up
Fan can be noisy
Obviously not portable
Final Thoughts
Because this is a desktop vaporizer, it's aimed at experienced vaporizer enthusiasts, not a newbie looking to take a few hits here and there. The fan can get noisy, it's not portable, and it does take three whole minutes to heat up. This unit's price tag is also steep, which can turn people off. Looking past these drawbacks, this is one of the top desktop vaporizers. The Classic Volcano will sit atop a throne with the Hybrid as the best of their kind for years and years to come. For a good reason, too, as the vapor clouds are thick, robust, and delicious. The interface is easy to understand, and the vape is built to stand the test of time.
If you found this review helpful and want to see more like it, please join our Newsletter. You can also follow us on our social media: via Facebook,  Twitter and Instagram.
Please share your thoughts about our reviews in the comment section below so we can make modifications to serve you better. Happy 420!
As a cheaper alternative with a variety of glass accessories, also consider checking out the Arizer XQ2 Desktop Vaporizer.
Volcano Classic FAQs
How to spot a fake volcano classic?
The code on the bottom of the box will be able to be registered on a real volcano classic. Logos on the body of the vape might also be misplaced on fakes.
Is the Volcano Digit better than the Volcano Classic? 
The Volcano Digit is now discontinued, but the Volcano Hybrid overall better than the Volcano Classic.
How to use concentrates in the Volcano Classic?
To use concentrates in the Volcano Classic, you can lay the liquid mesh pad flat in the chamber and add a small amount of concentrates on top of it.
What size screws does the Volcano Classic use?
To access the internals of the Volcano Classic, all you'll need is a hex size 8 and a small flat head screwdriver.