---
---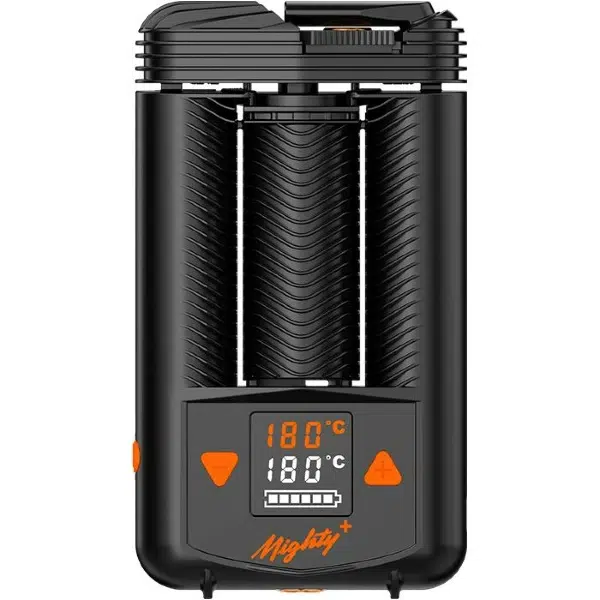 Sale!
Mighty+ (Plus)
Key Features
3 years warranty
USB-C Charging Port
Ceramic-Lined 0.3g chamber 
Powerful Conduction & Convection Heating
Bright LED Screen
UL Certified Electronics
Huge Variety of Available Accessories 
In stock, ships in 1-2 business days.
Vaporizer Comparison Review: Mighty Plus vs Crafty Plus
Storz & Bickel have taken their time with all of their vaporizers and the new updates to the Crafty and Mighty are evidence of this.  There are similarities between the two but factors like portability, screens, and interface, and battery life are what make each device better for individuals based on their unique preferences. In this Crafty Plus vs Mighty Plus  Review, we'll be discussing the key features of these dry herb vaporizers to help you make the best purchase.
Storz & Bickel Vaporizers
Storz & Bickel have been producing the best dry herb vaporizers on the market since their inception. With top-of-the-line German engineering and manufacturing quality, they have continually improved upon their older devices by listening to the community and making quality of life upgrades and improvements. The two latest 'plus' editions of the Mighty and Crafty are no exception.
Both vapes feature PEEK exterior plastic shells that make for comfortable sessions while holding them and won't get hot as well. Compared to other brands like DaVinci, they are also evidently more durable based on manufacturing as well.
Mighty+ vs Crafty+ Size Comparison
The Mighty+ specifications come in at 5.5 x 1.2 x 3.2 inches and 0.5lb / 230g. If you have a small pocket, it is not going to fit. Something like a purse or backpack would be better if that's the case. The Crafty+ comes in at 4.4 x 1.3 x 4.2 inches and .25 pounds / 120g. It fits nicely in almost any pocket and won't feel clunky in a typical pair of jeans.
Crafty+ vs Mighty+ Similarities
Both bowls on the updated plus vaporizers feature a ceramic oven coating. As well as this, USB-C charging, temperature and oven sizes, and hybrid heating are near identical.  To summarize many of the qualities are very similar, except for size difference and user interface buttons, and the Mighty's screen. You'll also get a three-year extended warranty on each vape.
What's in the Mighty+ Box?
Power adapter 110 Volt
Set of spare seal rings
3 x Spare screens
Filling aid
Herb mill
Dosing capsule
Cleaning brush
Instructions for use
What's in the Crafty+ Box?
USB cable
3 x Base Seal ring small
3 x Normal screen small
3 x Coarse screen small
Dosing capsule
Cleaning brush
Instruction manual
Safety instructions
Temperature / Heating controls
Both vapes feature a comfortable and flexible heating range of 104°F to 410°F (40C / 210C). Although they both use the same convection and conduction heating system, the Mighty+ heats up in a minute vs. 75 seconds on the Crafty+. One of the biggest drawbacks to the Crafty+ versus Mighty+ comparison is the lack of out-of-box usability in comparison to the Mighty+. As the Mighty brand was specifically made to be used right out of the box for medicinal users who may have motor function issues, the Crafty+ is simply not comparable. It features three pre-set temperature options, but the user interface is not comparable to the precise control at all times with the Mighty+.
Where the Mighty+ does not have an application, the Crafty+ relies on a Bluetooth smartphone application for full functionality. On the ANDROID application, you'll have access to control the boosted and default temperature settings, see battery levels, vibrations, and adjust the lights. These are all great features but something to be noted is that the application is unfortunately banned on the Apple app store. As well, it is incompatible with Google Chrome and Safari, so must be used with internet explorer or otherwise.
Ease of use: Crafty+ vs Mighty+
To use both the Crafty+ and Mighty+ vapes, simply pack the ceramic chambers as you would on other devices and set the temperature to begin a session. Once you get the hang of customization through the Crafty+ app, both are comparable in terms of ease of use after a few practice sessions.
The Crafty+ takes a bit of getting used to as it only has one button on its interface with pre-set temperature options.  Once you get used to the controls on the Crafty+ though, you won't need the application.  Unlike the Mighty, to use the Crafty hold the power button until the light turns red to let you know that it's heating up. When it reaches its first preset temperature, this will turn green. This will usually happen after a minute or so and also include some haptic feedback (two vibrations).
To use a boost, simply pressing the power button twice will cause the light to start flashing red (heating) and then stay flashing green at that temperature. To double boost, just press the power button three times and the heating lights will flash three times. To note, these three temperatures are programmable in the app. For battery display, as you turn the device off, a blue light will either be flashing (low battery) or solid (full battery).
Here's a better breakdown of the Crafty+ color scheme meanings:
Solid blue: 100% charged
Slow blue flash: 2/3 charged
Fast blue blinking: 1/3 charged
Blue flashing: 1% – 32%
In comparison, Mighty's user interface is foolproof and has a full information display on its screen. Keep in mind as well, dosing capsule caddy will help you with reloading while on the go!
Cleaning the Mighty+ vs Crafty+
With the smaller cooling chamber on the Crafty+, it is important to keep it clean from gunk and debris. It is more prone to getting a buildup of sticky residue as the longer you wait, the more difficult it will be to remove the cooling unit's cap and perform the overall cleaning. Once a week is suggested to keep the vape working optimally.
The same concept applies to each vape's bowl. After each session clean out the chamber with a brush to get any leftover scraps out. Follow this with a cleaning wipe or a cleaning stick.  For a deeper clean, both vapes can be cleaned the same way by 1. Soaking all parts except the cap lock in isopropyl alcohol for thirty minutes 2. Cleaning the internal chamber with a cleaning stick 3. Washing everything off in some water and letting sit until dry.
Crafty+ vs Mighty+ Battery Review
The biggest key feature of the Mighty+ and Crafty+ are the Mighty's USB-C charging ports and battery life. Both models were updated in their plus editions to feature a USB-C charging port with supercharging capabilities. To note, this is a sold-separately charger. The Crafty+ has one lithium-ion battery and the Mighty+ has two. This is one of the contributing factors to the size difference, as well as 50% faster heat-up time on the Mighty+.  You do have the choice to buy a seconds battery on the Crafty+ however, as it will be swappable if you run out of juice on the go.
When it comes down to the nitty and gritty details of what this means. The Crafty+ vaporizer, with average heating ranges, will have about six 10-minute sessions per charge. This is a middle-of-the-pack range, but still respectable.
For the meager price increase, the Mighty+ is by far one of the best portable vaporizers. With a second battery, average temperature ranges will give you up to two hours of use per charge. Pass-through charging is also available faster on the vape in just a few minutes compared to twenty on the Crafty Plus.
Storz and Bickel USB-C Fast Charging
Although the Micro-USB port is a great addition, the charging times will be three/four hours for the mighty or just over two for the Crafty+.  With a sold separately supercharger, these times change to 1.5 hours for the Crafty+ and one for the Mighty+. In this category, the Mighty+ is the clear winner. But why was the supercharger not included in both kits if it is implied that you need one? Something that makes the charging times so much more convenient should have been in the kit! To buy one on your own, just make sure it's a 40W base.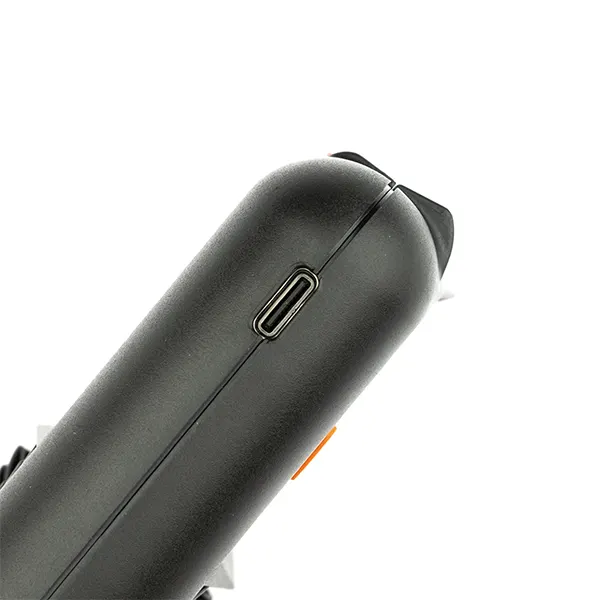 Crafty+ vs Mighty+ Portability and Discreetness
As mentioned, the additional battery makes the Mighty+ significantly larger and heavier. At face value, it is almost twice the size of Crafty Plus. To be honest, this makes it on the verge of not being able to fit into every pant pocket. In something like a purse or backpack, sure. But for walking around in a pocket, no. The Crafty+ wins in this aspect for having the same great design and function while being able to fit snugly wherever you may place it.
Both Storz & Bickel are not made to be discreet with their LED screens/lights and black and orange design. People will spot them out if you're trying to be sneaky. The benefit is that they both have amazing vapor quality.
Vapor Quality and Paths
The Mighty Plus and Crafty Plus use the same style of cooling unit, with the Mighty's being slightly larger. In our tests, this is only a very small difference and has no effect on hit temperatures during vaping sessions.
In general, the overall flavor and quality of sessions are amazing on both dry herb vaporizers. They both do a great job of getting the most out of your selected product. The AVP had a great brownish color to it on each vape that came from around a ten-minute session, starting at 380F and closing with a max temp super boost.  Airflow also felt great and produced good vapor that wasn't too hot through the similar cooling chambers.
One thing to be noted is that as the battery gets lower on the Crafty+, the heating capabilities will start to lag behind the Mighty's. It will take longer to reach max temperatures, and have a small effect on vapor quality as well. For best quality on either vape, make sure you pick up a Mighty+ 14mm bong adapter, a glass whip bubbler, or even just a Mighty+/Crafty+ bubbler!
Chart overview: Mighty Plus vs Crafty Plus
USB-C: Yes / Yes
Heating : 60 sec / 75 sec
Chamber: Ceramic / Ceramic
Fast Charge capable: Yes / Yes
Temp 40 to 210 °C / 40 to 210 °C
Battery Life: ~ 2hr / ~1hr+
Warranty: 3 years Extended / 2 yrs Extended
Lithium-Ion Batteries: Two / One
Weight: 0.5lbs / 0.25 lbs
Crafty Plus vs Mighty Plus Final Thoughts
In terms of overall performance, the Mighty Plus is the clear winner. It feels awesome in the hand during sessions and has a great battery life perfect for parties. With up to eight sessions on the go, you'll be loving this vape. The price difference between the Crafty+ also feels justified with all of the additional interface and battery power.
If your vaporizer being pocketable and discreet in public is the main factor, then the Crafty+ may be the better choice. The Crafty Plus is top-tier in the portable dry herb vape category for a reason. Its ease of use, cleanability, and discreetness make it a reliable vape for vapers who like to have sessions on the go.  However, the Mighty+ put simply is more consistent and easier to use thanks to its user interface and digital display.
Depending on your vaping preferences, each Storz & Bickel vape have their strengths. Either or, you will be sure to be satisfied with your choice!
Which do you prefer, the Mighty+ or the Crafty+, let us know in the comments!