Yocan Trio 3 in 1 Vaporizer Review
---
---
We have reviewed a few other devices from the Yocan vaporizer brand like Evolve Plus, and we were pretty impressed. The Trio 3-in-1 is a pod style vaporizer that can vape concentrates, oil, and e-juice. This device is one of the most affordable and compact wax pens on the market today.
But is the vapor quality enough with this unit for all three? Is three company, or a crowd? Read on about this 3 in 1 Vaporizer review to find out more.
If you are just getting your feet wet with wax pens and devices for vaping concentrates, check out our handy Wax Pen Buyers Guide for all of the in-depth information you need!
Product Features:
Super Easy to Use
Magnetic Connection
Highly Portable and Discreet
Good Battery
Very Affordable
E-Juice vape and concentrate vape
How it Works and Ease of Use
Using the Yocan Vaporizer Trio doesn't get any easier as a concentrate vaporizer and an e-juice vape. Just slide the pod in that you want to use, press and hold the single button and inhale – that's it. You can also opt to preheat your material by pressing the button twice. The hardest part about the Yocan Trio concentrate vaporizer is refilling the pod when one gets empty. This is not hard at all, as most consumers do it easily on the first or second refill. The Yocan Trio 3-1 vaporizer is as simple and straightforward as they come.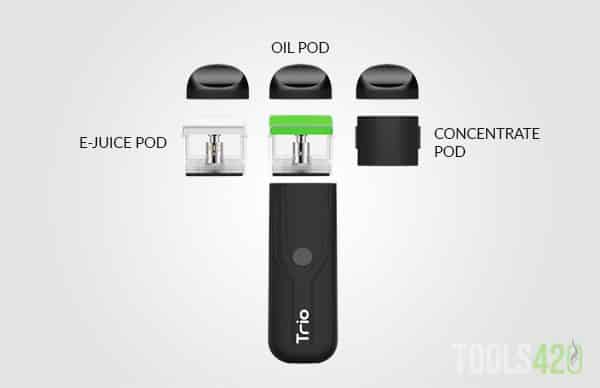 Yocan Trio Temperature Settings
There are three preset temperatures with the Yocan Trio 3 in 1 concentrate vaporizer. It's hard to tell exactly what they are because the manufacturer has never released that information. However, this budget device is not one that you will really need to know exactly what the temperatures are, because each of the three provides decent rips. The three temperatures are represented by three different colors – white for low, blue for middle, and green for high.
With the low, medium and high settings – you pretty much get what you'd expect from each. As usual, we recommend the medium setting, as we do with most portable vaporizers – dry herb or wax pen, or when using an e-juice vape.
Heating System and Chamber
Can the Yocan Trio vape wax and oil? Yes, it can! It is an e-juice vape and a concentrate vape. The Yocan Trio uses dual quartz atomizers and can load a total of 1 ml of oil, concentrate or e-juice. While it can fit up to 1ml, we recommend smaller loads around half of an ml or less. There really isn't much to be said here, because this device isn't one that's showing off in any department. It's just a simple and affordable e-juice vape and device to use when vaping concentrates.
Trio Vapor Quality and Production
The old saying goes – you get what you pay for. You aren't paying much for the Yocan Evolve, so you aren't getting much – which is also true for the vapor quality. With that in mind, we were kind of surprised to see that the Yocan Trio actually gave us some decent vapor production, especially using it as an e-juice vape. It isn't the greatest when it comes to vaping concentrates, but we never expected it to be. Using a real wax pen like the Puffco Plus or the Pulsar APX Wax will obviously give you much better vapor quality, but cost a lot more.
Battery Life
For such a tiny device, the 500mAh battery on the Yocan Evolve isn't that bad. You will get the most continuous usage out of it by using it as an e-juice vape. It is by no means a powerhouse, but it will last most consumers a full day, or about 3 or 4 decent sessions. It takes about 90 minutes to charge up. The battery will slowly degrade over time, depending on how much you use it. It might last you a year or two. But for the price, that's not bad. If you are looking for a wax pen that will last longer, check out a real wax pen like the Utillian 5.
Aesthetics and Manufacturing Quality
The Yocan Trio is obviously a budget style device, so don't expect exceptional build quality. Again, you get what you pay for – so the Trio does feel like it's on the cheap plastic side. However, the battery and the pod use a magnetic connection that is pretty secure. The Trio comes in six different colors – black, gunmetal grey, silver, stainless, red and blue. There really isn't much to compare the Yocan Trio to, because it is so tiny and uniquely shaped. However, we do like the size and shape of its older sibling the Yocan Evolve Plus much better.
Portability and Discreetness
The Yocan Trio is one of the smallest and most compact portable vaporizers we have ever come across. It's only 8cm long and weighs next to nothing – in fact, you might even lose it in your pocket. Even a baby could palm this device, and the vapor is on the low end. All of this means it is really discreet and portable.
What Comes with the Yocan Trio
Outside of the pods, the accessories of the Trio are simple. It comes with the battery, charging cable, and the user's guide. The concentrate pod comes with a dual quartz ceramic cable and both the oil and e-liquid pods come with ceramic coils. The Trio comes with a respectable 90-day warranty.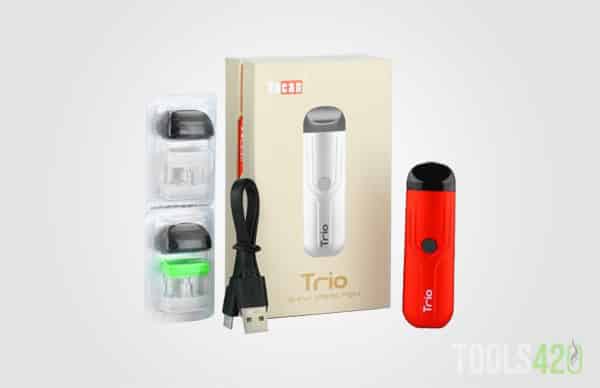 How to Clean the Yocan Trio
There really isn't much to clean at all with the Yocan Trio. In fact, it's so inexpensive, that if you really think you need to clean it, you might just get another one. With that in mind, it wouldn't hurt to soak the mouthpiece in isopropyl alcohol every few sessions to remove bacteria.
Bottom Line
The Yocan Trio 3 in 1 vaporizer is highly compact, super simple to use and offers some versatility. The device is perfect for newbies or occasional vape tokers who want a user-friendly device that is cheap and flexible. It certainly won't win any awards for vapor or build quality, but it does its job for its cheap price. The fact that it has the ability to be an e-juice vape, as well as a concentrate vaporizer is a good selling point. It would be nice if all three would perform better, however.
The closest device we can think of to the Trio is the KandyPens C-Box because it is also a concealer style oil battery.
What do you think about our Yocan Trio 3-in-1 vaporizer review? We were accurate in our assessment? Let us know in the comments.
If you liked this review, check back right here to our Tools420 blog for tons more just like it. Follow us on Facebook, Twitter, and Instagram and sign up for our Newsletter for news, updates, and promotions. You could even win a prize! Until next time, happy vaping!