---
---
---
Zeus Arc GT Video Review
Is the Zeus ARC GT worth it?
The Zeus Arc is a dry herb portable vaporizer that really performs well above its price point. There are two versions of this sleek-looking, powerful unit – The Zeus Arc GT and the Zeus Arc GTS. The GT stands for "gold technology" and is the standard version without a lot of accessories the GTS version has. That's not to say it's bad by any means! The Zeus Arc GT features a vapor path made entirely of gold and is compatible with any of the accessories of the GTS kit, as we'll talk about later.
Just getting your feet wet with dry herb vaporizers? Be sure to check out our vaporizer buyer's guide for all the information you need to make the best possible purchasing decision and learn more.
Zeus Arc GT Specs + Ratings
| | |
| --- | --- |
| Material Compatibility | Dry Herb |
| Pass through charging | No |
| Swappable Battery | No |
| Charge Time | 90 Minutes |
| Charging Port | Micro-USB |
| Battery life | 90 Minutes |
| Heating system | Conduction |
| Heat-up time | 80 Seconds |
| Temperature control | 3 Pre-Sets |
| Temperature Range | 185C-225C |
| Oven Size | 0.3g |
| Vapor path way | Metal |
| Accessories | Bong Adapter + Dosing Capsules |
| Vibration Alert | Yes |
| Motion sensor | Yes |
| Warranty period | 3 Years |
| Price | 180$ USD |
| Coupon Code |   |
| Ease of Use | 7/10 |
| Vapor Quality | 8/10 |
| Manufacturing Quality | 10/10 |
| Ease of Cleaning | 8/10 |
| Portability | 9/10 |
| Durability | 10/10 |
Zeus Arc GT Key Features
Excellent Performance and Vapor Production
Convenient Magnetic Stirring Tool
Great Battery Life
Innovative Accelerometer Feature
Haptic Feedback
Gold Plated Vapor Path (GT Version)
Durable Build
What's in the Zeus Arc GT kit?
In addition to the Zeus Arc GT device itself, you get five grime wipes, five grime sticks, give purify pipe cleaners, the USB charging cable, a glass spacer screen, and the user's manual. This premium dry herb vaporizer also comes with a 3-year warranty.
How to use the Zeus Arc GT?
The Zeus Arc GT is super straightforward and easy to use. To load it up, just take off the mouthpiece to reveal the heating chamber and pack your herbs. The lip around the top mouthpiece makes loading your dry herb easy, by basically using it as a scoop and helps prevent wasting or spilling anything. If you want, you can also upgrade with some Zeus ArcPod Dosing Capsules to make chamber reloading a breeze, as well as to reduce maintenance.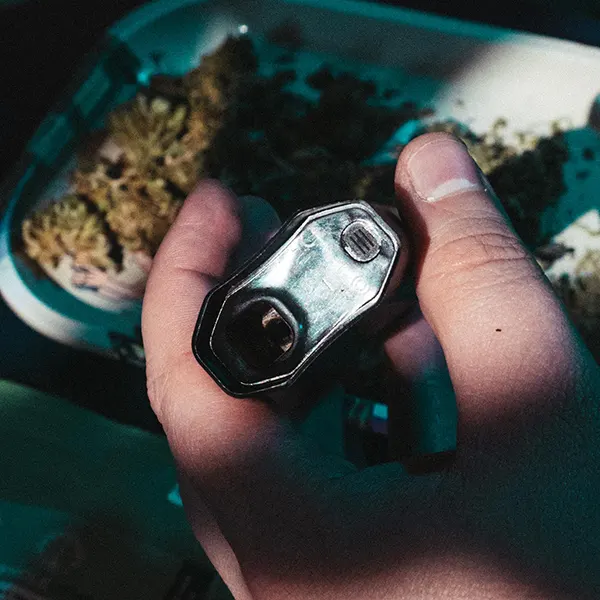 There is a small, handy magnetic stirring tool that you'll find at the bottom of this vape, which is a perfect feature to have, especially with conduction vaporizers. With vaporizers that use conduction heating systems, there is usually a need to stir your material in the chamber. Doing so ensures the best vaporizing consistency and gets the most extraction out of your herbs. The Arc GT doesn't require as much stirring as cheaper budget devices, though. We think that the magnetic stirring tool is very convenient. The fact that it is attached to the unit makes it handy for the times you need to stir the chamber on the go. The one drawback we see is the potential to lose the magnetic stirring tool, which is something to consider.
To turn the Zeus Arc GT on and scroll through temperatures, just simply press and hold the power button. The device takes about 80 seconds to heat up. The LED lights will blink during this time, going to solid green when it is ready to take a rip. The Arc also vibrates, aka has haptic feedback that lets you know when it's fully heated up. The Arc will automatically shut off entirely after 10 minutes of not using it, and it will enter energy-saving mode after 30 seconds of being idle to preserve battery life. 
The Zeus brand recently released a firmware update for the Arc, which gives you a lot more flexibility when it comes to temperature cycles. Just sync up your Zeus Arc GT to your computer and upgrade to more customizable heating. 
Zeus Arc GT Temperature Settings
The Zeus Arc GT uses a unique approach to temperature settings. Even though it technically has three settings, it's more flexible than it sounds. The Zeus brand is calling this temperature cycles, and the idea is to have the ability to vape in three different parts of your day. Level 1 or the lowest setting is 212C/414F, level 2 is 221C/430F, and level 3, the highest setting, is 225C/437F. 
Since most vape consumers tend to have about 1-3 sessions per day, these 3 cycles make for an interesting feature of the Arc. Cycle one can be for the morning for a wake and bake, cycle two in the afternoon, and cycle three in the evening. Or if you choose, you can run all three cycles at once – if you want a long session or if you are vaping socially.
Heating System and Chamber
The chamber on the Zeus Arc portable vaporizer can hold up to 0.3 grams of your dry herb. While this chamber isn't the largest on the market today and it takes about 60 seconds to heat up, but hits from the Arc pack so much of a punch that you might not need to load bigger bowls. The unit uses a conduction heating system. 
The Arc is an extremely impressive device when it comes to reaching temperature and the production of vapor and its quality. Towards the end of our session, the herb turned a dark brown color which we really have never seen before from other vaporizers.
Zeus Arc GT Vapor Quality
Even though the herb turned brown, we felt like we got the most out of our herb without it combusting. The first cycle is solid on this model, but the second two cycles produce some of the thickest, tastiest clouds we've seen. The vapor is so thick it actually fills up your lungs. The Arc truly produces vapor like it's a steam engine.
The Arc GT model uses gold plating in the chamber, heat-sink and the air pathway. As we all know gold is one of the most conductive materials and transfers heat consistently throughout the chamber and the air pathway and that is very conducive for producing quality vapor.
For the best possible vapor quality, we also recommend packing the chamber fully with your dry herb – and grinding it up as finely as possible. The Arc also comes with a spacer screen for those who like to pack less herb.
Zeus Arc GT Bubblers and Bong Adapters
One added bonus of the Zeus Arc GT is the Zeus Arc water-pipe adapter which makes your device bubbler or bong ready instantaneously! This meaning a boost in vapor quality, smoothness, and flavour. Bubblers such as the Whip bubbler, or Universal 14mm Bubbler will give you a boost in all of these factors. Being bubbler ready is not the case with every single vaporizer, so this a huge bonus when considering the Zeus Arc GT.
Zeus Arc Battery Life
The Zeus Arc GT has a 3500mAH battery and takes about four hours to fully charge using a USB charging cable, and most consumers get around an hour and a half of full continuous usage out of it. This equates to about 6-8 full sessions. One tip with the unit is that the charging plug is hidden under the magnetic stirring tool and you can place the magnetic tool on the mouthpiece during the charging period. 
These numbers are highly above average for today's portable vaporizer market. Every session we had, right down until the last one before it needed recharging produced a ton of vapor. The amount of vapor production didn't degrade the taste or flavor of the herb, either. Just about every draw was great.
While the Zeus Arc battery life is excellent, you will probably get about two more sessions out of the Mighty+ from Storz and Bickel. 
Zeus Arc GT Build Quality
The build construction of this dry herb vaporizer is impressive, it has a scratch-proof exterior shell made from anodized aluminum and only weighs about 4 ounces. The feature that sets the Arc apart from other units is the innovative accelerometer. What this feature does is it senses if the consumer is using the device. If no draws are detected within 30 seconds, the device starts powering itself down. This is a great feature for preserving both battery life and precious flower. 
The accelerometer also shows you how much battery it has left when you shake it. This is unique! Just be sure that the lid is secure when you shake it. You don't want to be halfway through a session and forget the lid is off, only to shake the Arc to see how much battery life is left – spilling your herb. This could be bad, but that is unlikely to happen to most consumers.
The Zeus Arc GT version uses Gold Plated Technology. Any car lover couldn't help but notice the "engineered in Germany" label, and we were reminded of German cars like Porsche and Audi – especially the Porsche Carrera GT. The Zeus Arc GT really is that luxurious and expertly engineered. The standard version is no slouch either, using a high-quality vapor path made from stainless steel.
Zeus Arc GT Portability
The Zeus Arc GT is a pretty compact and discreet dry herb vaporizer, with measurements of just 0.9″ x 1.7″ x 3.4″, and weighing four ounces. Despite this, it still feels sturdy in the palm of your hand. These minimal specs make vaping with the Arc a discreet experience just about anywhere, as far as concealing the device goes. Concealing the device is not an issue. 
However, the amount of vapor you'll expel with the Zeus Arc GT is not very discreet, especially on the high cycle. If you are vaping in an area where you don't want to draw attention to yourself, stick to the lowest cycle and take smaller draws.
How to clean the Zeus ARC GT?
Keeping the Zeus clean is as straightforward as it is easy to use. Just take a gentle brush to the chamber after every use. The included grime wipes and sticks are great to keep the chamber and mouthpiece free from debris and bacteria as well. You might want to give the mouthpiece a soak in isopropyl alcohol every once in a while. 
While the Zeus Arc is small enough to fit in most pockets, you might want to consider purchasing a case for it to keep it safe and secure. This water-resistant and wear-resistant vape case from Tools420 is a great choice to help protect your investment! 
Zeus Arc GT Review Conclusion
The Zeus Arc and the Zeus Arc GT are both great units. We think they are two of the best portable vaporizers on the market. The Zeus Arc GT might be the best vaporizer for dry herbs out there right now. At first, we were skeptical about the Gold Plated aka Gold Sink Technology, but then we put the two units to test. We used the same amount of herb for each unit. We didn't notice much difference between the flavor and vapor quality of both, but we found the Zeus Arc GT model produced more vapor than the standard model.
We definitely think that the Zeus Arc GT competes at the same level as the Pax 3 or the Davinci IQC. It offers great features such as being comfortable, having a portable design, being super easy to use, and having superb vapor production and quality, as well as a reliable battery life. Best of all, it is a low maintenance unit, unlike the Pax vaporizers.
What sets the Zeus Arc GT apart from other premium units is the fact that it has innovative and unique features like the accelerometer and temperature cycling. 
What do you think about our Zeus Arc GT review? We were on point with it? Let us know!
If you liked this review, check back right here to our Tools420 blog for tons more just like it. Subscribe to our YouTube Channel for more reviews. Facebook, Twitter, and Instagram for news, updates, and promotions. You could even win a prize! Until next time, happy vaping!
Also be sure to check out the third generation Zeus Arc, The GTS Vaporizer Hub.