Boundless Terp Pen Vaporizer Review
---
---
---
The Boundless Brand has produced some high-quality dry herb vaporizers over the years, like the Tera and the CFX+. The Boundless vapes brand releases another concentrate vaporizer in the Terp Pen, which is the sibling of the CF-710.
The Terp Pen is a light, compact, very easy to use, and affordable budget wax pen. But is it cheaply made? How about the vapor quality? What is the best cheap wax pen, is it this one? Keep reading our Boundless Terp dab pen review for all the details!
If you are new to vaping waxy concentrates and need some information on how to pick the best dab pen for you, head on over to our handy Wax Pen Guide for all of the important details!
Boundless Terp Pen Key Features
Highly Compact and Portable
No-Brainer to Use
Great Flavor and Vapor Quality
Affordable Dab Pen
Bottom of the vape coil design
Magnetic cap
Inhale activated
Very small design
USB-C charging
How to use the Terp Pen?
Operating the Boundless Terp pen can't get any easier, because there are no buttons to press. There is a sensor that detects when you draw in, and that's what activates the Terp Pen. The cap is magnetic and comes off easily when you need to load, but attaches easily as well to protect the coil.
The Terp Pen can be pre-loaded for later or used as a nectar collector. All you need to do to save it for later is to melt some of your wax onto the coil. Then use the magnetic cap to protect the coils. When you are ready for a rip, just inhale and enjoy – the Terp Pen does the rest.
Boundless Vape Pen Heating System
There are no temperature settings on the Boundless Terp pen. However, you can kind of control your rips by taking longer or shorter draws.
As one of the trade-offs for the small price jump, you won't be able to control the voltage on the Terp Pen. You'll have 3.7-volt power output to the ceramic coil wrapped in stainless steel. Since the heating is reliant on your inhales, you'll want to stick to long and slow inhales to get good vaporization out of your dabs. As most dab pens on the market will need a 5-second heating window to reach optimal temperature, the slower inhale you take, the hotter the coils will get and the better vapor production you'll get. Stainless steel does have its benefits since it will heat and cool relatively quickly, though.
For loading your dabs, you can choose to preload the coils by popping off the magnetic cap or use it as a nectar collector by having your dab container in one hand, and the Terp Pen in the other as you move the activated coils along with your dabs.
Slightly more expensive devices will have voltage control and manual or preheating, such as the Dr. Dabber Stella or G Pen Micro+, but it does overall come down to personal preference.
Seeing as the temperatures won't be able to be sustained at high temperatures compared to other vapes, you won't be able to vape high-temperature concentrates like hash, for hash use, you might consider a G Pen Roam.
How's the Boundless Terp Pen vapor quality?
The Boundless Terp pen performs quite well, especially considering it is technically a budget wax pen. This powerful little unit produces a ton of vapor. Since the vapor path is longer than your average wax pen, it tends to be on the cooler side and has minimal harshness on the back of the throat. Of course, the intensity of your draw is highly dependent on how much or how little you inhale.
We recommend keeping the amount of material that you vape with on the lower end. This will maximize your vaping experience because loading too much concentrate can lead to harsher inhales. The flavor is pretty tasty for the price of the Terp Pen. Overall, we were impressed with the vapor quality that this little dab pen has to offer!
Boundless Terp Pen Battery Life
The Terp pen has a 300mAh battery, which is okay, but not the best in the world. The size of the battery is about what you'd expect for such a compact budget wax pen. Most consumers get about 35 inhales off of a single battery charge, which is pretty solid for what this device is. Of course, the number of inhales that you get off of each charge is dependent on how you like to vape and how deeply you inhale.
If you are looking for a wax pen that features some truly impressive battery life, we suggest that you check out the Utillian 5, it has a 1500mAh battery. 
Below the mouthpiece, you'll have a small LED light indicator to display some information to you:
Blue will mean your coil is activated
The light will blink when it is charging, and turn solid when it's over
The pen has a small LED light below the mouthpiece.
It glows blue when being puffed.
When being charged, the light blinks until the battery is recharged
Aesthetics and Manufacturing Quality
The Boundless Terp dab pen is solid and durable, as it is made of mostly stainless steel. The unit is well made and feels good in your hand. It's a budget wax pen but it doesn't feel like a cheap one. Some of its parts have a rubberized finish which adds to the comfort when holding it. It is a pen-shaped dab pen in every sense of the word.
The stainless steel build means that it is durable and has some decent weight to it while still being lightweight. The dual ceramic coil performs solidly as well. It certainly won't be winning any awards for aesthetics, but it is well-made for a budget wax pen.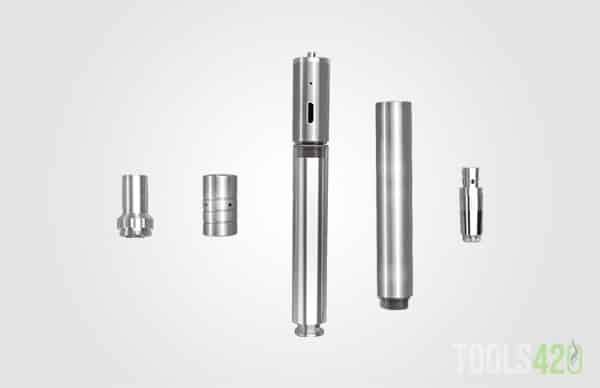 Is the Terp Pen portable?
As previously mentioned, the Terp Pen from Boundless vapes is truly a dab pen device in every sense of the word. It is kind of shaped more like a sharpie marker than a pen, but you will have no issues carrying this device around. As long as you stick to smaller inhales and not big ones, it will be fairly discreet as well. It looks just like a high-quality writing pen.
What's Included in Terp Pen Kit?
The Terp wax pen from Boundless vapes comes with an internal battery, a replaceable ceramic coil, the mouthpiece, the cap that protects the coils, a USB charging cable, and an owner's manual. Including an extra coil with the unit would have been nice, because it does need to be replaced every few months. However, this is a minor detail.
How to Clean the Terp Pen?
Taking the Terp Pen apart is pretty easy, so keeping it clean is not that complicated. You will want to soak everything but the battery in isopropyl alcohol after every session or two to remove any buildup that you might have accumulated. Alternatively, you can check out these high-quality vaporizer cleaning sticks from Tools420. They are super handy to use and you will never need to annoyingly dip your cotton swabs in alcohol again. 
Terp Pen vs. Terp Pen XL
The Terp Pen XL is the upgraded version that has a few more features that put it a cut above its smaller brother. For users that decide they love the style of the Terp Pen, you can find some added benefits for the small price jump of around $20. 
The XL uses the same coils as the original as well as the same draw activation but now comes with three different temperature options with the touch of a button. As it's longer and slightly bigger, you'll also have a little better airflow to work with, as well as a storage compartment and threaded cap and a 20mAh battery size upgrade. 
Wax Pen Comparisons
If you don't mind taking small, short inhales, then this isn't the pen for you. The Terp Pen is for people who have strong lungs, and won't mind smoking smaller dabs.
For heavier users, you may consider something with a stronger battery like the 1400mAh Yocan Magneto which will cost about the same as the Terp Pen.
For a more powerful one-hitter style of wax vaping, you might consider picking up the also portable G Pen Connect. 
Conclusion
The Boundless brand has a pretty good reputation when it comes to making vaporizers that last and perform well. The same holds true for the Boundless Terp Pen. It is affordable, well made, and offers some decent vapor quality. However, we would like to have seen some temperature flexibility and the option for additional atomizers.
What do you think about our Boundless Terp pen review? What is the best cheap wax pen? We want to hear what you think.
If you found value in this review, check back right here to our Tools420 blog for tons more just like it. Follow us on Facebook, Twitter, and Instagram for news, updates, and promotions. You could even win a prize! Until next time, happy vaping!
Summary
Article Name
Boundless Terp Pen Vaporizer Review
Description
The Boundless Terp Pen has released their budged wax pen. Does it stack up?
Author
Publisher Name
Publisher Logo
Related Posts