Dr. Dabber Stella Review
---
---
---
Should you buy the Dr. Dabber Stella?
With the latest wax pen release from Dr. Dabber, there has been a lot of buzz about the Stella. It's a concentrate pen that has focused on maximum power output and USB-C convenience, but does its limited battery hold it back in the market? In this Dr. Dabber Stella review, we'll be going over all of the key features to help you decide if it's worth picking up or not.
Unique TCR Coils
With a unique take on a heating chamber, the Stella features a floating ceramic chamber, as well as TCR heating technology for better coil power flow. With a sleek stainless steel black and blue design, there is a lot to like about this wax pen.
What is the Dr. Dabber Stella Coil Voltages?
Since the ceramic chamber sits above the coils, your coils will last longer, but also be heated to a higher temperature to allow for adequate vaporizing of your product. For thick concentrates, you'll want to pre-heat with a few small puffs to get the air moving through the chamber. After ten seconds, you'll be ready for a good full-sized inhale.
You'll be able to choose between three heating modes on the pen: green 550F/288C, cyan 630F/332C, or orange 775F/413C. These can be cycled through by pressing down on the power button three times.
For a preheat session for thick rosins, you can click the power button twice as it will begin to glow purple as it heats to 460F/238C. To then heat to your pre-set temperature, just press and hold down the power button for up to 15 seconds, though if you've preheated, you'll be able to inhale almost right away. If you want to have another hit after the 15-second auto-off timer, just let go of the power and either pre-heat or hold the power button down again to clear the chamber.
How to use the Dr. Dabber Stella?
To use the vape, the first step will be to remove the magnetic mouthpiece. From there, load the bottom of the ceramic heating oven with the included dab tool from the kit. Once you reseal the mouthpiece, you can choose to use one of the heat profiles that we previously discussed.
Since it's a cup and not coils you'll be loading, you'll be able to use oil or your favorite kind of dabs up to a maximum of halfway up the cup. During use, you'll want to keep the pen upright to keep the product dripping to the bottom of the cup, and not up through the mouthpiece.
Is the Dr. Dabber Stella portable?
The Stella is about the same size as an everyday pen, and will be super easy to carry and fit into pockets. With USB-C charging, you'll be able to carry around a battery bank for easier charging if you have the space for it in your bag.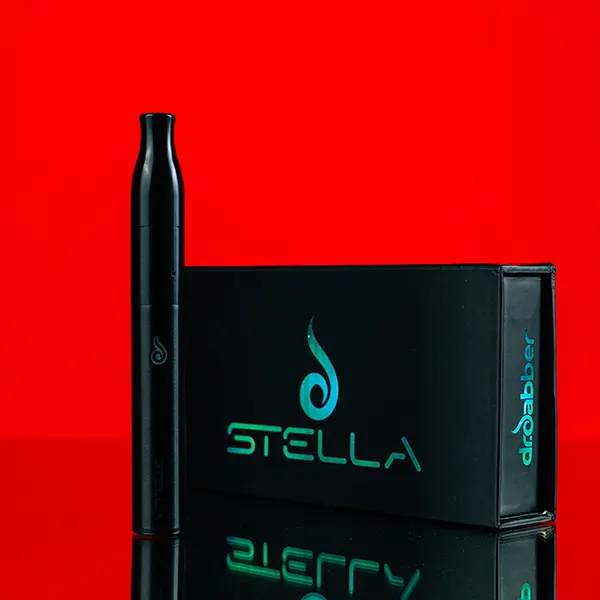 Suitable Substances
The high voltage / temperature settings make the Stella optimal for mowing down on any forms of concentrates including rosins, dabs, and shatter. Since it uses a cup instead of loading directly on to coils, you'll be able to use oils as long as you keep the vape upright.
Stella Wax Pen Vapor Quality
One of the nice things about the Stella is the unique air flow that works its way under the ceramic bowl through the coils and then through your wax and up into the mouthpiece. This help the overall airflow, and also adds a bit of convection and cooling to the vapor quality. Dr. Dabber calls this the 'cyclone' effect.
As the third temperature is close to 800F, it's more of a face melting cloud production setting than it is more any kind of terpene effects. The middle and lower settings are more for of a normal dab vaping experience, and won't be harsh at all.
Another nice feature is that the TCR (Temperature Coefficient Resistance) on the battery will provide more accurate temperature control to prevent any kind of burning or guesswork, especially since your wax won't be directly on the coils. It's an added measure of vapor quality control that helps boost the pen's value.
One thing you will notice is that if you're doing multiple sessions in a row, the metal mouthpiece is going to get very hot to the touch. To counteract this, we recommend picking up a DynaVap Fat Mouthpiece. It will add an extra layer of cooling, and also acts as a 14mm male port which can be used as a 14mm curved bubbler for a lot of added session fun and creativity. For the biggest clouds, you'll want to use the highest setting for sure. The middle and lower are alright for flavor, but a bit smaller in clouds. For this reason, I wish there was a fourth temperature setting that would have better hit the combo of flavor and cloud production. This middle ground is better hit by the Stonesmiths Slash or a Utillian 5 V3.
What is the Dr. Dabber Stella battery life?
Another knock on the Stella is the limited 600mAh battery which doesn't really stack up at all to modern wax pens. Although USB-C charging with pass through usage is nice, it's not really applicable. People buy wax pens for the portability, and that's what separates the category from E-Rigs.
The battery life will last about 20-30 minutes of live usage, and a charge will take about an hour and a half. When you plug in the pen, your vape will start blinking, and then eventually turning a solid green. You'll know that it's time for a recharge when the logo flashes three times and vibrates.
How to clean the Dr. Dabber Stella?
On a wax pen, you'll want to keep your vape as clean as possible to keep any parts from getting gummed up or burning anything onto the coils. As a rule of thumb, you'll want to keep the inside of the ceramic chamber as clean as you can with vape alcohol wipes to prevent any nasty resin buildups. This will also keep your vapor quality at its highest by preventing any sort of burnt flavor.
Warranty
Dr. Dabber has a one year warranty on Stella pens that will cover you against any sort of product malfunctions not caused by accidental damage. In general, there customer service team is easy to get a hold of and to work with.
Conclusion
We think that the Dr. Dabber is a great addition, and fits in well with our best wax pens list. With very high voltage / temperature settings, you'll be able to vaporize even the thickest of oils. However, with only a 600mAh, it can be a bit of a hassle to make it through a full day of use, which makes it not the best choice for heavy users. For what it's worth and need for a battery bank, you'd almost be better off picking up a pen with a better battery, or an E-Rig like the Dr. Dabber Switch.
For more info on the other wax pens we discussed in this review, be sure to check out the blogs:
Utillian 5 v3 Wax Pen Review
Stonesmith Slash Review
Summary
Article Name
Description
In this Dr. Dabber Stella review, we'll be going over all of the key features to help you decide if it's worth picking up or not.
Author
Publisher Name
Publisher Logo
Related Posts