---
---
---
Cannabis Vaporizer History
Humans have used Cannabis for thousands of years for its widespread therapeutic effects. From the ancient Chinese and medieval Germans, all the way to modern times with vaporizers – There has never been a better time to get the full effects of THC. In this review, we'll be going over a brief history of THC and a timeline of each generation of Cannabis vaporizers – No longer are we using hot knives on a stovetop, but fully-fledged convection devices that are a breeze to inhale from! 
Vaping vs. Smoking Weed 
As science continues to understand Cannabis and its effects better, we are better able to define its chemical properties and health benefits. Cannabis plants produce chemicals known as cannabinoids, and when these are heated, they will have mental and physical effects when consumed. Older generations may be familiar with joints, pipes, or bongs to smoke cannabis. These are all different forms of combustion types of consumption. Although there is nothing inherently wrong with these forms of smoking, science tells us of the differences between vaporization and combustion. Depending on several different factors of the Cannabis, such as strain and humidity, the combustion will take place around 230–315°C (445–600°F). This means that this is the point where the flower will catch fire. Relevant studies have found that the heating of THC without combustion is linked to much lower amounts of harmful substances being released, including tar, carbon monoxide, and carcinogenic compounds. (1) In other words, cannabis smoke was found to have 111 compounds, whereas cannabis vapor only had three. This means that vaporizing is most likely the safer route in the long term. Additionally, vaporizing is more efficient than smoking because approximately 30% of THC in the cannabis or hashish cigarettes is destroyed by the combustion of natural materials turning into ash during smoking. (2)
Desktop Vaporizers History
As the early '90s began to roll around, there was still a lot of stigma regarding the smoking of marijuana. However, people began to experiment with different types of cannabis consumption and devices. One such example is the Volcano Classic and the rise of Desktop Vaporizers, which would later become known as one of the first desktop cannabis vaporizers. Markus Storz invented it in his German basement while experimenting with different ways to benefit from smoking cannabis. Twenty years later, the Storz & Bickel Classic Volcano is still one of the most easily recognizable devices to cannabis connoisseurs for its superior vapor quality and iconic balloon feature.
We now understand cannabis vaporizers process much better than when they were invented. In the last ten years, much research has been put into understanding what differentiates the process of vaporization from smoking. In short, they work by boiling the essential oils off of the flower and leaving the plant's chemical properties intact. As these benefits began to be better understood, various style vaporizers began to hit the market, following the Volcano Classic mainstay. These today are better known as the first generation of vaporizers.
As joints can burn as hot as 2000°F with a torch, there also comes a lot of destruction of the THC. As cannabinoids (the chemically binding compound of THC) have been found to begin to vaporize in temperatures as low as 285°F, vaporization vapor will have a much higher percentage of active THC than combustion smoke would. As cannabis vaporizers offer heating customization, you'll be able to get the most out of individual strains and terpenes. As technology advanced, so did the kinds of ovens leading to further information on conduction heating, convection, hybrid, and later concentrate and oil specialized vaporizers.
How do Portable Vaporizers Work – 2nd Gen
If there was a knock on the first desktop vaporizers, such as the Arizer Extreme Q, it's that they require a constant AC volt plug-in and are generally very large with a variety of accessories to store. Brands and individuals began to take note of this issue and cater to those who may have wanted to take their cannabis vaporization sessions with them on the go with built-in batteries.
Portable Vaporizers are better suited for users who travel a lot and won't access their desktop vaporizers. Brands like G Pen, PAX, and DaVinci have all utilized this market gap and begun to make vapes that could fit into pockets and could easily be recharged. They began to use lithium-ion batteries or battery-free technology like the DynaVap M 2021. As you probably know if you're reading this article, they work by grinding and loading cannabis products into the chamber and then setting your desired temperature based on your unique preferences. As the technology became better, some like the Mighty+ Vape began to utilize two 18650 batteries in combination with hybrid heating, rivaling the vapor quality of desktop vapes.
Oil Vaporizers are often slotted into this category. They come in a pen-like format and are even more discreet to use than their portable sister category. They often use a conduction style format and a 510-battery cartridge, making them easy to refill and buy replacement 'ammunition.' For those making the switch from smoking, these make for great introductory devices, showing many of the benefits that portable vaporizers offer. Not only did portable vapes and vape pens make them more accessible for traveling, but also their price points from the 800-dollar volcano to 510-cartridges that begin at just over 10 dollars. As these grew in popularity, so to made a growing list of accessories such as Vape Bubblers and Bongs, Storz & Bickel Dosing Capsules for concentrates, and Vape Whips – All designed to increase vapor quality and ease of use.
As the further de-stigmatization and legalization of Cannabis-related products increases, these have become more mainstream, with even Snoop Dog collaborating with G-Pen to design his own product line and the PAX 3 Vaporizer selling millions of devices.
How Do 3rd Generation Cannabis Vaporizers Work?
Third-generation vaporizers are vapes that have learned from their prior models and can now offer users the ultimate ease of use, portability, and vapor quality. One such example is the recent release is the Zeus Arc GTS Hub. 
As Cannabis consumption has gone up 66% since the beginning of Covid-19 and the subsequent lockdowns, many beginners or medicinal veterans are beginning to look for the most efficient method of consumption. Researchers have found that up to 53% of medicinal users used a vaporizer to consume their cannabis and among them, 80% believed vaping was a healthier alternative. With as much as 20% of patients with health problems using Cannabis for therapeutic effects, some reporting a 34% symptom relief with Sativa use. (3) With this popularity boom, the amount of vapes to choose from has grown. Selecting the right method of consumption, especially a vaporizer, can help you steer clear of unlicensed vendors. Before choosing a vaporizer, make sure you choose the right one based on your unique vaping habits! (4)
Streamlined processes in third-generation vapes like grinding and chamber loading make for the most convenient sessions and overall use of selected cannabis products. With the Zeus Arc GTS Hub, users will utilize the whole kit with such accessories as the Xtruder, Pod-knocker, and AirPods. As TVAPE puts it, "The process of loading up an ArcPod with dry herb is as simple as grinding pepper."
Zeus Arc GTS Hub 
Whether you're a beginner or an experienced cannabis connoisseur, you'll be able to jump right into the third-generation Zeus Arc GTS Hub and save yourself time, clean-up, and stress. With the patented Zeus Xtruder, you'll be able to use the grinder as a one-stop chamber loading kit in combination with Zeus ArcPods. In the Hub, aka the traveling case for all of your dry herb vaporizing needs, you'll be able to store up to 15 pre-loaded ArcPods, as well as your AVB in the storage tray. So, what does this all mean?
To make use of the third-generation dry herb vaporizer technology, all you'll have to do is load your dry herb into the top of the Xtruder and load an arc pod into the bottom, holding a tray at the bottom. Put both lids back on, and then begin twisting the top cap. You'll see the dry herb moving towards the bottom as it begins to fill the ArcPod. Hold the Xtruder a little bit off the ground, and after the Pod has reached its 0.3g limit, the bottom cap will eject to let you know that it's ready to be paper-capped and stored in the Hub.
As the hub comes equipped with a Zeus Arc GTS vaporizer, all you'll have to do next is load individual ArcPods into the chamber. The aluminum and paper design makes airflow to the chamber work very well, and the vape's heat sink and 3rd generation mouthpiece make pulls virtually effortless. Those with reduced coordination or lung capacity will appreciate this essential feature.
When you finish with an ArcPod, as noted by a cut-off of quality vapor on inhales, then it is time to pop a new ArcPod in to continue the session. ArcPod paper lids will last three uses and be placed into their holding tray in the hub. Before that, though, you can utilize the Podknocker! Just remove the paper lid and jam the aluminum pod to get out all of your AVB into the tray. The Hub's lid is airtight and magnetic, so you won't have to worry about cleaning out the tray after every use. If you were to continue the vaping session, you can take one of your 15 pre-loaded Zeus ArcPods and place it into the chamber again. Gone is the need for excessive grinding and cannabis clean-up out of the chamber or on your desk and hands from old-school chambers.
3rd Generation Dry Herb Vaporizers Conclusion
From the humble beginnings of combustion joints, bongs, and pipes, cannabis vaporizers have made huge improvements since their creation close to thirty years ago. From desktop vapes to portable, to now the third generation vapes that combine the best ease of use without sacrificing any vapor quality – the Cannabis vaporization trend continues to improve.
Along with ArcPods, the GTS can be used with standard dry herb and concentrate and a variety of accessories with the Zeus Water Pipe Adapter. Combining all of the features that medicinal, beginners, and veterans will love into one solid kit at an affordable cost – third-generation vaporizers are here to stay, and we look forward to more advancements in the industry like Zeus Arsenal Vaporizers has done.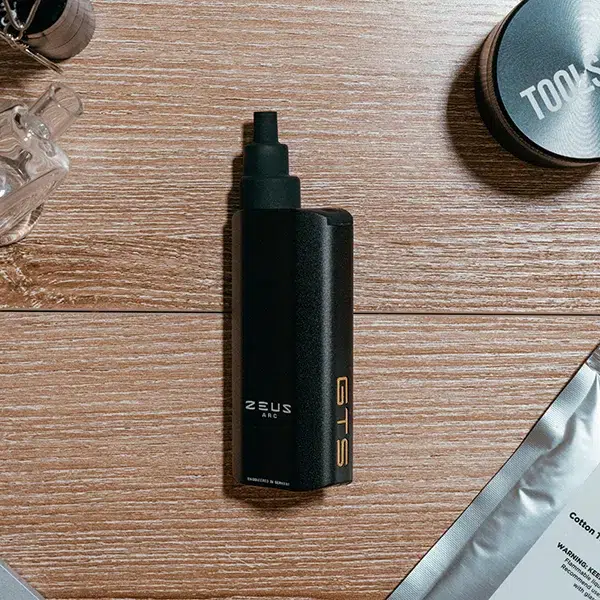 References
1) (https://www.maps.org/mmj/Gieringer-vaporizer.pdf)
2) (Marijuana and the Cannabinoids, Humana Press, pp. 205–235)
3) (https://www.verywellhealth.com/are-vaporizers-the-safest-way-to-smoke-weed-1124089)
4) (https://en.wikipedia.org/wiki/Special:BookSources/978-1455771226)