The best heavy hitting and strongest herb vaporizers around!
---
---
Some dry herb vaporizers are gentle and smooth, while some hit you like a truck. Here's our quick list of the best heavy-hitting vapes on the market. In our heaviest hitting list, we decided to include some desktop units, portables, and those in-between. If you already have a vape or want one that'll really blast you into orbit, then this list is probably best.
Storz & Bickel Crafty+
The Crafty+ and by extension, the Mighty+, are terrific portable dry herb vaporizers. Storz & Bickel makes an awesome vaporizer, and there's a reason every one of their current devices is on our list! The bowls can hold around 0.3 grams, which is good for sharing in groups no bigger than 4. Simple to use, reliable, and built strong, it's hard to go wrong with a Crafty+. As it is hybrid heated, you'll get a good roast from the ceramic-lined chamber, as well as from the hot air heated up from the bottom of the unit as it passes thru your herb. The result is a more even roast, and AVB that will darken and extract faster than most other portable units on the market. 
Okay, the chamber is definitely the smallest of any on the list, but don't get me wrong, this little thing can hit despite the 0.15g limitation! One of the most popular budget herb vapes around, the Dynavap M has hit the market by storm thanks to its one-hitter style and awesome vapor quality. With proper technique, you can clear an entire chamber in an easy 1-2 draws for massive clouds of vapor. This is very impressive considering the tiny bowl.
The cheapest on the list as well, we can't recommend this little device enough. With a cult-like following alongside it, there's a good reason it turns people into fanatics. While it's not so great for large group sessions, it'll definitely suffice for 1-2 people. Paired with a bubbler, and the Dynavap can seriously blow you away. All you'll need is a butane torch or induction heater, a little weed, and you'll be ready to get a good high on in a short amount of time!
NewVape Flowerpot + WeedEater
The holy grail, a NewVape Flowerpot + WeedEater is the magnum opus of weed vapes. It'll cost you a months' worth of rent, but the results are surely incredible. Able to easily stack dabs and dry herb at the same time, you can get double-layer baked in one fell swoop. With just the dry herb attachment, you can easily clear an entire bowl in one heavy hit. Not many devices out there can do that as well as this one can.
Tread carefully. This device is only for desktop use and not too well suited for beginners. With great power comes great responsibility, and the NewVape Flowerpot with WeedEater attachment is about as strong as you can get.
Volcano Hybrid Vaporizer
The other super expensive herb vape on our list, the Volcano Hybrid is one of the latest and greatest from the German Giants, Storz & Bickel. With a legendary build quality and top notch performance behind it, the Hybrid is definitely one of the best dry herb vaporizers on the market. Amazing vapor quality with terrific flavor and potent clouds, it's hard to beat.
Able to use balloons or direct draw, the Volcano Hybrid is seriously a beast and you can see why it costs so much. If you have no budget in mind and just want the strongest weed vape which is also easy to use, then the Volcano Hybrid is right for you.
Arizer Extreme Q
One of our favorite budget herb vapes, the Arizer Extreme Q plugs into a wall and features a large herb chamber. Packing almost a gram into its cyclone bowl, the EQ is great for group sessions and parties. Versatile, it can fill balloons or be paired with a whip just like the Volcano Hybrid. The flavor is solid, the vapor is potent, and it can be found at a great price now!
The only reason we wouldn't recommend one is if you're dead-set on a portable herb vape, seeing as the Arizer Extreme Q requires a wall socket to operate. It doesn't have quite the performance of the Volcano Hybrid, but you might not care considering the price tags of each device. Also be sure to check out the newer version, the Arizer XQ2!
Storz & Bickel Plenty
A power drill? Appearing more like a mosquito fogger or power tool you'd find in your dads garage, the Storz & Bickel Plenty features a gigantic chamber, accommodating over a gram of weed inside. This is insanity really, yet incredible for serving large groups. Cool vapor, insane power, and great taste, the Plenty is definitely one to look out for – if you can get over the looks!
For the price that they can be found at, it's really the heaviest hitting device around – provided you don't mind it being plugged into a wall and looks like a weird 80's paint sprayer. Plenty of vapor, and plenty strange for sure.
The Sticky Bricks Vaporizer
Hit by a brick they say, these strange devices surely stay true to their name. As close to a bong hit you can get without using an actual bubbler, the Sticky Bricks can produce massive plumes of vapor, an overwhelming high, and delicious flavor. Suited better for experienced users due to the learning curve, the Sticky Bricks are definitely one to keep on your radar.
Not so portable either, the Sticky Brick lineup is rather adept at home-portable or taking to a friend's house. Using them outside isn't discreet at all and wind may become a problem if it picks up. All in all though, they're great devices and we highly recommend a Sticky Brick.
Tubo Evic
The strongest portable dry herb vape on the market, the Tubo Evic is second to none. Likened to have the power of a desktop vaporizer in a portable package, you'll be hard pressed to find a better portable dry herb vape. It sports an extremely strong convection heater which delivered delicious yet potent vapor.
What's the catch? Well, they're made in Switzerland and hard to find! If you manage to find one for sale, it's certainly worth picking up. A beautiful piece which costs a pretty penny, those who enjoy artisanal work may gravitate towards this device.
Boundless Tera
Boasting a rather gigantic bowl, the Boundless Tera can cram roughly half a gram inside its chamber! Around twice the size of your regular portable herb vape in terms of size and chamber volume, the Boundless Tera is right impressive in terms of pure convection THC extraction power.
Found at great prices now, it's worth the cost and the portability really isn't so bad – roughly twice the size of two smartphones stacked together. For an alternative to the Storz & Bickel Mighty, the Tera is definitely a great pick! For a slight upgrade, consider picking up a 14mm whip bubbler for the glass mouthpiece that will really help to boost the vapor quality.
G Pen Elite 2
As a massive upgrade from the original Elite, the G Pen Elite 2 now features convection boosted conduction heating, a fully isolated air path, and a full zirconia mouthpiece. With a large 0.5g ceramic chamber and added airflow, this thing will seriously melt your face on higher temperatures. The new HD screen, USB-C charging, and zinc body are just the cherries on top. Keep your eye out as this device grows in popularity. 
Arizer Air Max
As the newest device on our list, the Arizer Air Max is a hybrid portable dry herb vape that sports an upgraded ceramic heater from previous Arizer vaporizers. With improved air intake ports and airflow ports between the stainless steel oven, there is now a lot more convection heating as the hot air passed above the ceramic heater and up through your loaded glass stem chamber. The heater of course, also does a better job now at keeping the oven warmer during bigger hits. To explain this better, you can visibly see the temperature dropping on a big Mighty+ hit, as well as having to wait a short period before your next hit. On the Arizer Air Max, it is definitely a ripper, not a sipper, meaning it will be able to clear your bowls faster than what you'll be used to from something like a Solo 2. With the inclusion of a 14mm water pipe adapter stem and screen inversion when placed upside down, this vape is just asking to be hit on max temperature through a bong and give you an awesome high!  
Summary
There you have our list of our favorite heavy hitters! We're sure there's a device in there that you'll enjoy. If you want a heavy hitter, being able to plug into the wall will by default grant you with much more power than you would otherwise have available. A Sticky Brick is one of our favorites, and of course the Volcano Hybrid is certainly one to look for it you have the cash.
Summary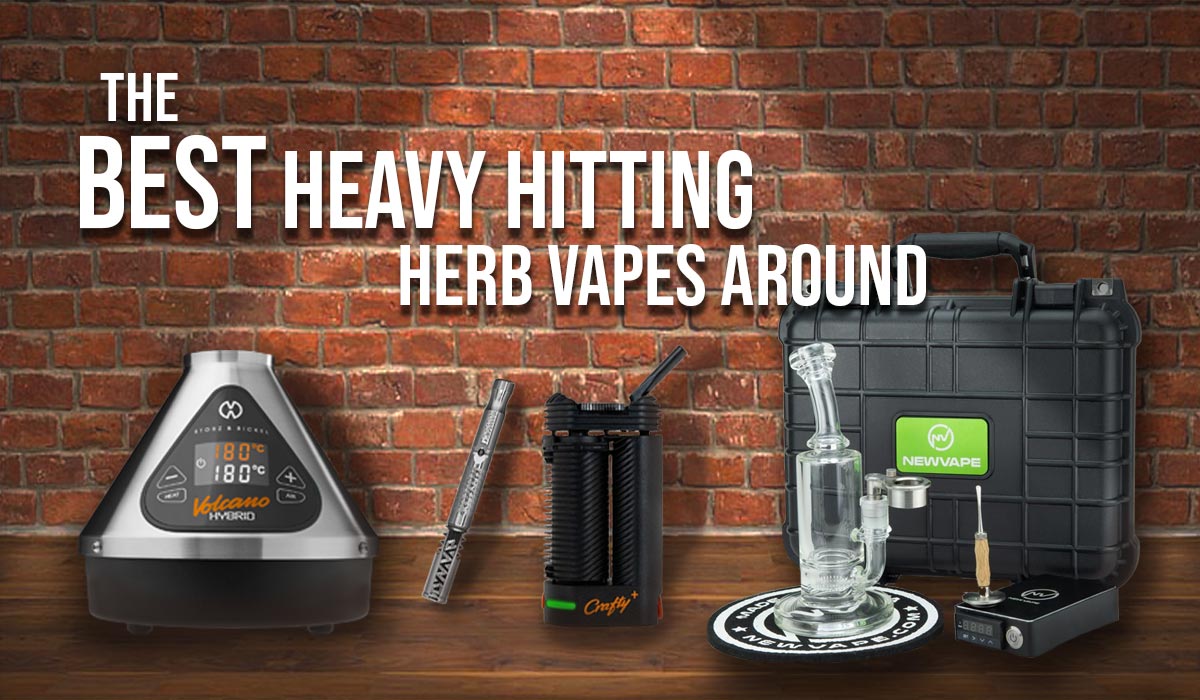 Article Name
The best heavy hitting and strongest herb vaporizers around!
Description
If you want a cannabis vaporizer that has a lot of vapor quality, then learn about our top picks in this helpful article!
Author
Publisher Name
Publisher Logo
Related Posts