---
---
---
Arizer Air Max Vaporizer Review: Video
Arizer is a company that started in Canada in 2005 and Arizer Air MAX is the newest release in their portable vaporizer lineup, taking the torch from well-liked devices in the Arizer Air and Arizer Air 2. Now that we've had a chance to really test the Air MAX, this blog will give you up-to-date information to help you learn if this is the right vaporizer to upgrade to. 

Arizer Air Max Specs + Ratings
| | |
| --- | --- |
| Material Compatibility | Dry Herb |
| Pass through charging | Yes |
| Swappable Battery | Yes |
| Charge Time | 2.5 Hours |
| Charging Port | USB-C |
| Battery life | 3 Hours |
| Heating system | Hybrid |
| Heat up time | 60 Seconds |
| Temperature control | Precision |
| Temperature Range | 50 – 220°C / 122 – 428°F |
| Oven Size | 0.2g |
| Vapor path way | Steel + Ceramic + Glass |
| Accessories | Mouthpieces + 26650 Battery |
| Vibration Alert | No (sound) |
| Motion sensor | Yes |
| Warranty period | 2 Years |
| Price | 190$ USD |
| Coupon Code |   |
| Ease of Use | 8/10 |
| Vapor Quality | 8/10 |
| Manufacturing Quality | 10/10 |
| Ease of Cleaning | 8/10 |
| Portability | 7/10 |
| Durability | 7/10 |
What's in the Arizer Air Max Box?
1 x Air MAX Portable Micro-Heater
1 x Air MAX Battery
1 x Arizer USB-C Charger
1 x Glass Aroma Tube (70mm)
1 x Frosted Glass Aroma Tube (14mm)
1 x Glass Aroma Dish
2 x Silicone Stem Caps
2 x PVC Travel Tube w/ Cap (70mm Size)
1 x PVC Travel Tube w/ Cap (Aroma Dish Size)
1 x Stainless Steel Stirring Tool
4 x Stainless Steel Filter Screens
1 x Sample Aromatic Botanicals
1 X Air MAX User Manual
Arizer Air Max Key Features
Uses the same glass mouthpieces as older models
0.25g chamber capacity
Upgraded Ceramic Hybrid Heater
Upgraded Menu Settings
Automatic Screen Inversion when upside-down
Stealth Mode Option
Powerful 2.5-hour battery life
USB-C Charging 
Portable
Included 14mm Water Pipe Adapter
Buttons now on the side
Only Available in Black
Arizer Air Max Portability
The first thing you'll notice right out of the box is the size increase on the Air Max. It is about an inch taller than the Air 2, but the larger battery and upgraded ceramic heater have really increased the weight of the vape. For specs, it's now about the same size as the Solo 2 but weighs a little more. In general, this means it won't be fitting into most pockets, similar to the fault of the Mighty+. For this reason, we'd suggest picking up a solid vape carrying case like the Stashlogix Silverton which comes with a variety of storage compartments to customize, as well as a child-proof lock.
Arizer Air Max Portability Tips and Tricks 
One of the slight downsides about Arizer Vaporizer designs is the reliance on the glass stems. Since you can't really carry multiple 'pre-loaded' stems in your pocket unless you invest in multiple travel tubes, our biggest tip would be to grab a 420 storage keychain which will let you store four compartments of ground herb. When you're done your session, you can simply knock out the chamber with something like your car key, and then smoosh the glass into your cannabis for a quick and easy reload. 
Is the Arizer Air Max discreet?
In terms of discreetness, the Air Max is definitely not the best. It's quite large and the glass stem will be enough to make people think that it's not a nicotine vape. Especially since without cleaning the clear glass will become stained and orange, you'll get some funny looks if you plan on using it in the city. For this reason, one of our biggest suggestions is to buy a black glass stem that will match the color of the vape and as well hide any residue buildups. The 70mm option will also be a bit shorter than the standard 90mm size and help to fit the device in your pocket.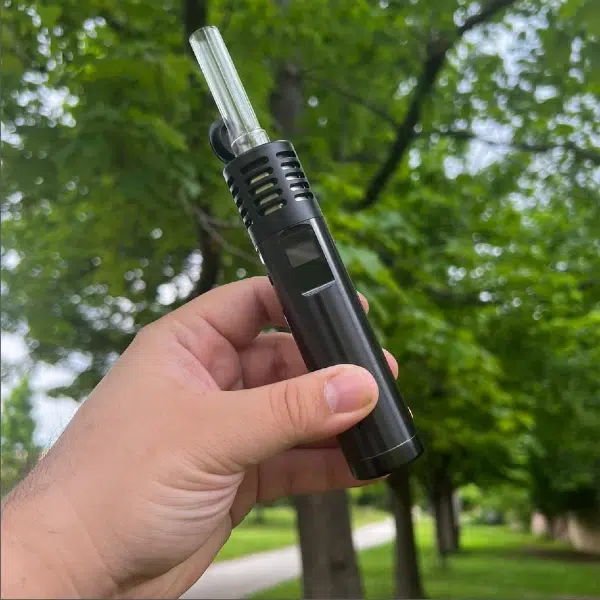 Dark Mode Setting
For the dark mode, you can quickly swap between the normal mode and dark mode with the m and – buttons for two seconds to swap between the two.  In this discreet dark mode, information is displayed in shapes on a darker screen.
A top right corner means power-on delay
A square in the top left corner means idle
A plus sign in the bottom left corner means heating
A triangle in the bottom right corner means it's ready to be used
To be honest, the system is kind of confusing, and all that you really know is that you can power the vape on in dark mode by pressing and holding the m and – buttons. The screen will be darker, but you'll still set the temperature as normal and it will begin heating. In dark mode, you turn the Max off the same way as in normal mode by pressing and holding the m button down.
Can you use concentrates in the Air Max?
While the Arizer Air Max is made to be only used with dry herb, the upgraded convection heating means that it's a good candidate for the sandwich method. All this means is sandwiching a rice-sized grain in between two small clumps of dry herb. You won't want to use anything too runny, as it risks the chance of going down into the heating element and causing damage.
In our tests, the best results came from using the 14mm WPA since the draws have more powerful draws which will help your concentrates THC extraction.
Arizer Air Max Vapor Quality
The ceramic heating element has been greatly upgraded on the Air Max to crank up the heating power of the vaporizer. There also seems to be much less draw restriction, and this really helps to boost the hot air's convection capabilities in the glass stem chamber. While the flavor remains the same thanks to an isolated air path and pure glass stem flavor, the Air Max is now better optimized for faster sessions. By this, we mean you won't have to wait past the heat-up to get good vapor. As well, you'll be able to get back-to-back hits without any decrease in cloud production because there won't be a drop in temperature like on older models. 
Improved airflow 
Some of the improved airflow comes from the four convection air intake ports in the stainless steel chamber that are now slightly bigger and more angled. This allows for better airflow and convection heating as it passes through the weed loaded in the glass stem. With more airflow, each inhale is going to draw hot air through your cannabis, leading to potent hits every single time. 
Included 14mm Waterpipe Adapter
With the included 14mm water pipe adapter, our favorite combo by far has been using it with the 14mm whip bubbler, or you can choose to just use the Arizer Glass Stem Bubbler which works the same ways as the normal mouthpiece. Since the screen inverts when you place it upside down, it'll be super easy to use compared to older models. You place the Air Max into the top of the bong, and then you'll have a super fun almost hookah-like setup. 
Arizer Air MAX Heat-up time Comparisons
Compared to the older model, the Arizer Air 2, the Air Max has been upgraded with a larger battery, USB-C charging, improved heating elements, and a better user interface with more options. While the 2 hours and 15 minutes of battery life still doesn't compare to the Solo 2's 3 hours, the fact that it's swappable and battery bank compatible makes it the real winner. Depending on the outside temperature, for a max temperature heat-up time, it took about 60 seconds, compared to the Air 2's 90 seconds.
How to use the Arizer Air Max?
The Air Max uses the same glass stem chamber mouthpiece design that has become a staple of the Arizer brand. For normal chamber loading, all you'll have to do is gently stamp down a medium grind into the 0.2g chamber, and then place it back into the stainless steel oven.
To turn the Air Max on, press and hold the M and + buttons until the countdown has finished.
You can then use + and – arrows on the right side of the vaporizer to set your desired temperature between 50° – 220° Celsius / 122° – 428° Fahrenheit.
After a sixty-second heat-up time, a beep will let you know that your temperature has been reached.
Once you're done with your session, you can then press and hold the m button until the vape turns itself off.
One of the nice changes to the Air Max is the upgraded user interface – The two main ones being automatic screen inversion, and a dark screen mode. For the inversion, all it means is that when you hold the vape upside down, the screen will turn so that you can read it. This works well while you're using a bong so that reading the temperature is easier.
Arizer Air MAX Extraction / ABV
The overall extraction you'll get from your Air MAX is awesome as you'll get vapor being pumped out until your herb is a dark brown color. As some devices like the Mighty+ will stop producing vapor even if your herb is still a light brown, it means that you'll get maximum efficiency from your cannabis – Much more so than just smoking or from using a cheaper device. 
Arizer Air Max Aromatherapy 
Just like in other Arizer kits, the Air Max will give you an aromatherapy dish that works similarly to the normal stems by sliding it into the steel chamber. With your favorite botanicals like lavender, lemon peels, banana peels, etc. You'll be able to extract their essential oils to freshen up any room that you want. Whether you just want to play around with different fruits or seeds, or are looking for specific health benefits like peppermint oil, simply look up what temperature to heat them to, sit back, and relax! 
Arizer Air Max 26650 Battery
The Air Max is equipped with a swappable 5000mAh 26650 battery. Although this is an upgrade over the 18650 featured in the older model, the 26650 will be slightly harder to source to pick up for backups on the go. It will feature pass-through charging just like on older models after fifteen minutes. With the upgrade to a USB-C charger, the charge time will also be brought to around an hour from the two on the previous model. Out of the box, you'll want to fully charge it to get the most longevity as possible. Although the 2 hours and 15 minutes of use will be more than enough for heavy users, you can also consider picking up a battery bank, or a spare 26650 battery to swap to when you run out of juice on the go. One of the downsides is that a full charge will take three hours.
Arizer Air Max Battery Tips and Tricks
One of the things you should note is that the battery is not made to be used in very cold weather, or it will die quickly. As well, Arizer suggests that if you're going to store your Air Max for longer than a month, do so with only a partial charge, not a full charge.
To access the battery, all you'll need to do is unscrew the bottom chamber and then slide the battery out. While you can choose to charge the battery externally, the included USB-C port will do just fine since there is included overcharging protection.
Arizer Air Max Recommended Accessories 
As the kit included a 14mm water pipe adapter, the easiest boosts to vapor quality will be with any 14mm vaporizer bongs and bubblers like the Universal 14mm Bubbler. For heavy users, we also suggest picking up a spare 26650 battery to take with yourself while traveling in case you don't have access to charging. 
How to clean the Arizer Air Max vaporizer?
Cleaning the Arizer Air Max is as easy as submerging the glass stem mouthpieces in isopropyl alcohol for ten to thirty minutes before a hot water rinse. As long as you're keeping the chamber clean after every use, you won't have any resin buildups. For the occasional fast clean, you can use vape cleaning sticks in the oven and chamber if the airflow is slightly affected, but the middle of the glass mouthpiece is still clean.
Warranty
The Air Max carries a lifetime warranty on the heating elements, and a limited 2-year warranty covering defects in materials or workmanship, excluding battery. Glass won't be covered, so make sure that you're using a carrying like the Tools420 Vape Bag!
Arizer Air Max Pros 
Easy to operate and clean glass stem chamber/mouthpiece design, as with all Arizer vaporizers
Isolated air path
USB-C Charging
Heat-up times under 60 seconds with improved heater
Swappable battery
Included 14mm bong adapter and screen inversion
Sleek design
Solo 2 or Air 2 Accessories will fit into the chamber
Arizer Air Max Cons
Some users will miss the capped mouthpiece included in the Air 2
A slightly bulky design that may be too big for smaller pockets
Dark mode is useless to most people
Price jump compared to Solo 2 / Air 2
The box is quite difficult to repack after opening
Who's the Arizer Air Max for? 
The Arizer Air Max is best suited for people looking for consistently powerful hits every single time. If you're a cannabis connoisseur that values a variety of vape accessories included in their kit, you'll also appreciate the kit. For heavy users, the massive battery life combined with it being swappable is a very nice feature so that you'll never run out of juice. People looking to upgrade from their drying Solo 2 or Air 2 models will also really appreciate the general upgrades. 
Who's the Arizer Air Max not for?
If you're new to portable dry herb vaporizers, you're not going to need such a strong and all-inclusive kit – An alternative for the best beginner vaporizer would be the XMAX V3 Pro. Since the Air Max does not have any dosing capsules, it's not the most portable if you don't plan on using a vape case. In comparison to something like the Zeus Arc GTS which comes with 15 dosing capsules, walking around with a loaded glass stem simply doesn't compare. If your goal from your vaporizer is to do dabs, the similar functioning Utillian 722 with wax cup would be the better option. 
Arizer Air MAX vs. Arizer Air 2
The main differences between the two units is the upgraded battery on the Air MAX. It's gone to 26650 from an 18650, as the battery life has nearly doubled. Because of the battery being larger, the body of the MAX is slightly bigger which does take a bit away from its portability. However, the Air MAX has an overall better kit including a heater which allows for faster sessions and better bong use out of the box. Read more about this comparison in our Arizer Air MAX vs. Air 2 Review. 
Arizer Air MAX vs. Arizer Solo 2 
For the Air MAX vs Solo 2 comparison, the main differences are the THC extraction, and the batteries. The Solo 2 uses a proprietary battery that relies on a short DC port. It's totally blown out of the water by the more modern USB-C charging and swappable battery on the Air Max, especially since they both have similar battery lives. As for THC extraction, the Solo 2 is what people refer to as a sipper. It's a much more laid-back experience and will not be able to pump out back-to-back powerful inhales like the Air MAX as its ceramic heater is not as powerful. Read more about these differences in our Air MAX vs Solo 2 Review. 
Arizer Air MAX Critiques
The biggest downside to the Air MAX and other Arizer devices is the fragility of their glass mouthpieces. Over time, the O-ring that holds them in place will loosen until eventually, they will just fall out if the vape is tilted enough. As well, they can break if you accidentally push or pull too hard in the chamber. Because of the overall device design, stirring your herb if it's roasting unevenly is also almost impossible since it will most likely just shoot your whole chamber out if you touch it with something like a dab tool. It's not a deal-breaker of course, it's just that some people might prefer a more traditional chamber like on the G Pen Elite 2. 
Arizer Air Max Conclusion 
In conclusion, the Arizer Air Max has made a lot of great improvements to overall ease of use and battery capabilities that have made it a very competitive portable dry herb vaporizer. The upgraded ceramic heating element, improved airflow, and less draw restriction have set it on par with the Crafty+ or Mighty+ in terms of overall cloud production and vapor quality. It's a strong two thumbs up from us… Good job Arizer!

2nd generation Arizer portable vaporizers (Air 2, Solo 2, ArGo)
Arizer Air Max Commonly Asked Questions 
Q: How to fix Arizer Air Max error 2? 
Out of the box, there is a plastic slip between the battery and the device for safety during shipping. To fix the error and get your device working, just unthread the bottom chamber and remove any plastic in the battery chamber. 
Q: How does the auto-inversion work?
The accelerometer in the Air Max will detect when you have the device upside down and will flip the screen for you to read it more easily. This is especially handy when using it with bongs and bubblers. 
Q: What's the best Arizer Air Max temperature?
For most people, 185 Celsius / 365 Fahrenheit is going to be a great temperature to start your sessions at, and then if needed, gradually raising the temperature by increments of 10 anytime that vapor production begins to slow. This will ensure an even extraction that will never be hot on the throat and will also maximize your THC extraction.