---
---
---
Is the G Pen Dash worth it?
The G Pen Dash is a simple Portable Dry Herb Vaporizer that performs well despite being under $100.
With a 

magnetic mouthpiece, sleek and small design, and overall ease of use

, the Dash remains a popular choice for a

Budget Vaporizer

.
In this review, we'll be going over its strengths and weaknesses, and who we think it will be best for – Let's get into it! 
G Pen Dash Specs + Ratings
| | |
| --- | --- |
| Material Compatibility | Dry Herb |
| Pass through charging | Yes |
| Swappable Battery | No |
| Charge Time | 2~ hours |
| Charging Port | Micro-USB |
| Battery life | 30 minutes~ |
| Heating system | Conduction |
| Heat up time | 35 seconds~ |
| Temperature control | 3 Presets |
| Temperature Range | 375-428°F (190-220°C) |
| Oven Size | 0.2g |
| Vapor path way | Isolated |
| Accessories | N/A |
| Vibration Alert | No |
| Motion sensor | No |
| Warranty period | 1 Year |
| Price | $57  |
| Coupon Code |   |
| Ease of Use | 8/10 |
| Vapor Quality | 7/10 |
| Manufacturing Quality | 7/10 |
| Ease of Cleaning | 8/10 |
| Portability | 9/10 |
| Durability | 8/10 |
G Pen Dash Key Features 
Haptic feedback 
Portable design perfect for walks or hikes
Solid vapor output despite smaller oven
Durable 
Easy to use
What's in the kit?
In the box is a fairly basic kit consisting of the G Pen Dash itself, a charging cable, a very handy keychain stir tool, the box, a silicone mouthpiece sleeve, and an owner's manual.
We wish there were a little cleaning brush or something included as well since many beginners may not have one already.
G Pen Dash Conduction Oven 
 The G Pen Dash uses a glass-coated stainless steel conduction oven, which produces surprisingly pleasant vapor.
The chamber holds around 0.1-0.15 grams, which is about all you'll really need as a beginner.
For reference, most budget portable vaporizers use conduction heating, while the best portable vaporizers tend to use hybrid or convection heating. Conduction is not bad, it's just different and will perform better with finely ground herb. One of the good things is that the chamber is super accessible, and has an easy-load funneled oven chamber. 
For reference, the 0.1g bowl size is similar to other small portable herb vapes like the Utillian 620, and will satisfy most beginners. For heavy users or vaping connoisseurs, you might prefer sticking to heavy hitting vaporizers, though.
G Pen Dash Vapor Quality
Although the Dash is not going to compete with the Mighty+ or Utillian 722 vapes, it does surprisingly well for its price point. It has a nice flavor and surprisingly smooth vapor.
The draw is gentle and open, and the raised mouthpiece design prevents your lips from getting too hot. With the chamber reloading ease, heavy users or medicinal users will also have no problem loading up more sessions. 
Overall, you can expect your clouds to be on the wispy side unless you take a longer inhale over five seconds long. 
How to use the G Pen Dash?
This is a straightforward starter unit. One button operation, simple cleaning, and simple to use, it's excellent for beginners who want an easy unit.
The mouthpiece is magnetic and can easily be removed to access the chamber. It will hold about .15g of dry herb and has a funnel design above it, making it very easy to load and reload.
Let's take a look at how a sample session looks like on the Dash:
Press the power button five times

quickly to turn the Dash on.
Cycle through the three pre-set temperatures of Blue 190

°C

/375

°

F,

green 205°C/401°F

, and red 220°C/428°F by

pressing the power button three times.

When the Dash is turned on, it will automatically begin heating up and when it reaches temperature & will vibrate

to

let you know it's ready to be hit. 
Although we prefer full temperature control, the three pre-set temperatures will give you a good choice of how you want your Dash to hit. 
G Pen Dash Battery Life 
With a 900mAh battery, the Dash will last the average use of roughly five sessions at the middle temperature. It has a micro-USB port on the bottom of the vape, and if you run out of battery at home, you'll be able to use pass-through charging to take hits while it charges up.
The LED light's flashing will also let you know what percentage it is at – Three times means 80%+, two times means 66%, and once is 33%.
Although smaller vaporizers typically make sacrifices to their battery, the Dash manages to perform well. It has enough battery life to last a whole night out, and unless you're a heavy user, you'll be able to get a few days of before needing a recharge.
The charge time will take around an hour to top up fully, and although the battery is not removable, its pass-through charging is a nice feature since you'll be able to use a portable battery charger when you're on the go.
How Portable is the G Pen Dash?
The G Pen Dash is one of the most discreet cannabis vaporizer on the market today. It is very ergonomic and is comparable to the size of a large USB memory stick. It can easily slide into any pocket, and due to its smaller design, most people in public won't even notice you holding it in the palm of your hand. 
The sleek black matte build is attractive and stealthy, and it's so light you'll probably forget it was in your pocket. 
If you're looking for a similar vape with similar features, but slightly better vapor quality, you might consider the XMAX V3 Pro as an alternative for its available accessory upgrades as well as on-demand heating mode.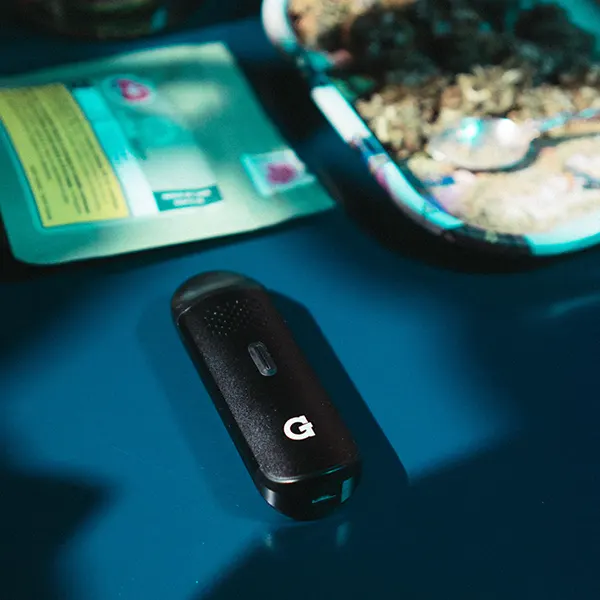 G Pen Dash Manufacturing Quality
After listening to community feedback in their earlier days, the new Grenco units are a big improvement in materials and technology. We're glad to see the company going in a better direction.
You won't really be going wrong by getting this unit, though and we're fairly confident any reliability and warranty issues will be resolved handily. Overall, it feels great in hand and you won't have to worry about anything breaking. With the newly included rubber mouthpiece sleeve, people who prefer back-to-back sessions also won't have to worry about their lips heating up as much! 
For it's super low price tag, I do think that the Dash swings well above its weight class, only really competing with the XMAX V3 Pro in terms of overall kit value. 
How to clean the G Pen Dash?
Knocking out the debris after a session with the kit's included pick tool is always going to be best practice to prevent resin buildups that will eventually begin to affect the airflow.
Once a month or so, you can give your Dash a thorough cleaning to keep it working its best. To do this, you can remove the inner ceramic spiral of the mouthpiece by pulling down the rubber of the steel filter. You can soak this in and the metal filter screen in isopropyl alcohol for ten minutes before rinsing with hot water. In the chamber, you can also use vape cleaning sticks to remove any debris. 
Who is the G Pen Dash best for?
The G Pen Dash is a good Dry Herb Vaporizer for Beginners aren't heavy users or people who will only be vaping on the go. 
The super portable form factor makes it a great everyday carry-on the go. For heavy users, it simply won't do compared to other devices. If you like the design and feel of the Dash, you might consider the stronger vape from the same manufacturer, the G Pen Elite 2. It features a 0.5g bowl and an HD LED screen that might be easier for beginners to navigate.
G Pen Dash Tips and Tricks
Grind your herb medium-fine, and compress it down a bit with your pinky finger

Make sure to keep the mouthpiece's metal screen clear from debris to ensure good airflow

A power bank will be a good investment if you enjoy vaping while camping

The low temperature pre-set is good for flavor, while the high temperature is good for bigger clouds
Final thoughts
The G Pen Dash is, overall, a great introductory dry herb vaporizer. It's very small, has surprisingly nice vapor, hits well, and is one of the best budget dry herb vapes around. It has haptic (vibration) feedback, the temperature settings are fine, and the sessions are very consistent.
The only real downside is that it won't quite be able to satisfy heavy users or people who like big clouds. 
Overall, the G Pen Dash is a solid little unit that performs very well and won't break the bank!
Pros 
Portable design 
Easy to use 
Funneled chamber is easy to load 
Pass through charging
Cons 
Small chamber 
Minimal kit accessories
Small vapor clouds 
FAQs
How to pack a G Pen Dash?
To pack the G Pen Dash, you can compress the bowl with your pinky until your herb is sitting below the chamber screen to not affect airflow. 
Does the G Pen Dash smell?
Yes, the G Pen Dash will product a fair amount of odor as the conduction oven isn't the best insulated. 
How many hits per session on G Pen Dash?
You'll be able to get at least five solid hits per bowl on the G Pen Dash. 
How long does the G Pen Dash take to charge?
The G Pen Dash takes a little less than 2 hours to fully charge, and the three lights will turn solid when it has finished charging. 
Is the G Pen Dash good?
For $70 or so, the G Pen Dash isn't too shabby and can give you some fun sessions. Overall, it's outshined by all of the best portable dry herb vaporizers, though.