---
---
---
Is the G Pen Hyer worth it?
In this G Pen Hyer Review, we'll be going over all of its juicy details to see if it's right for you… If you've been thinking about making the switch from bongs or Dry Herb Vapes to an E-Nail type of dabbing, boy do I have a surprise for you!
G Pen has been cooking in the crock pot and whipped up a nifty little E-Nail that packs much more power than their current model, the G Pen Connect.
With a ton of features not available on cheaper E-Nails like temperature and timer flexibilities and big battery capacity, let's hammer this nail and see who it's best for at the end of our review – Let's see if it makes our list of the Best E-Rigs or not.
G Pen Hyer Specs
| | |
| --- | --- |
| Material Compatibility | Concentrates + Dry Herb |
| Pass Through Charging | Yes |
| Swappable Battery | No |
| Charge Time | 2 hours+ |
| Charging Port | USB-C |
| Battery Life | 30 or more Sessions |
| Heating System | Bucket Atomizers |
| Heat Up Time | 15 Seconds |
| Temperature Control | 5 Pre-Sets |
| Temperature Range | 482℉/250℃ to 842℉/450℃ |
| Oven Size | Globs |
| Vapor Path Way | Quartz / Ceramic |
| Accessories | Dry Herb Tank and 10mm & 18mm WPAs sold sep. |
| Vibration Alert | No |
| Motion Sensor | No |
| Warranty Period | 2 Years |
| Price | $216 |
| Coupon Code | |
Key Features
Huge Battery Capacity
Huge Chamber Capacity
Magnetic and Threaded Atomizer Power Supply
5 Voltage Pre-Sets
10mm and 18mm / Dry Herb Tanks Sold Separately
Unique Carb Cab Design
Clean Vapor Path
Adjustable Session Timer (15-60 seconds)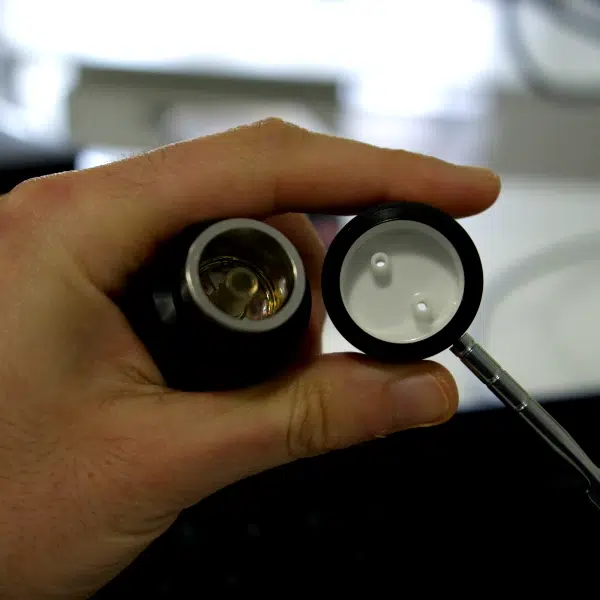 G Pen Hyer Battery Base
Quartz Atomizer
Magnetic carb cap
14mm atomizer WPA
USB-C Charging Cable
Carb cab dab tool
Hemp Vape Case
Threaded power supply
How to use the G Pen Hyer?
Once you connect the magnetic attachments between the atomizer and the battery base, you can turn it on by pressing and holding the power button for three seconds. With the up and down arrows, you can then select the temperature pre-set you want.
Blue: 250°C/482°F for

toasty terps

Turquoise: 300°C/572°F for

seasoned flavor

Green: 350°C/662°F for

powerful dabs

Yellow: 400°C/752°F for

dense clouds

Red: 450°C/842°F for

intense heat
You can also control the length of time your tank will heat before shutting off automatically. While the default session timer is set at 45 seconds, you can control it to stay heated for 15 seconds and a maximum of 75 seconds.
To do this, you'll need to press and hold the arrow buttons for two seconds, which will allow you to cycle through the session timers of:
15s / 30s / 45s / 60s / 75s
Once you're on your selected timer setting, you can select your session timer by pressing the power button once.
Before you begin your session, make sure that the E-Nail is already placed onto your 14mm vape bubbler or bong and already having the carb cap handle screwed into the side of it. One thing to note is that the carb cap also works as a dab tool, but I'd suggest using it for one feature or the other as you don't want to get sticky resin all over your fingers.
Once that's all out of the way, two clicks of the power button will begin your session. The lights will flash as it heats up before a beep and solid lights will let you know it's ready to be inhaled from.
Large Capacity Quartz Atomizer
The Hyer uses a large-capacity quartz atomizer with a magnetically secured carb cap and optional threading where you can screw in the dab tool to use it as a handle.
Unlike most wax vaporizers, the Hyer's atomizer is equipped to handle bigger loads than your typical rice-sized grain of dab.
Since there are no electronics or nearby threading, splashing or pooling won't cause any damage, and the air intake is at the top of the chamber, so that can't get clogged either.
Good Vapor Production and Dab Extraction Rating
Because the Hyer's pre-set temperatures are quite strong, you'll never have to worry about a low amount of vapor being produced.
Even on the lowest voltage, almost immediately, you'll start to see the vapor coming out of the air holes.
While I suggest that beginners stick to the 15-second timer and low voltage at first, heavy users can jump into the high temperatures and max session timers right away for green-out levels of vapor production.
A good tip for these types of users is to thread the dab tool onto the carb cab so that you can remove it and see how much of your dab is left.
What dabs work best in the Hyer?
My only recommendation for concentrates in the Hyer would be to use cheaper dabs like wax and shatter at higher temperatures because you won't get any terpene flavors, just pure smoke production.
You can use whatever you'd like in the lower temperatures, but if you have live resin or live rosin, you'll get better flavors from the blue and turquoise colors.
G Pen Hyer Portability Review
In terms of portability, there is none, as you'll be limited to the over 2.5-foot cable between you and your bubbler.
If you want an E-Nail with some portability, we recommend the sister vape of the Hyer, the G Pen Connect which works on the same basic level as the Hyer, but with much less power output.
However, having a portable wax pen-sized E-Nail definitely has its advantages as you'll be able to take it anywhere much easier.
With that being said, the included hemp vape case is super well designed and will allow you to pack up your Hyer and its included accessories neatly away for transportation.
Since the included vape case is only big enough for the Hyer and its accessories alone though, I would recommend the upgrade to a bigger and more solid vape case like the Stashlogix Silverton.
G Pen Hyer 6000mAh Battery Life
Thanks to its large capacity 6000mAh battery bank, users will be able to get around 30 sessions on average from a full charge.
With USB-C charging, bringing it back to full will also only take 3 hours maximum.
This is one of the great features that heavy users will really appreciate – There's little downtime if you time your charging correctly.
When you first power the Hyer on, each of the five lights illuminated of your heat setting will indicate 20% battery charge.
A good traditional dab rig alternative
One of the biggest drawbacks for people quitting old-school dabbing with E-Rigs or E-Nails is the smaller chamber sizes and battery limitations as most dabbers end up being heavy users.
With the massive 6,000mAh battery and atomizer without loading limitations, you'll be able to get way more sessions and vapor per dab compared to almost any other wax vaporizer on the market.
For heavy users, there are really only two competitors that come to mind, which are The Core 2.1 and the Dr. Dabber Switch. Let's take a look at how the Hyer compares to them.
G Pen Hyer vs. The Core 2.1
The Core 2.1 uses a 3150mAh battery, which is quite large for an E-Rig, but that stat is also helped by the fact that it uses a very simple user interface. By not having an HD screen, the Core 2.1 can get more sessions compared to its E-Rig competitors.
The only real downside is you can't overload the bowl or it can splash and pool in the atomizer threading.
In terms of vapor quality, though, it's definitely able to compete with the Hyer as it's able to milk the smaller amounts of dab for the full 80 seconds session timer if you want it to.
With five voltages and manual or 80-second heating timers, its performance as an E-Rig is similar to the Hyer's performance as an E-Nail, in my opinion.
G Pen Hyer vs. Dr Dabber Switch
The Dr. Dabber Switch is similar to the Hyer because it also uses a huge battery base that can provide dabbers with up to fifty sessions.
It is a bit different though because it uses induction heated bowls instead of an atomizer. These sit above the battery base and are sealed in by the hefty bubbler, making it totally not portable like the Hyer.
For the Switch, you can't load too much or inhale too quickly, as the bowls tend not to work as well if you do.
I didn't have this problem with the Hyer because the air path is at the very top of the deep bowl, so it's quite hard to cause a clog no matter how you are inhaling.
However, with the Hyer, you'll need to already own a 14mm bong or bubbler for it to work properly though, which isn't the case with the Switch, as it includes a very large glass bubbler.
The Switch allows for more session customization
In terms of customizing your session, the Switch's bowls are interchangeable and are made from different materials, which all have an effect on performance and the taste of your dabbing. All you do is buy the bowl and pop it into the holding slot along with the recommended heat setting, of which there are 25!
For the Hyer

,

there are only five heating presets

, but you can adjust the session timer between 15 and 60 seconds, which is definitely a pro to have, as most E-Rigs or pens don't have that option.
With the Hyer, your main customization source comes from the type of bubbler or bong you pair it with, as these will greatly affect the type of performance it puts out. While you can get different kinds of bubblers for the Switch, they can be a bit costly and you'll have to be super careful when handling them as they can break from small falls.
Lastly, the two units can use flower to some extent.
With the Switch, there is an included bowl for flower in the kit, whereas with the Hyer, you'll need to purchase a $50 USD dry herb tank, which is nearly a quarter of the unit's total cost's definitely an upsell.
Bubblers I used reviewing the G Pen Hyer
14mm J Hook Pipe
The first bubbler I tried with the Hyer was the 14mm J-hook Pipe. Overall it hit very well and I was pleasantly surprised.
It added a bit of draw resistance, which I liked, but overall, it was pretty impractical.
A Normal Bong
The second setup I tried was a good old-fashioned generic Chinese bong. I had to take out the flower catcher to make the 14mm connection work.
The bong added a lot of extra cooling, making the vapor incredibly smooth to the point that I wasn't sure if it was working.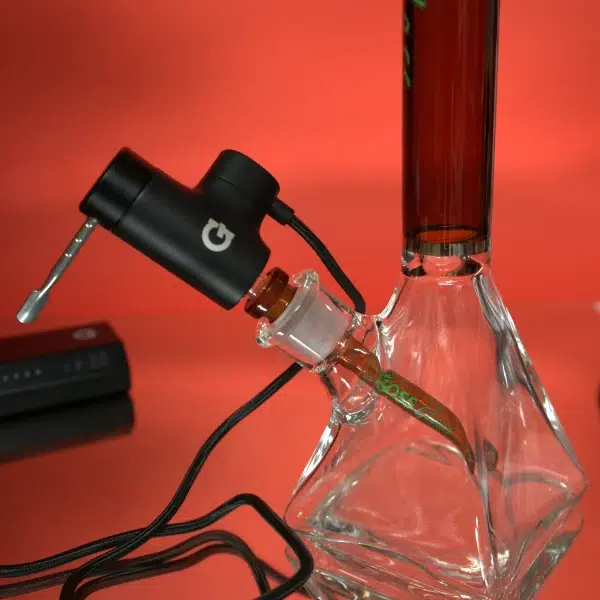 Globe Whip Bubbler
The last setup I used was the 14mm Globe Whip Bubbler, which is what I'll recommend to most people to try. While you'll lose out on some terpenes from the water and length of the tubing, you're almost guaranteed never to have harsh hits with this setup.
With a hookah whip to inhale from, I found that it adds more fun to the session overall.
Stundenglass
One setup that I didn't get to try was with the Stundenglass, which is what Troy and Jerry use in their G Pen Hyer Review.
If you're unfamiliar, the Stungenglass Gravity Bong rotates the two sides of its glass to pump out vapor from your vaporizer out the hookah mouthpiece end for you to inhale – It looks like it pairs amazingly well with the Hyer if you can afford its $600 price tag.
G Pen Hyer Tips and Tricks
Make sure that you turn off of the sound notifications off by pressing the power button three times quickly while it's on
The atomizer will only work with down stems on 14mm Bongs
Loading concentrates into the bottom of the deep chamber can be a bit annoying, so I suggest using a dabbing hot knife
If you do use the carb cap handle as a dab tool, I would keep a cleaning wipe on hand so that you don't get resin on your hands
Learn your favorite temperature and timer pre-sets and then stick with it, as the commands are pretty annoying to change
For easier chamber loading, you can take off the mouthpiece so it sits flat, or load it while it's already attached to your glass
Throttle the carb cap back and forth for a more even dab extraction
Keep your atomizer upright as it cools down if you haven't fully cleared the chamber
I can't state enough how annoying the sound notification is if you don't turn it off, and it's loud too!
How to clean the G Pen Hyer?
For most people, you'll be able to get away with using Vape Cleaning Sticks a few minutes after every session to clean up your leftover resin while it's still warm and runny.
For heavy users that end up burning their dabs, you'll be able to unthread the atomizer and soak it in 99% isopropyl alcohol for as long as needed until the burnt marks are loosened up and able to be scraped off with a dab tool.
Aside from that, give occasional wipes to the body of the atomizer with a Vape Cleaning Wipe to get rid of grime from day-to-day usage.
G Pen Hyer Community Consensus
Despite G Pen's bad reputation on different dabbing and vaping forums on Reddit, they seem to have done a good enough job to overcome that reputation with the Hyer. A good video to check out is GoStoner's G Pen Hyer YouTube Review.
G Pen Hyer Warranty Review
The G Pen Hyer comes with a two-year warranty on the electronics.
Everything is well designed and the manufacturing quality is awesome, so I think the only thing you have to watch out for is not dropping your bong by forgetting the Hyer is connected to it. Especially when you're high, it's easy to be clumsy and drop things, so you'll have to be on high alert.
Yellow lights flashing five times and no sounds mean you should contact customer service for help at [email protected]
Blue lights flashing five times with no sounds indicate a bad atomizer connection – A possible fix to this is cleaning off possible resin with a vape cleaning stick
Pros
Extremely powerful E-Nail
Endless amounts of 14mm WPA setups to try
Able to pump out massive clouds
USB-C charging
Massive 6000mAh battery
Incredibly durable build quality
Cons
Higher pre-set temperatures can be harsh
Light users won't need the extra chamber space or battery life
Users will need to own or buy a compatible 14mm water pipe
Pre-set temperatures go up by 72°F −  22°C every increment, which is too much
Who's the G Pen Hyer for?
As I've said, the Hyer is a great pickup for heavy dabbers. It has a huge battery capacity for sessions that can go up to a week without charging. The adjustable timer up to sixty seconds is also a huge leap forward for E-Nails compared to the normal 15-20 second timers they normally have. Personally, I think it's definitely earned a spot on our list of the Best E-Rigs.
In my eyes, the Hyer is truly the first E-Nail that might be able to compete with old-school dabbing bangers in terms of overall performance.
Who's the G Pen Hyer not for?
Lighter users and people who prioritize flavor won't like the Hyer as much. You're paying extra for the massive bowl and battery life, but if you're only going to be putting in a small amount of concentrates, then you're better off with the cheaper version of the Hyer, the G Pen Connect.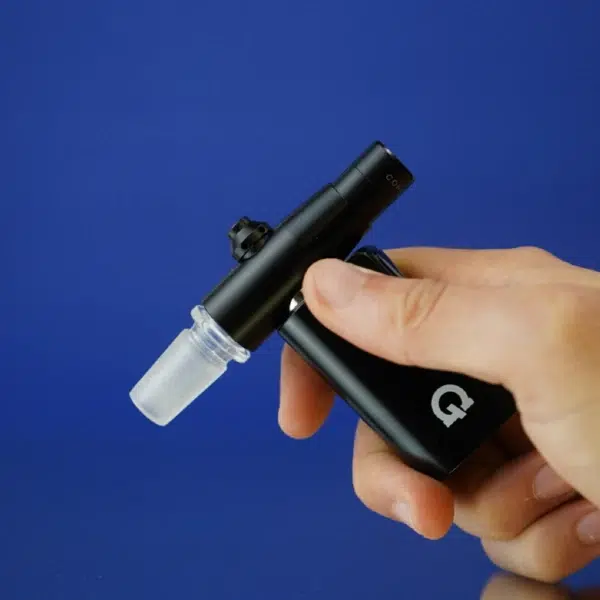 If you're after a portable E-Rig and don't care about anything fancy or exceptional vapor quality, the XMAX Qomo has been a fan-favorite E-Rig under $100 here at Tools420.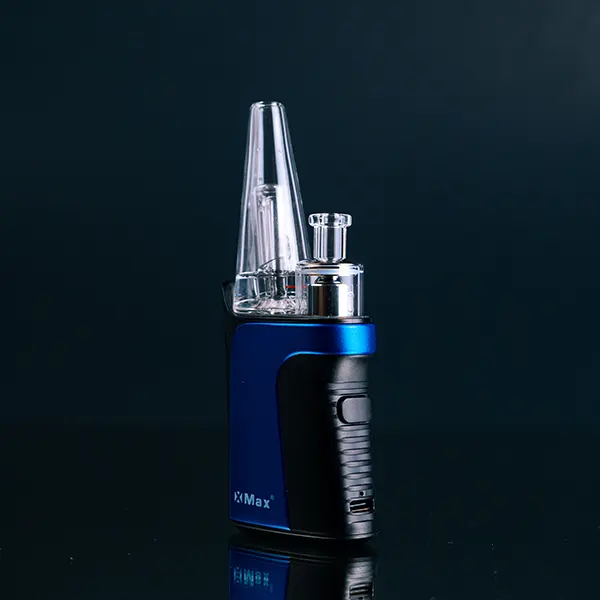 My last suggestion as an alternative would be the Utillian 8 if you don't want a learning curve at all. There's nothing overly special about it, it is just the easiest-to-use premium E-Rig because all you do to use it is press and hold the power button and it takes care of everything from there. With its integrated dab tool, you can also scoop up concentrates onto the atomizer effortlessly.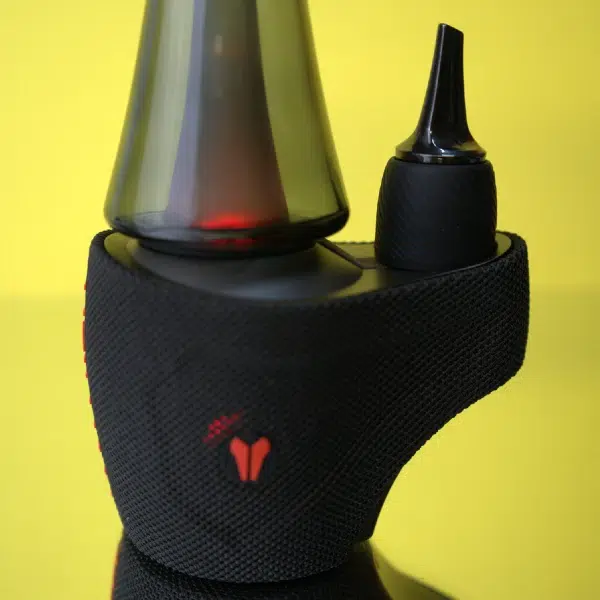 FAQs
Do you have to keep the atomizer upright while in use?
Yes, otherwise your concentrates will melt away from the heating element and be ineffective.
How do you know when the Hyer is done charging?
You'll know that the Hyer is done charging when the lights turn solid white color.
Is the Hyer stronger than a concentrate pen?
The Hyer is much more powerful than a dab pen both in terms of battery life and overall power output.
Is the G Pen Hyer dry herb tank worth it?
The Hyer dry herb tank works well, but overall you're better off with a dedicated dry herb vaporizer.
How do you know when the battery level is low?
You'll know that you need to charge your Hyer when the lights flash red five times.