---
---
Lookah Unicorn Mini Introduction and Overview
The Unicorn Mini is one of the most portable electric dab rigs available today… It's a mini E-Rig with some great value despite being just $89!
With a small enough body to fit comfortably in your hand, a solid 950mAh battery, and a built-in dab tool, are these features enough to make it one of the best electric dab rigs for under $100?
I certainly enjoyed my testing sessions, so let's get into reviewing the specs to see if it's worth picking up for yourself.
Unicorn Mini Dab Rig Specs
| | |
| --- | --- |
| Material Compatibility | Waxy Concentrates |
| Pass Through Charging | No |
| Swappable Batteries | No |
| Charge Time | 1 Hour |
| Charging Port | USB-C |
| Battery Life | 950mAh |
| Heating System |  Crushed Quartz Coil |
| Heat Up Time | 10 Second Pre-Heat |
| Temperature Control | Yes |
| Temperature Range | 3.5V / 3.7V / 3.9V |
| Oven Size | 0.1g |
| Accessories | Coil Upgrades Available |
| Vibration Alert | Only for Auto-off feature |
| Motion Sensor | No |
| Warranty Period | 30 Days After Purchase |
| Dimensions | 8in x 1.5in |
| Price | $89 |
What makes this mini E-rig Unique?
Based on the aesthetics of the Lookah Unicorn Mini, it can easily pass as a wax pen. It's super small, and saves a lot of space by having the coil sit directly below the tiny bubbler.
The bubbler is attached magnetically, making the chamber super easy to access for loading and cleaning, and

the narrow shape makes the E-Rig look like a tiny Unicorn, hence the name!
As an added bonus, there is even a hidden dab tool on the bottom of the rig making loading the chamber hassle free as long as you have a wax container with yourself!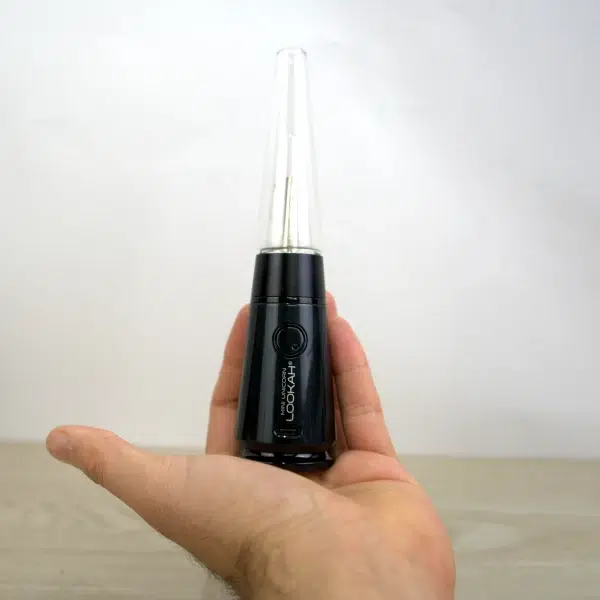 How to use the Unicorn Mini?
Overall, this small electric dab rig is very easy to use and master!
It uses manual heating by pressing and holding the power button, so anyone switching from a button 510 Thread Battery will feel right at home when using it.
To get started, you'll need to remove the bubbler and fill it up with water to just above its airholes, which is only about a second under a small stream of water. Just make sure to give it a few test hits to make sure that water isn't getting into your mouth.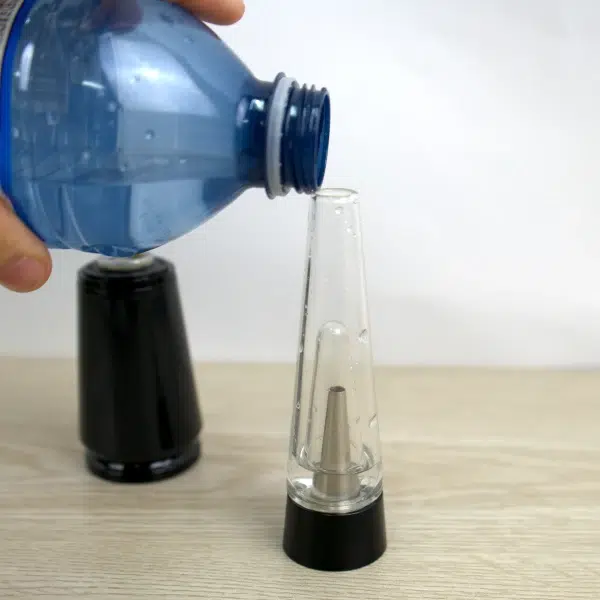 While your bubbler is off, you can remove the dab tool on the bottom of the rig and load about a small rice sized grain dab onto the bottom crushed quartz of the atomizer. If you're a beginner, having an electric dab tool like the Crossing Hot Knife can make this job a bit easier as its heated tip will drip the dab right into the perfect spot.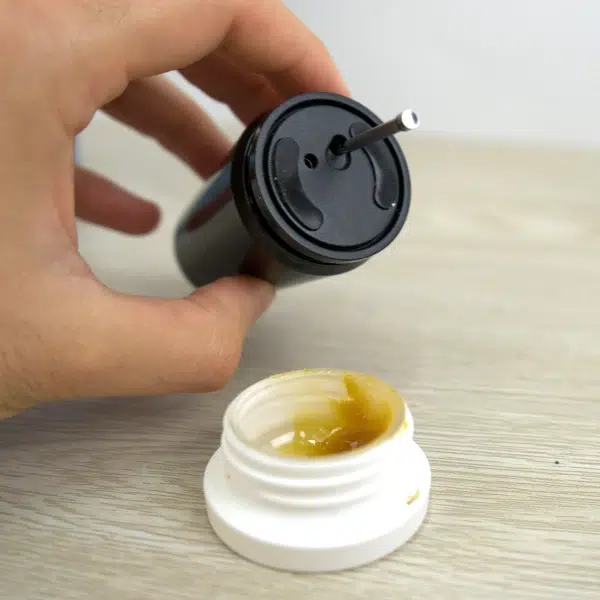 After five clicks of the power button, the Lookah Unicorn Mini will turn on and enter a small pre-heat. After this, you can press the power button 2 times in quick succession to change the three voltage settings. From there, you can press and hold the power button for up to ten seconds at a time.
Crushed Quartz Coil
The coil the Lookah Unicorn Mini uses is a crushed quartz coil which is semi-porous and absorbs your dab to cook your chosen concentrate very effectively.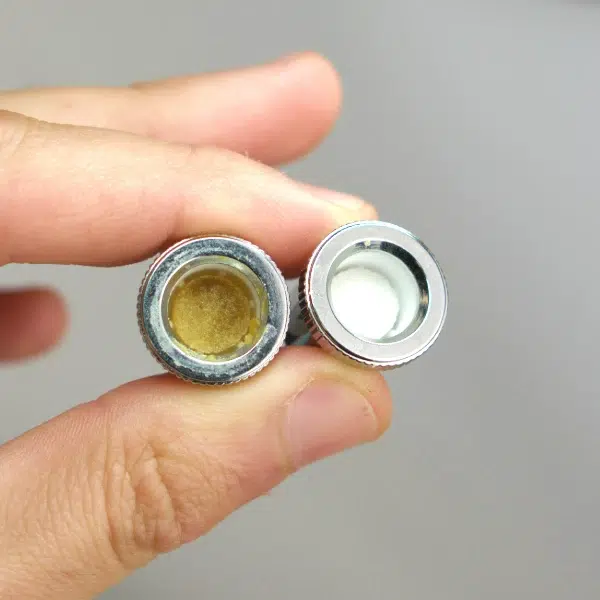 The three voltages all give a nice variance on how you want your dab to perform, and ranges from
Green 3.5V – 

Perfect for low temperature dabbing and beginners looking for more flavor

Blue 3.7v – 

A good combination of cloud production and flavor

 
White 3.9v –

Harsh vapor with large clouds & dabs will vaporize quite quickly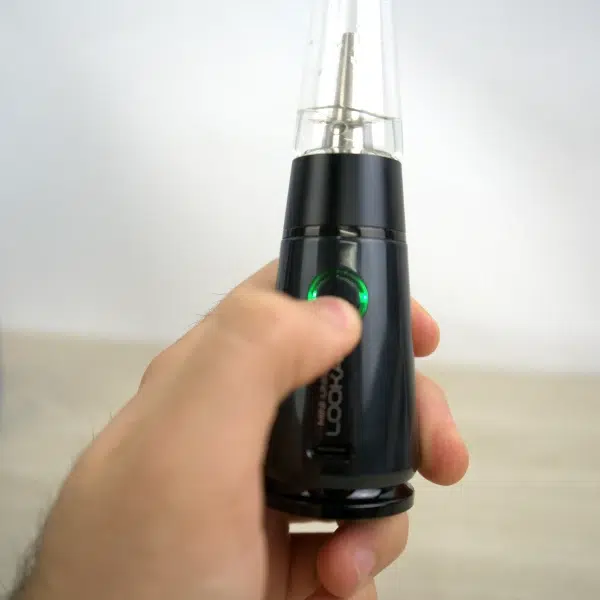 One thing to note is that if your coil hasn't been cleaned and you have a session on white, you may notice a burnt taste from any leftover resin from your last session as it burns.
On budget E-Rigs below $100 like this, there isn't as much temperature regulation compared to a premium device like the New Puffco Peak Pro.
Unicorn Mini Dab Rig 

Vapor Quality
Moreso than anything, I am impressed by how efficiently the Unicorn Mini is able to perform with a small amount of dab.
While there might be a bit of pooling on the first ten second heating cycle, it works very well and you can expect awesome flavor from the first five inhales or so before the dab gets cooked away.
It can be a little harsh, since the bubbler is so small and can only fit a small amount of water, but for what the budget price tag, its performance is awesome.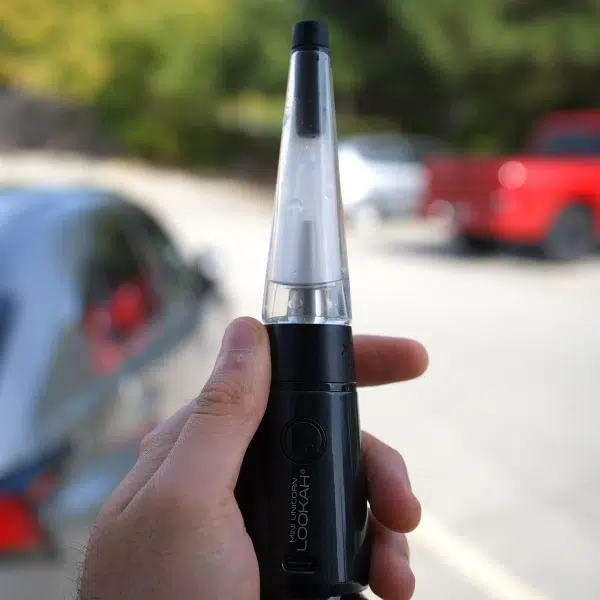 Portability and Size
The Unicorn Mini Vape is hardly bigger than a normal wax pen, so it's very portable and can even fit into larger pants pockets.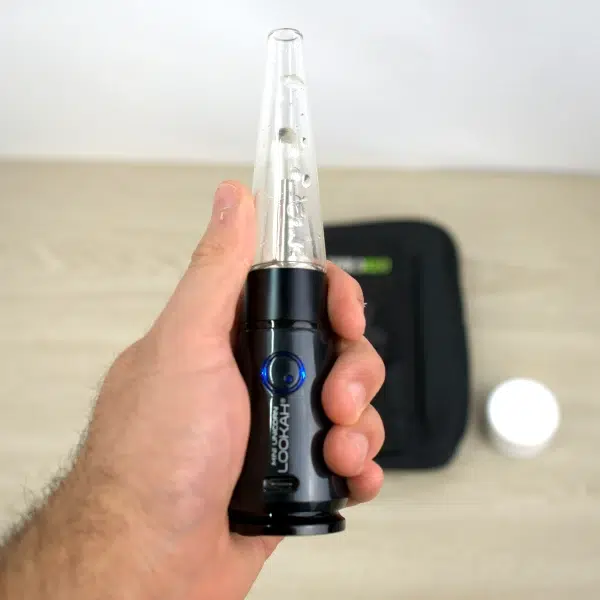 With the addition of a hidden dab tool on the bottom of the vape, you'll be able to get sessions in anywhere you travel as long as you have a dab container on hand in a vape case.
The only thing you'll need to mind is knocking over your glass – While the magnetic connection might be solid, the base is pretty easy to knock over if you hit it from the top!
Unicorn

Mini 

Vape Battery Life
The Unicorn Mini has an awesome battery life because of its efficient bowl and ten second heating cycles – You'll be able to run ~100 heating cycles without needing a recharge!
On the downside, there's no included USB-C charging cable, so make sure you have one on hand!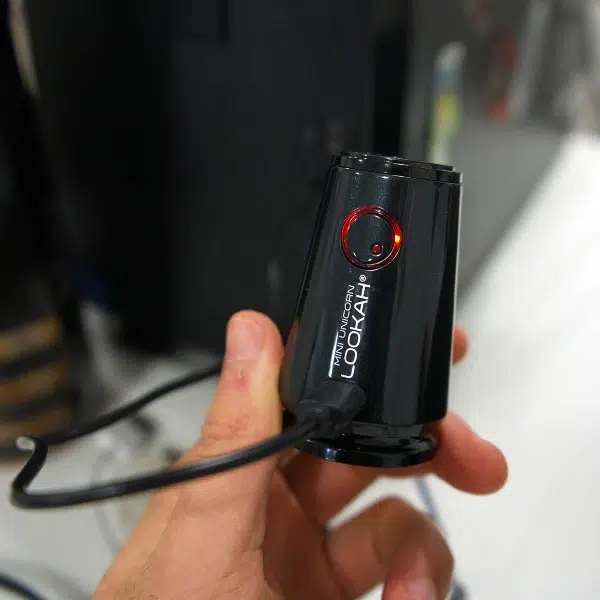 A full charge will from dead will take about two hours, and you'll be able to tell when it's finished when the flashing red light turns a solid green.
Lookah Unicorn

Mini

Accessories and Included Items
The kit is pretty inclusive and really helps to boost the overall value of the kit.
Inside the kit, you'll find:
x1 Lookah Unicorn Mini
x1 Silicone Stopper Mouthpiece
x2 710 Unicorn Mini Quartz Coils
x1 Cleaning Brush
x1 Owner's Manual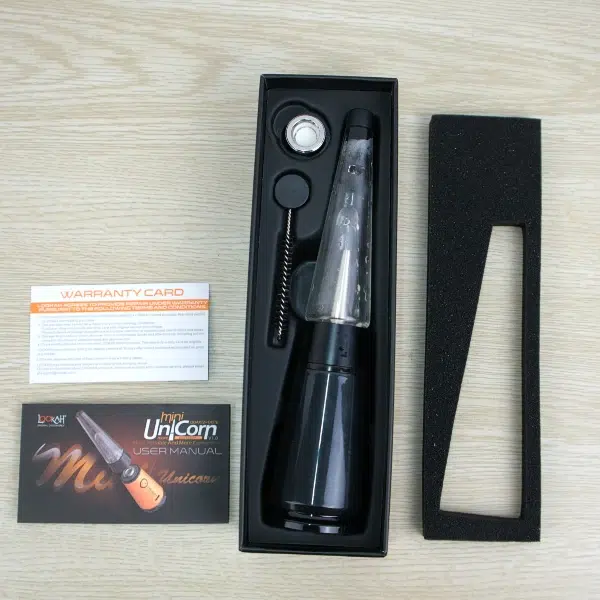 Two of the cool features are the rubber stopper for the bubbler which helps to prevent accidental water leakage, and the hidden dab tool on the bottom of the E-Rig.
As for possible accessory upgrades, there are three different quartz coil options if you ever want a change in performance.
How to clean the Unicorn

Mini by

Lookah?
To clean this mini E Rig, there are only two things to really focus on, and that's soaking the coil in iso, and removing the bubbler and shaking it around in Orange Chronic Cleaner.
For the atomizer, the best thing you can do is to soak it in isopropyl every few sessions to help clear out the old resin before it becomes burnt and turns the atomizer black.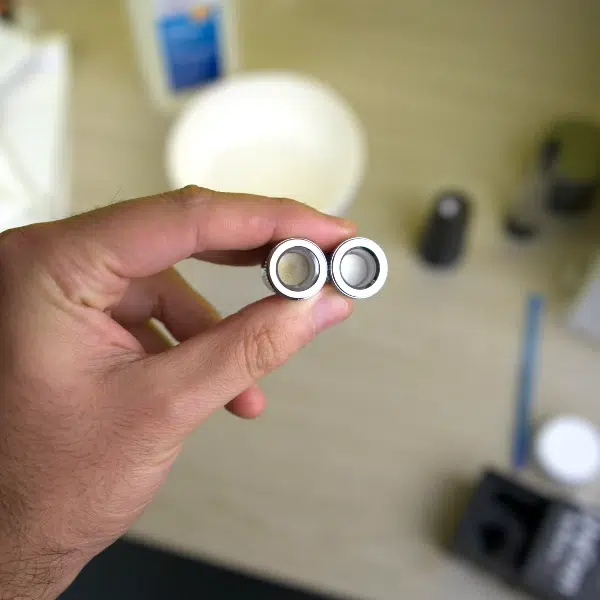 Who's it best for?
The Lookah Unicorn Mini is a portable electric dab rig that is best for people who want to enjoy the benefits of cannabis concentrates in a discreet and convenient way, making it especially good for looking for a first portable E-Rig!
Price and Value Review
The Unicorn Mini has a lot of value for a beginner buying their first e rig. The bubbler is low hassle and the built in dab tool will let you take it anywhere as long as you have a dab container.
I would say that heavy users will be able to get around a month of usage before the atomizer is beyond usage, which is not bad.
If you're looking for some other budget wax vaporizer options with similar performance, you might be interested in our Best Dab Pens under $100 list.
Unicorn Mini vs. Puffco Peak
There's a lot of comparisons between these two E-Rigs online because of how much the Unicorn Mini looks like a lite version of the Puffco Peak. Let's see how their specs stack up to each other:
$89 vs. $249
Built-in dab tool vs. Dab tool included in the kit
10 second pre-heat vs. 20 second heat up time
Crushed quartz coil vs. Swappable ceramic bucket atomizer
I would say that while they both might be great for beginners, the Mini is by the far the friendlier price tag if you're on a budget. Where the Peak does win this comparison is in its smoother vapor quality due to the atomizer being much larger, as well as the bubbler, which will really help to cool down the vapor along with its lower temperature range. You can learn more about the Peak in our Puffco Peak Review.
Unicorn Mini vs. Puffco Plus
One of the most popular comparisons online is between the Puffco Plus and the Unicorn, probably for their similar price points. You can learn more about the Plus in our Puffco Plus Review.
$89 vs. $89
950mAh vs. 520mAh
Built in dab tool vs. Dab tool mouthpiece
Crushed quartz coil. vs Ceramic small dish atomizer
10 second pre-heat vs. 20 second heat up time
A few big hits vs. slow extraction style
What are the Pros and Cons?
| | |
| --- | --- |
| Pros | Cons |
| ✅Portable electric dab rig design | 🚫Atomizer will wear down quickly |
| ✅Variable voltage settings | 🚫Prone to tipping over |
| ✅Fun to Use | 🚫Bubbler provides little cooling |
| ✅Magnetic bubbler connection | 🚫No airflow control |
| ✅Smooth vapor quality on lower voltages | |
| ✅Easy to use and maintain | |
| ✅Affordable price | |
Lookah Unicorn Mini Dab Rig Conclusion
Overall, I was really happy while testing the Unicorn Mini because it performed similarly to the Best Wax Pens.
While it's nowhere near the best in terms of manufacturing quality, it has some good value and is super easy to use. For people quitting torch dab rigs, I think that it's a great introduction into the category and will show you some different aspects that maybe you'll want to improve when you eventually upgrade to the Best Electric Dab Rigs.
As I mentioned, there's lots of comparisons to being a lite version of a Puffco, and I would tend to agree with that comparison!
If you want to read about another entry-level E-rig from the same brand, be sure to check out our Lookah Dragon Egg Review.
FAQs
How much water to put in the Unicorn Lookah Mini?
In reality, you can only put a few drops of water into the bubbler.
Is this the smallest E Rig?
The 5in by 2in XMAX Qomo is more compact than the Unicorn Mini.
Which Lookah 710 coils work best on the mini?
For coils, there are three options: The stock dish quartz coil for good taste, the dual hole quartz coil for big clouds, and the square quartz coil for wax saving.
Does the unicorn mini have haptic feedback?
There is only haptic feedback when the Unicorn Mini turns off after a few minutes of inactivity.