---
---
---
Is the Zenco Duo worth it?
If you've been thinking about buying a Weed Vaporizer that unlocks the ultimate portability and party vapor sharing, then our review of the Zenco Duo might be of particular interest to you.
Drinking flavorful vapor from a glass cup, now sounds like fun, doesn't it?
Let's get into the review and show you how this 'portable' vapor cup works!
Zenco Duo Specs
| | |
| --- | --- |
| Manufacturer | Zenco |
| Warranty Period | 1 Year Manufacturer Warranty |
| Vaporizing Material | 510 Cartridges and Waxy Concentrates |
| Heating System | 510-Thread |
| Heat Up Time | Instant |
| Bowl Size | 0.1g dabs / 1mL cartridges |
| Battery Size | 2200 mAh |
| Voltages | 2.5v/3.0v/3.5v/4.0v |
| Charge Time | 2 Hours |
| Smartphone App | No |
| Dimensions | 5.63H × 3.74W × 2.2D (in) / 320g |
| Price | $240 |
| Coupon Code | 10off |
Key Features
With its 510 threading and rubber adapter, the glass cup of the Zenco Duo is made to be filled by its atomizer's vapor, or from the cartridge that you have threaded on.
It's sleek, stylish, easy to use & fun as well.
What's in the kit?
1x Zenco Duo
2x Glass
2x Vapor Coils
1x Wall Charger
1x Concentrate Scoop
1x Cleaning Brush
1x Removable Food-Grade Silicone Diffuser
Vapor Cup Heating System
The shining feature of the Zenco Duo is the rubber adapter that you'll be placing over the coils or cartridge.
It acts as an airtight seal to help the vapor flow from the chamber to the glass vapor cup. Speaking of vapor cups, that's what this kind of vaporizer this is along with the Tronian Omegatron and the Pulsar Sipper.
For both 510 thread cartridges and the atomizers, there is a fan that will blow your vapor up through the rubber seal that will turn on anytime you're activating the heating system by pushing the button.
A cup will take about five seconds to fill, and after that, you can simply stop pressing the button, remove the glass, and then enjoy your session.
You'll know that the cup is full when it starts pouring out the top.
For bigger hits, you can cover the top with your hand, but you'll lose some vapor as soon as you remove your hand, so I wouldn't advise that.
Zenco Duo Vapor Quality
Whether you're using cartridges or a dab, you can expect good flavor from the Duo.
With a wide voltage range between 2.5V and 4.0V, you can also choose how thick and dense you want your vapor to be:
For example, filling the cup on a lower voltage will have better flavor, but will take longer to fill up the cup, and it won't be as dense compared to a high voltage.
With the maximum 4.0V, you can expect thick white clouds to fill up the cup, which is also going to be harsher when you go to take an inhale.
The underrated thing about vapor cups, in my opinion, is the ability to let the vapor cool down in your cup by letting it sit for a minute.
When you're not in a rush to kill your vapor, it gives the glass time to cool your vapor down, so that after a bit, you're getting all of the effects without any of the harsh heat that you'll normally find on an Electric Dab Rig set to a high temperature.
Extraction Rating
I enjoyed using both the ceramic bucket and the triple quartz atomizer, but I will say that you can expect more burning of your concentrates with the triple quartz atomizer because of the exposed coil setup.
That's not a problem for smokers and heavy users who prefer a Yocan style of dabbing performance, but for beginners and people who prefer the flavor from high-quality concentrates like live resin.
What concentrates work best?
For the atomizers, I suggest sticking to cheaper waxy concentrates, and also using 0.1g sized dabs as you don't want to flood the atomizer or have any pooling which would negatively affect performance.
For cartridges, I found that it works best with 1mL or 0.5mL sizes because of the way the rubber seal is set up. 1.5 and 2mL-sized carts will be too big for the rubber adapter to work.
How portable is the vapor cup?
When it comes down to the vapor cup, you can expect it to be just a bit bigger than a standard-sized wine glass. It fits in the hand well, and for most people, you'll just lift for a sip whenever you feel like a hit.
The glass is pretty durable, so I'm assuming that it will survive small drops onto a carpet, but it will shatter outside on concrete.
For traveling with the actual device, I would suggest just keeping it at home as the glass is fragile and any knocks against the box could potentially break it.
Battery Life
While the 2200mAh isn't best compared to the 3150mAh on the Tronian Omegatron, it's enough for a few days of sessions, or roughly about 10 cup refills.
In terms of charging, it will take about two hours and you'll know that it's done when the power button's light glows green.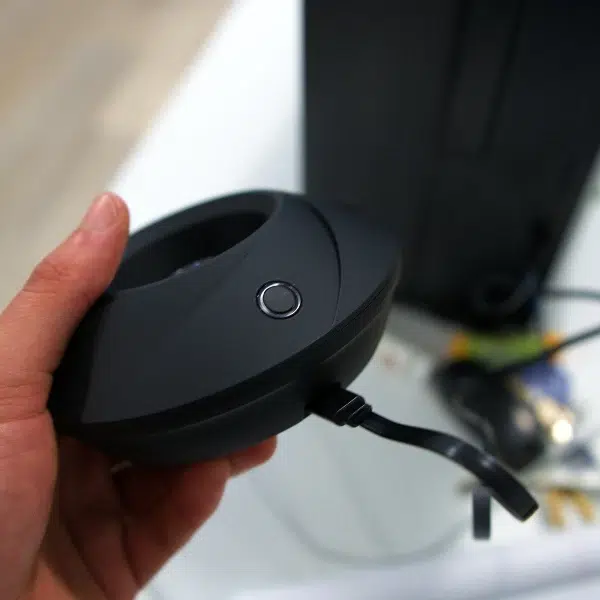 Zenco Duo Build Quality
The Zenco Duo has been out for just over a year now but has grown to be the most popular brand of vapor cups. Maybe due to their viral advertising, as you've most likely seen this model on Instagram. Who knows, this style of cannabis vape might even become popular in Cafés.
Overall, the matte plastic and glass feel pretty nice in the hand, and the touch-sensitive power button does make it feel a bit classier than a cheap clicking button!
How to Use the Zenco Duo?
The Zenco Duo has a simple one-touch button system.
This button controls the power, temperature settings, and the auto fan feature.
It may take some time to get used to the button, as different pressing patterns have different functions. Once you've turned the Duo on by pressing the power button five times quickly, you'll be able to cycle through the four preset voltages of:
4.0V – Red –  Harsh Vapor
3.5V – Green – Big Clouds, Less Flavor
3.0V – Blue – Good Flavor, Less Clouds
2.5V – Yellow – Wispy and Tasty Vapor
From there, you can either double tap the power button for a 30-second auto-heating cycle, or you can press and hold the power button to manually fill the vapor cup.
The Zenco Duo is more user-friendly compared to other Vapor Cups, but there is a slight learning curve. Once you get used to it, it becomes straightforward!
Zenco Duo Tips and Tricks
Try filling the vapor cup with fruit for added flavor
Use a straw if you plan on sharing a session with friends
Try out different cartridges to see which one you like best with the vapor cup
Avoid reheating your dabs more than twice to avoid bad flavor or burning
Stick to the lower two voltages for the best flavor
How to Clean the Zenco Duo?
One thing to know about vapor cups is that their bubblers become dirty very quickly due to the density of the vapor they hold. Within just a few sessions, you'll have a yellow film of vapor starting to form.
For either coil, a quick soak in some isopropyl will help lift off cooked resin to make sure they work their best, especially with the Triple Quartz atomizer.
Zenco Duo Community Consensus
Users on Reddit have all seemed to like their experience with the Duo. While it might be a bit on the pricy side of things, the common consensus is that the Duo allows you to get higher than what is normally possible from a vape cartridge.
Pros
Unlocks a new level of potency for 510 thread vape cartridges
Easy to use
Good range of voltages
Ergonomic cup
Cons
Expensive compared to wax pens and vape pens
Atomizers are low-quality and could be larger
The fan is loud while filling the cup
Who's it for?
The Zenco Duo is the top-performing vapor cup on the market right now, so if you don't mind spending the extra money and are a heavy user of cartridges, then it's a way to add a lot of fun to your sessions.
Who's it not for?
If you're someone who only hits their vape pen while on the go, you need something portable, not a vapor cup. In that case, be sure to check out our list of the Best Vape Pens to see which ones might be better suited for you.
Final Thoughts
To wrap things up, the Zenco Duo is an awesome inclusion to the vapor cup category. It doesn't add too much to the category, but is just a bit better than its competitors which helps to justify its value.
While it might be better looking than its competitors, it's missing out on the bubbler feature of the Pulsar Sipper and costs more than its competitors as well.
It's super classy and a great cannabis accessory to bring out at parties as an alternative to alcohol.
For that reason, it's earned a spot on our list of the Best Electric Dab Rigs!
If you're a beginner looking for a bit more clarification between what a cart and dab are, you can check out out Dab Pens vs. Carts blog post to learn more.
FAQs
Can you use dry herbs in the Zenco Duo? 
No, the Zenco Duo is made for waxy concentrate and 510 cartridge use only.
How do you turn the Zenco Duo on and off? 
To cycle between on and off, all you have to do is hit the power button five times quickly.