---
---
The POTV ONE is a portable vaporizer that is the first release from the Planet of the Vapes. This new device can vape both dry herbs and wax concentrates, and is a re-release variation of the Healthy Rips Fury 2. The POTV ONE dry herb vape features some upgrades over its sibling the Fury 2, like glass mouthpiece options, haptic feedback and a bit of a different build. Is the ONE from Planet Vapes an upgrade over the Fury 2? Let's get into our Planet of the Vape One review, and you can decide for yourself. 
Product Features:
Great Vapor Quality
Glass Mouthpiece Options
Isolated Airpath
Precision Controls
Lots of Accessories
Highly Portable
How it Works and Ease of Use
The POTV ONE is pretty easy to use, but the number of accessories might take a bit to get used to for newbie vape users. To use the ONE Vaporizer, just remove the mouthpiece and fill it up with your dry herb. Be sure not to pack the bowl too tightly, or you run the risk of restricting airflow and reducing performance. Pressing the button three times will power up the Vape One, and holding the button for three seconds will put the device into stealth mode, which just means that the OLED display won't light up and the device won't heat up. 
You can toggle between Fahrenheit and Celsius by holding down both of the temperature control buttons down at the same time. Obviously, these buttons also will let you choose your precise temperature. Once the Vape ONE is heated up to your desired temperature, it will vibrate to let you know it's ready for a rip. There is also a stealth mode with the ONE, which is a great addition. Using the POTV One Vaporizer isn't the hardest of small vapes to use, but it might take a few sessions to fully get the hang of it. 
POTV One's Temperature Settings
The POTV ONE Vaporizer gives you precision controls with a range of 160-221 degrees Celsius (320F – 430F). This is a solid temperature range for dry herbs, but it is just average for vaping concentrates. If you want to vape just concentrates, you might want to look into an affordable wax pen like the Utillian 5 Wax Pen.
The current temperature setting is clearly visible with the bright OLED display. Just use the side buttons to toggle up or down to reach your desired temp. The best temperature for dry herbs with the Vape ONE is going to be right around the 175C – 200C range (347F – 392F). Anything much higher than 200 degrees (392F) might start to get a bit harsh. For concentrates, you will probably want to crank it up as high as it goes and not drop it below 200C (392F). Even at the highest temperature, the clouds from concentrates tend to be on the thin side. That's not necessarily a bad thing, but it is something to be aware of. 
One's Heating System and Chamber
The Planet of the Vape ONE Vaporizer uses a hybrid heating system, with a combination of both conduction and convection. The airpath of the Vape ONE is isolated from all electronic components, which makes a big difference as far as vapor quality and draw resistance. The heater is made from stainless steel, the bowl is made from high-quality aluminum, and the device also features a mouthpiece made from glass. The Planet of the Vapes ONE only holds about .15 grams of dry herb, which isn't big compared to other portable vaporizers on the market today. If you're looking for something heftier with a larger chamber size, maybe check out the Boundless Tera V3. You won't be as discreet with the Tera, but you will be able to pack close to a half of a gram in its chamber. 
The One's Vapor Quality
Due to its glass mouthpiece and isolated airpath, the POTV ONE performs quite well in the vapor quality department, especially for its affordable mid-range price point. Most of the rips we got from dry herbs were tasty and satisfying and displayed a solid amount of the flavor profile of the strain we were vaping. The cloud production is good, not great with the POTV ONE when you vape on dry herbs. The flavor and production of the POTV ONE when it comes to concentrates is below average, so this won't be the device for you if you are looking for a concentrate specific vape. Also, if you're a user of small vapes who loves lung-busting clouds, you will probably want to look elsewhere. 
POTV One's Battery Life
The ONE from Planet Vapes uses an internal 1600 mAh battery that lasts about 30 to 45 minutes per charge or about 3-4 sessions. This is decent battery life for such a compact device, but there are many portable vapes out there that will last a lot longer. One of those vapes is the Zeus Arc, which manages to fit a large 3500 mAh battery into its relatively small frame.
Aesthetics and Manufacturing Quality
As previously mentioned, the ONE from Planet of the Vapes is durable and built with high-quality materials. It boasts a heater made out of stainless steel, a bowl made out of high-quality aluminum, and a mouthpiece made from glass. The kirksite alloy finish on the body of the ONE is a nice touch. The ONE definitely feels like it has some weight to it, despite its small and compact size  It also features a bright OLED display that is easy to read. 
We weren't super thrilled about the triangular shape of the top of the Vape One, as we would have liked to see a smoother edge or boxed shape. We think the similarly sized yet much cheaper Litl 1 looks a little bit more aesthetically pleasing, but that's just our opinion. 
Portability & Discretness
The Planet Vapes ONE portable vaporizer is highly compact, so much so that you might lose it in your pocket if you're not careful. It is one of the most portable vapes for sale right now. You can easily conceal this device in the palm of your hands, and it doesn't produce clouds that are super thick. This adds to the discretness. The stealth mode on the ONE kills the OLED display, which is great for times when you're in the dark and don't want to draw any attention.
POTV One Accessories
In addition to the Vape ONE device itself, you get two mouthpieces, a dosing capsule, an O-ring, one extra screen, a pad for vaping concentrates, a tool for dabbing, a Micro USB charging cord, and the user's manual. You also get a 2-year warranty, which is pretty solid. Most ONE owners don't seem to have had any problems with the Planet of the Apes brand when it comes to honoring their warranty and getting replacements. The Planet Vapes brand is also generously including a free glass accessory. You can choose from a mini or bent mini mouthpiece made from glass, a water pipe adapter, or a standard bent mouthpiece. You can also purchase all of these as optional accessories, for an additional fee, of course.
How to Clean The POTV One
Because the Vape One from Planet of the Vapes is so compact, you won't need to clean it very often. Just take a Q-Tip dipped in isopropyl alcohol to the chamber and do the same to the mouthpiece after every session or so. You could opt to soak the mouthpieces in alcohol, but that's not really necessary unless you take it out on, let's say, a camping trip and it gets really grimey. If you're looking for an easy way to use cotton swabs without the hassle of dipping them into the isopropyl alcohol bottle, check out our Tools420 Cleaning Sticks. And while you won't need it for the device itself, you might want a case to fit all of the accessories that come with the ONE. If so, we have the perfect choice for you – the Tools420 carrying case.
Summary and Comparison
The POTV 1 from Planet Vapes is affordable, compact, portable, powerful and performs well as far as draw resistance and vapor quality. Its precision controls, haptic feedback, auto-shutoff features as well as its various accessories add quite a bit of value to a mid-range device. If you are looking for a mid-range device that a bit less expensive, consider checking out the KandyPens K-Vape Pro. Or if you are just looking to enter the world of vaporizing and want something really affordable, we recommend the Litl 1, which is of similar size to the POTV 1 cannabis vape but doesn't have the options, features or as good of vapor quality.
What do you think about our Planet of the Vape One review? Do you own this device? Are we on point with our assessment? Let us know in the comments.
If you liked POTV 1 review, we are always producing many more just like it, so be sure to check right back here to the Tools420 Blog often. We have the best deals and reviews on dry herb vaporizers Canada has to offer. Follow us on Facebook, Twitter, Instagram and, YouTube for news, updates, and promotions. You could even win a prize! Until next time, vape on and enjoy!
Title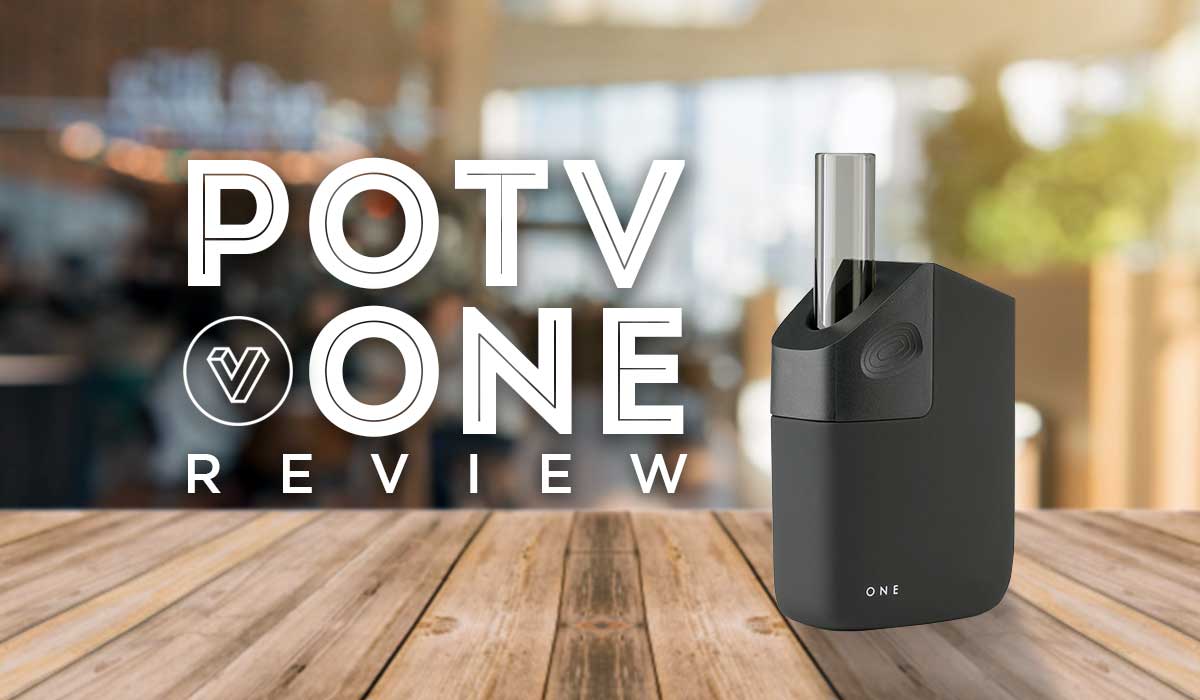 Title
POTV ONE Vaporizer Review
Description
One small vape to rule them all? Learn more about the potv one dry herb vape.
Author
Publisher
Logo