---
---
---
Usually, convection vapes are sought out for their vapor quality and efficiency compared to conduction and hybrid vapes. They often give better flavor and won't use your herb when not being used. If you're in the market for a high-end vaporizer or consider yourself a bit of a connoisseur for taste, then convection may be the sort of tech you're looking for.
We've compiled a quick list of the best convection herb vapes for 2023! This list isn't in any particular order since it's almost impossible to choose a winner and they all vary. Read on below!
Utillian 722
Found at a fair price and sporting a powerful convection heater, strong battery life, and improved airflow over the Utillian 721, the Utillian 722 is definitely a solid pick up!
Like the Storz & Bickel lineup, the Utillian 722 is quite simple and straightforward to use. While it might not completely match the Crafty+, it certainly comes close and the lower price-tag might be enough to convince you!
It's worth checking out the Utillian 722 if you don't want to deal with the intricacies and difficulties that some convection vapes have when it comes to getting the right performance. One of the best convection vaporizers around for sure!
More affordable than most
Powerful convection heater
Simple to use
Preset Temperature Control
Non-removable battery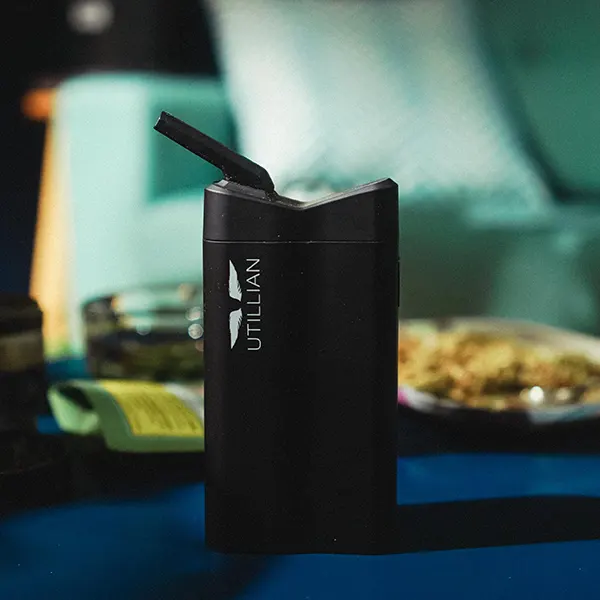 Storz & Bickel Crafty+ and Mighty+
Year after year these two vapes by Storz & Bickel top the charts, and we can see why.
While the Storz & Bickel Crafty+ and Mighty+ both use hybrid heating, we can't help but feel that they deserve a spot since they use a very strong convection heater in conjunction with a conduction bowl. The two have different characteristics, but we definitely suggest the new Crafty+ over the Mighty!
 They're both super easy to use, are compatible with dosing capsules, have solid battery life, great construction, and top-shelf vapor quality. On one hand, they're quite expensive, but you get what you pay for in terms of performance.
If you want an easy, no-frills, and simple convection vaporizer which delivers top-notch performance without the need of voodoo witchcraft, the Storz & Bickel Crafty+, and Mighty+ should be at the top of your list.
Top-notch vapor quality
Good battery life
Built very well, easy to use
Expensive
Non-removable battery
Arizer XQ2
The Arizer XQ2 Desktop Vaporizer is a slight upgrade over the original Extreme Q, which was one of the first devices to popularize convection heating. The XQ2 delivers the same incredible tasting vapor, works excellent with concentrates like wax or rosin, and is bundled with a now more inclusive and easy to use kit.
While the XQ2 like most other convection herb vapes requires a bit of technique and has a learning curve to get the best balloon quality. It's also rather sensitive to the pack and grind consistency and requires stirring throughout the session to work best while using the 0.5g cloud chamber bowl. 
Awesome flavor
Unique design and fun to use
Great alternative to the volcano vaporizer
Learning curve
XMAX V3 Pro
With both a wax and dry herb capable 0.15g chamber and a fast heating time, the pure convection XMAX V3 Pro is a really impressive unit despite its low price.
The temperature controls on the V3 are top-notch for its price point as you'll be able dial in the temper right down to the exact degree with the up / down buttons. When you select your preferred heat setting, it will be ready for a smooth session within 20 seconds.
The pure convection heating gives access to awesome THC extraction and potent rips every time. The heating chamber is also made from stainless steel, and it allows for excellent airflow and an even heating of your favorite dry herbs or concentrate. The air path is also isolated, meaning the vapor doesn't come into contact with any of the heating elements for an added measure of vapor quality. 
Excellent performance for the price
Great for tinkering and session customization
Incredible vapor quality
Swappable battery 
Volcano Classic Desktop Vaporizer
The Storz and Bickel Volcano Classic vaporizer offers a full-convection as a top of the line desktop vape. 
If you're looking for mind-melting vapor quality and production, the Volcano has been king since its release twenty years ago. With full control over your sessions with a heating dial, bags, or whips, this is a go-to for vaping connoisseurs looking to maximize their cannabis vaping experience. 
The fan can be a bit on the noisy side and the unit will take up to three full minutes to heat up, but the wait time is worth it. The vapor quality satisfies even the toughest critics.
Great flavor and power
Easy to use
Completely convection
High price tag
Utillian 620
The Utillian 620 vaporizer uses a hybrid heating system to extract the THC from your herbs. Although the chamber is relatively small at .15g, the lengthy glass stem mouthpiece and oven will be able to get a lot of vapor production despite its small size. 
With fast heating times and intuitive temperature controls, the 620 is very budget friendly and will surprise you with its consistent hits. 
If you've been looking to make the switch to vaping from smoking, the 620 has a solid 2300mAh battery that will about an hour of use, and the hybrid heating will give you solid vapor clouds. 
Excellent THC extraction
Fun to use
Great for sharing
Portable
Isolated glass air path
Arizer Air Max 
Arizer has always been a fan of ease of use and their glass stem mouthpiece design, and the Arizer Air Max is no exception. It is a super-portable herb vaporizer with an upgraded HD screen and hybrid heating up to 430°F.
With an upgraded ceramic heater and air intake ports, there is much more convection heating compared to previous iterations. This means that the vapor quality is incredibly flavorful and more potent then ever. Without a doubt one of the most powerful herb vapes around, it is easy to use and versatile as well. 
With the upgrade to a swappable 26650 battery with over two hours of battery life and USB-C charging, you'll be able to take it with you on the go without worries. The powerful heaters and included 14mm water pipe adapter also make it a top pick for dry herb vape connoisseurs. Make sure to check out our Arizer Air Max Review for more info!
Very powerful oven
Faster heating times
Variety of included accessories
Massive battery life + swappable
Boundless Tera v3
The Boundless Tera is one of the most powerful portable herb vapes on the market. Using 2 removable 18650 batteries to feed the powerful convection heater, the Boundless Tera pumps out heavy clouds of potent vapor with ease. For those wanting a true powerhouse which is easy to use, the Boundless Tera is a wise choice.
Used in conjunction with a water pipe is where the Boundless Tera really shines. While it's fine to use with the normal mouthpiece, the vapor can be a bit hot and harsh. With a bubbler though, it can easily knock you out in one large hit. It also does great with concentrates!
It's a bit thicker than most portable herb vapes and doesn't fit in the pocket so well, but the extra bump to performance and battery life might be worth it to you. While the materials used aren't quite the best and there have been reliability issues over the years, the Tera still holds up quite well today. Check out the Boundless Tera Review here.
A super-powerful convection heater
2 removable 18650 batteries
Incredibly good with a water pipe.
Bulkier size decreases portability
Occasional reliability issues
Arizer Extreme Q
Probably the best bang for buck herb vape on the market, the Arizer Extreme Q is a terrific desktop choice if most of your use is at home. The best budget dry herb vape without sacrificing top-tier performance, the Arizer Extreme Q uses a full convection heater to deliver excellent vapor quality.
With the versatility to use with a whip (like seen on a tobacco hookah), through balloons or direct draw, the Arizer Extreme Q has gained a large following and plenty of love for a good reason. With pure flavor, great power, and an awesome price, the Arizer EQ is a solid pick up.
Do keep in mind it's a desktop only-unit and requires the use of a plug to use properly. This trade-off allows you immense power without worrying about dead batteries. For group sessions and sharing with friends at home, the Extreme Q is an excellent choice. Check out the Extreme Q Review here.
Excellent vapor quality
Tons of versatility (whip, bags, direct draw)
Great price
Needs a wall socket to use
Bags are finicky
Art of Vapor – VapBong
Aesthetically strange but an absolute monster, the VapBong by Art of Vapor is a functional work of art with vapor quality at the top of the spectrum.
An enormous and powerful convection heater that directs the flow of energy into the large bowl, the VapBong is an example of a convection vape in its truest form.
On the other hand, it is expensive and handmade in Europe, so getting your hands on one is a little hard. Still, we couldn't forget about it and it handily deserves a place on our list. Check out our full Art of Vapor VapBong review here!
The most powerful dry herb vape on the market
Huge, powerful heater and a gigantic bowl
Handmade out of ceramic
A higher price point
Unusual form factor
Honorable Mention – AirVape Legacy Pro 
Although the AirVape Legacy Pro has a very strong conduction oven, there is also convection heating and overall zero draw resistance. Overall, the ALP has the best vapor quality out in the portable dry herb vaporizer market and deserves a shout out on this list. Be sure to check out out AirVape Legacy Pro Review if you're interested in learning more. 
If you find this article helpful please share with others and check out our blog for more articles like this one. Follow us on Facebook, Youtube, and Instagram to receive the latest vaporizer reviews and news.