---
---
Should you buy the Yocan Magneto?
If you've been looking for an easy-to-use dab pen without the hassles of having to unscrew caps all while your vape remains durable, then you might be interested in the Yocan Magneto. With an all magnetic fitted body including the loading tool and mouthpiece, people have been loving the solid device since 2020.
In this review, we'll be going over the Magneto's pros and cons to help you make an informed decision, as well as comparing it to other top devices on the market.
Yocan Magneto Specs + Ratings
| | |
| --- | --- |
| Material Compatibility | Concentrates |
| Pass through charging | Yes |
| Swappable Batteries | No |
| Charge Time | 2 Hours |
| Charging Port | Micro-USB |
| Battery life | 1 days heavy use |
| Heating system | Ceramic Coils |
| Heat up time | 5-8 Secs. |
| Temperature control | No |
| Temperature Range | 3.8V |
| Oven Size | Rice Grains |
| Vapor path way | Metal |
| Accessories | N/A |
| Vibration Alert | No |
| Motion sensor | No |
| Warranty period | 14-Day Battery |
| Price | $35 USD |
| Coupon Code | |
| Ease of Use | 8/10 |
| Vapor Quality | 7/10 |
| Manufacturing Quality | 8/10 |
| Ease of Cleaning | 7/10 |
| Portability | 8/10 |
| Durability | 9/10 |
Yocan Magneto Key Features
3.8V power supply at max charge
Two-layered ceramic coil atomizer
Magnetic cap design
Dab tool mouthpiece cap for easy loading
Single button operation
What's in the Yocan Magneto kit?
The kit in the Yocan Magneto is pretty barebones since there isn't a normally separate dab tool. All you'll get is an instruction manual, the Magneto dab pen, and a short Micro-USB charger.
Yocan Magneto Heating System
While there is no specific temperature control on the Yocan Magneto, it's estimated that it will get to around 400F as it carries a 3.8V power supply to the atomizer at max temperature. This will slowly decline as the battery percentage gets lower, though. It definitely does its job though and will reach adequate temperatures to vape your dabs in around 5-10 seconds. Some people might be more inclined to know the specific volts that they are getting to better optimize certain kinds of strains, and to those people, we might be inclined to suggest alternatives like the Dr. Dabber Stella or G Pen Micro+. Both of these alternatives share the same ceramic cup design, which Magneto users will find familiar.
Vapor Quality
While there is no specific way of knowing the exact temperature in the chamber, the Magneto does an awesome job of vaporizing your dabs, especially in smaller doses. For larger dabs, you won't want to use the mouthpiece dab tool, but instead, load it right onto the ceramic atomizer and then pulse the heat when you're ready to inhale as it will take several heating cycles to fully clear.
If you're a connoisseur also looking to add some session creativity to your Magneto, you can clip on the DynaVap Fat Mouthpiece onto the mouthpiece, and then use it with any kind of 14mm vaporizer bubbler or bong.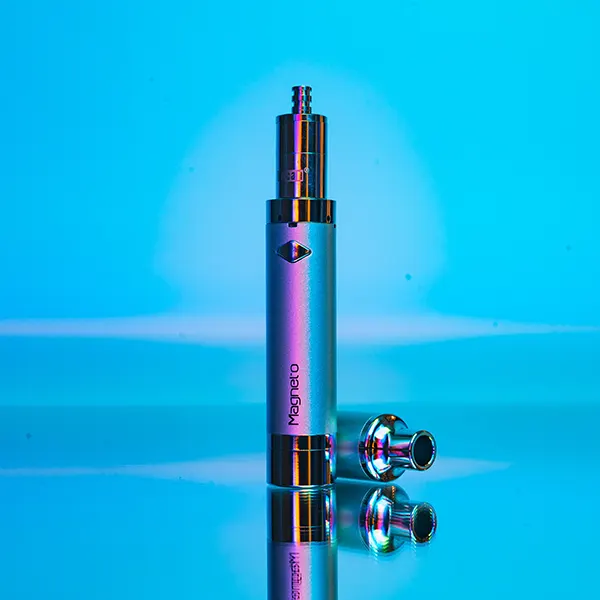 Is the Yocan Magneto portable?
Coming in at 4.3 inches tall by 1 inch, the Magneto packs a considerable punch in terms of power output and design. With the included dab holding compartment and solid 1100mAh lithium-ion battery, you won't necessarily need a vape case to help with portability, and the single button use and dab tool mouthpiece are all quite easy to use as well. The only real downside is the half-a-pound weight that it carries, so it might be a little bulky for smaller pockets while out on the go.
Can you vape hash in the Magneto?
As the temperature won't really be able to climb much above 400F, the Magneto is better off vaping concentrates cut with a solvent, unlike hash, which will need temperatures above 550F through more powerful vapes like the Dr. Dabber Switch or Core 2.1 E-Rig.
How long does the battery last?
With a solid 1100mAh and manual heating cycles, normal users will be able to get one to two days of use out of their pen before needing a recharge. The only real downside is that it uses an outdated micro-USB port, as we and most other people will prefer a more universal USB-C port like the one found on something like the Focus V Carta OG.
Dab Pen Comparisons
Using a unique dual-layer ceramic coil in combination with the drip-down dab tool means that ensures an even vaporizing of your selected dabs. As the coil replacements come in a pack of five for around $50, they are quite efficient for their cost, seeing as competitor coils can cost about the same for only one or two spare coils.
For the 30$ price tag though, it is seriously one of the best bangs for your bucks if huge clouds aren't important to you.
How to use the Yocan Magneto?
The Magneto is super easy to operate, as all you'll need to do is remove the magnetic mouthpiece and cap to use it as a dab tool for the atomizer. If you choose to not load the atomizer directly, you can scoop up the dab onto the mouthpiece dab tool which will then hover directly over the atomizer, and slowly drip down, just like on the Utillian 5 V3. Also make sure to use the integrated dab container on the bottom for more portability!
Once you've placed the mouthpiece back onto the device, you'll be ready to fire your device up and enjoy your session.
To do this, press the power button five times, and then press and hold the power button down to manually fire up the heating element.
If you've chosen to use the drop-down dab tool, you'll want to keep the Magneto upright so that it drips directly down onto the coils.
How to clean the Yocan Magneto?
The main thing that you'll have to keep clean is the dual-layer ceramic atomizer, which you can wipe down with a vape cleaning stick after every use to help prevent resin buildups or a burnt aftertaste on future sessions. For the mouthpiece and body of the vape, a quick wipe with a vape cotton wipe will be enough to clear off any debris.
Warranty
With a limited 14-day warranty, you'll want to make sure that it is not defective as soon as possible to have a claimable manufacturer warranty.
Yocan Magneto Review Conclusion
With its very compact and easy-to-use design, there is a lot to love about the Yocan Magneto as a super affordable dab pen. While it certainly won't give you the best vapor quality or clouds on our best wax pens list, it is a very reliable device that you can confidently take with yourself on the go.