---
---
---
Updated for modern times, this list of the best portable and stealthy dry herb vaporizers will sort you out with the most discreet and smallest dry herb vaporizers out there.
If you're really looking for ultimate stealth, however, we'd recommend an oil or wax pen vaporizer – they're by far the most incognito way to have some fun!
G Pen Elite 2 Vaporizer
Absolutely the king of stealthy herb vaporizers, the G Pen Elite 2 vaporizer is shaped like a regular pen/marker. Not only that, it heats up within seconds and the powerful convection heater is capable of clearing an entire chamber in mere seconds. It has incredible performance however there's a catch;
The GPen Elite 2 has improved upon the original's manufacturing quality and now features a lot more versatility in its settings, HD screen, and USB-C charging. 
Though you can have a super-fast session in less time than it takes to read this section, the smell won't linger around like with most other vaporizers because of the recently added convection heating. This can be useful if you want to have a session outside and come back in without smelling your dry herb. 
Extremely small and attractive design
Incredibly powerful hybrid heater for hard hits
USB-C Charging
Vapor can be harsh and hot
The Dynavap M is definitely super portable just based on size alone. We would like to mention though that the act of using it is not stealthy at all – heating it up with the torch lighter in public for 10-20 seconds will certainly gather a few looks and attention that you may not enjoy.
However, due to its tiny size, we can't help but recommend it. It's by far the smallest herb vape around and takes up minimal space – just don't' forget your lighter!
Combined with a portable induction heater, the Dynavap M is on a whole new level since it's the size of a joint, heating is super easy, and you don't have to worry about looking strange while heating it. The Dynavap packs in some serious power in its tiny body and definitely worth it if want a budget dry herb vape and still a very portable option. The included carry container is also entirely smell-proof!
The smallest dry herb vaporizer on the market!
Hits hard with great vapor quality
Low price point
Heating with torch makes it not so stealthy
DaVinci IQC Vaporizer
The DaVinci IQC is one of the smallest dry herb vapes on the market. Its super-compact size makes it easy to completely conceal in the hand and hit while on the go. While the conduction heating element will create quite a bit of smell, if you're outside this shouldn't be a problem. 
Performance is about what you'd expect from such a compact unit and while it won't blow you away, you'll certainly be feeling the effects towards the end of a session.
A removable 18350 battery, complete temperature control, and intuitive design make it a solid pick and a great device overall!
Very small and attractive
Removable 18350 battery
Full temperature control and intuitive design
Gets quite hot during use
XMAX V3 Pro Vaporizer
A great alternative to the Pax 3, you trade the beautiful aesthetic of the Pax for a removable battery, full on-device temperature control, and similar vapor quality at a fraction of the price. Not only is it just as small and portable, but the bowl is also fairly large and the conduction heater definitely puts out a decent amount of vapor.
It does get fairly warm during use and the vapor can be a bit toasty to some, but the removable 18650 battery, low cost, and solid performance more than makeup for it. If you're looking for a good budget dry herb vape which is also very portable, it's worth looking into the XMAX V3 Pro for sure.
Removable 18650 battery
Very stealthy and small
Full temperature control
Average vapor quality
Zeus Arc GTS Vaporizer
The Zeus Arc GTS is impressively small and hits quite well for its sleek kit. Its stealthy black design makes it inconspicuous and it can be almost entirely concealed in the hand. The battery life is quite strong and firmware updates keep bringing improvements to the device. Not the best if you want a cheap herb vape, the high price tag can definitely be worth it, however!
While it's on the higher end of the pricing spectrum, sometimes it's worth it to invest in things you'll keep for a long time. The vapor comes out surprisingly smooth, it hits quite hard, and has a good sized bowl for sharing with others. The Zeus Arc GTS is certainly one to look out for if you want a simple to use and high-performance vaporizer. 
Small, compact, and stealthy
Large bowl for big hits
Firmware updates keep improving performance
A little expensive
Versatile kit including Zeus ArcPod dosing capsules
Utillian 620
The Utillian 620 is a compact and delightful vaporizer that offers excellent performance at a reasonable price. A balance between battery life, performance, simplicity, and cost – the 620 is one of our favorite dry herb vapes period.
A full-glass mouthpiece, OLED display, integrated stir tool and even removable heating element – the Utillian 620 is nothing short of impressive and paired with a bubbler is a real treat. We'd go after this unit if you're not sure on what to get yet want a great all-rounder vape which can do it all.
Strong hybrid heater delivers good quality vapor
Compact with tons of features
Heats up quickly
Small-medium-sized bowl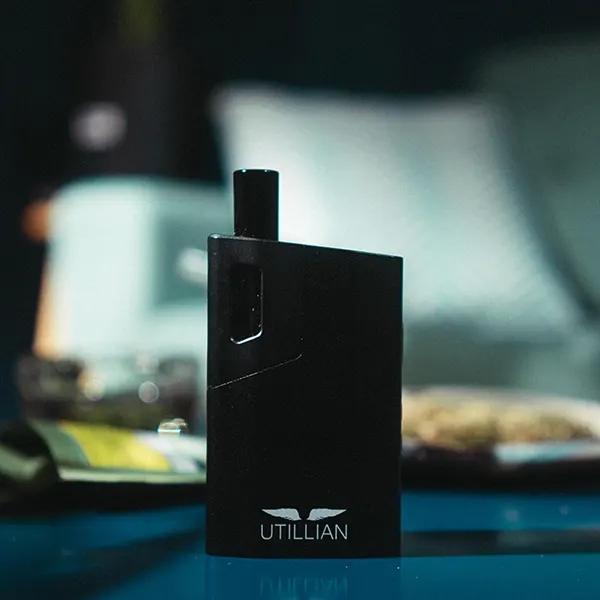 Flowermate V5 Nano
Appearing to most like your typical e-cigarette, the Flowermate V5 Nano is a solid device with a reasonable price tag, solid performance, removable 18650 battery, and Flowermate reputation. The precise temperature control allows you to finely tune your experience and the glass mouthpiece tucks away inside the body for transport.
For a good stealthy herb vape, the Flowermate V5 Nano is a worthy consideration since most will dismiss it as an e-cig. Its hybrid heater develops good quality vapor with solid flavor and a good punch. It's simple to use, effective, and really you couldn't go wrong with it. A good budget herb vape consideration for sure.
Looks like a normal e-juice vape
Full temperature control
Hybrid heater gives it good vapor quality
Not the heaviest hitter
And there you have our quick list of the best portable and stealthy dry herb vapes around! We're sure there's something in there that'll catch your eye and make your wallet cry. We recommend spending a little more to get something that performs better – it'll be worth it in the long run and you'll be less likely to upgrade in the future!
And there you have our quick list of the best portable and stealthy dry herb vapes around! We're sure there's something in there that'll catch your eye and make your wallet cry. We recommend spending a little more to get something that performs better – it'll be worth it in the long run and you'll be less likely to upgrade in the future!
Arizer ArGo
The Arizer ArGo has done an incredible job at producing a high-quality portable and vapor-producing unit. Available for around $150, it sports a powerful hybrid heater which make big work of a small amount of flower in the glass stem chamber.
While they're not so good for sharing due to the smaller chamber, they're excellent for solo use. If you happen to love using a bubbler, these units are absolute marvels when slapped onto a water rig.
Powerful heaters give a big performance in a tiny package
Stealthy and small 
Incredibly good on a water piece
Affordable
Weaker battery life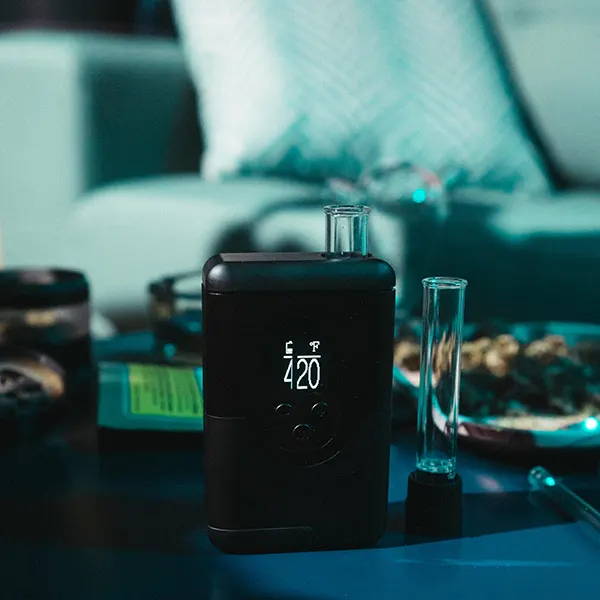 G Pen Dash
Carbon copies of one another, both the G Pen Dash and Flowermate CAP are wonderfully tiny and stealthy vaporizers. They're the first super small vapes we've used that are actually pretty good, too!
Smaller than units like the Pax 3 and XMax Starry, these little guys will even get lost in your pockets! Though their battery life is mediocre, the performance is pretty fine for units so small.
They blew our minds with the quality of vapor from such a tiny and affordable unit and maintain a healthy position on this chart a full year later!
The smallest dry herb vapes around
Surprisingly decent vapor quality
Nice build quality
Affordable
Mediocre battery life
Small bowl
Not great for sharing.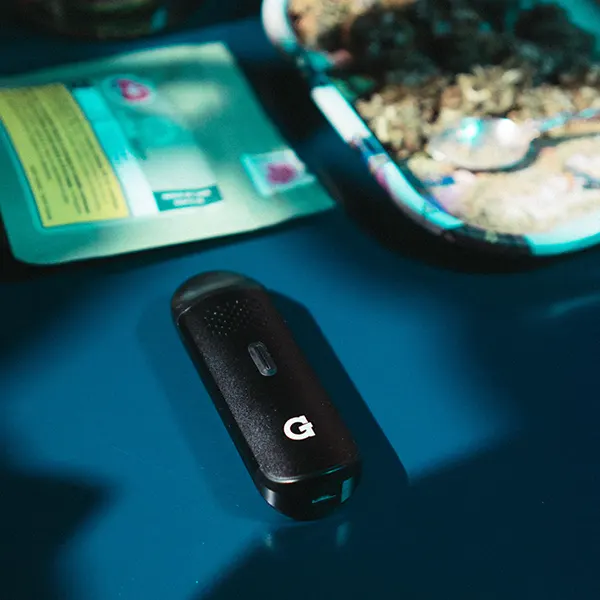 Pulsar APX V3 
The Pulsar APX V3 is a modern take on an affordable and stealthy dry herb vape. With a respectable 0.4g ceramic chamber, USB-C charging, and five pre-set temperatures, there is a lot to like about this super stealthy vape. 
While you won't be getting the best vapor quality, it's enough to get the job done, and the kit is a good bang for the buck! 
Super sleek design
Five pre-set temperatures
USB-C Charging
Difficult mouthpiece 
Mediocre Vapor Quality 
Litl 1 
As the smallest vaporizer on this list, the Litl 1 is a true barebones dry herb vape. With only one temperature setting and limited battery, you get what you pay for in the super affordable device. However, adjustable air flow and glass mouthpiece are super nice features, as well as being possibly the smallest vape on the market!
Honorable Mentions 
Pax 3
Although the Pax 3 has a very discreet design, the conduction oven it uses is infamously notorious for having a super dank smell during use. 
Large chamber
Very stealthy design
Customizable settings
Dank smell 
Crafty Plus
The Crafty Plus Vaporizer almost made this list, but in my opinion is held back by the bright blue and green lights. While the hybrid heating system will produce odorless vapor for the most part, you won't be able to get as discreet hits in at night with the bright lights!
Hybrid heating
Easy chamber access
Amazing vapor quality 
Portable design
Stealthy Vaporizers Conclusion
We hoped that our list helped you to narrow down your choices. For those looking that don't want to raise any attention to themselves in public, having a discreet vape can be very important. One other thing that we didn't quite touch on is that convection vaporizers tend to have somewhat of a less dank smell during use. If you're someone that doesn't want to get caught in their apartment for example, this can be important. However, pairing with something like a Beamer Cannabis Killer Candle can be a simple way to help you reduce your odor for at-home vaping or smoking, so be sure to check those out as well. 
Happy high times, catch you next time!